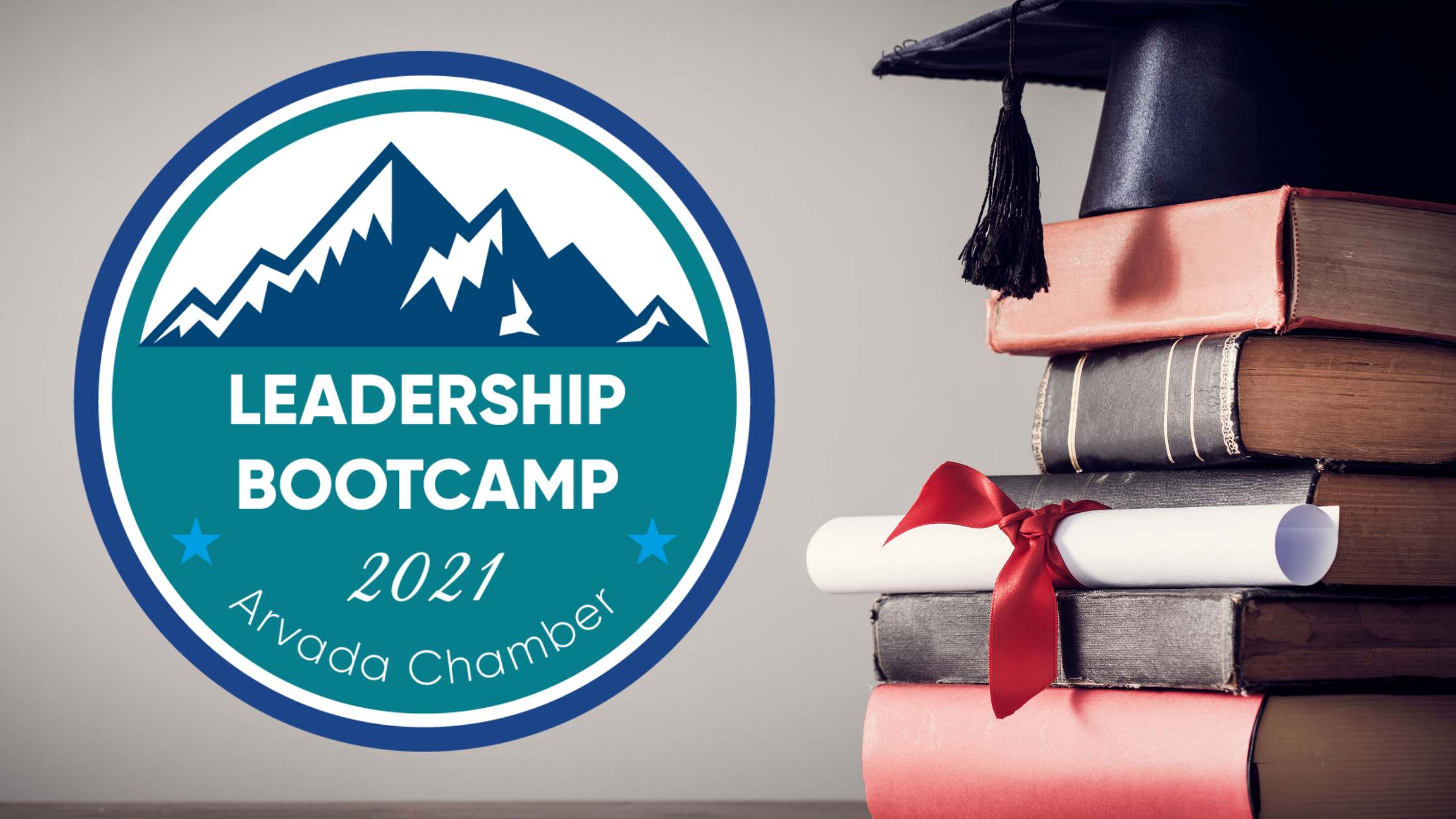 This month, 20 Arvada business and non-profit professionals graduated from the Arvada Chamber's 2021 Leadership Bootcamp. Completed on virtual meetings across 12 weeks, this program was designed to advance Chamber members' ability to lead their business through a rapidly evolving 2021 and beyond.
The Leadership Bootcamp participants spent the last 12 weeks learning about communication, personality types, hiring, financial and HR best practices, strategic planning and goal setting, public speaking and much more. The program concluded on April 6th.
"Leadership Bootcamp is a fantastic opportunity for life-long learners!" said Taylor Beyers-Furst, Assistant General Manager at College Nannies & Sitters. "I learned and grew so much, both personally and professionally, in a short 12 weeks. Thank you Arvada Chamber for this challenging and fulfilling opportunity!"
Congratulations to our 2021 leadership graduates!
Beka Hull, College Nannies of Arvada and Broomfield
Devon Doucette, Fastsigns of Arvada
Ian Iringan, Arvada Rent Alls
Kathryn Shiverdecker, TDS
Kay Palmer, Apex Park and Recreation District
Kimberly Diaz, Care Matters Always
Kimberly Rouland
Kristen Larington, Apex Park and Recreation District
Mary Runkel, Outdoor Lab Foundation
Michael Juergens, CIA-Leavitt
Nicole Bendig-Lamb, Snarky Sweet Cake Chick, LLC
Rheana Rogers, Apex Park and Recreation District
Roxie Augustine, Apex Park and Recreation District
Ryan McConnell, I-Kota, LLC
Ryan Weihemuller, I-Kota, LLC.
Sarah Moser, Eppstein Uhen Architects (EUA)
Sheilan Mueller, Black Hound Design Company
Taylor Beyers-Furst, College Nannies + Sitters
Tracy Vitale, Arvada Fire Protection District
Shannon Gwash, Jefferson Center
---
Applications Now Open for 2021-2022 Leadership Bootcamp!
Leadership Bootcamp was designed for current managers or supervisors or anyone who is looking to move into more of a leadership role in the future as well as anyone interested in honing their management and leadership skills. There will be a 90-minute session every Tuesday, July 6 – September 21, 8:00 -9:30 am.
Why Leadership Bootcamp?
The framework of Leadership Bootcamp includes the below three sections focused on different areas of leadership. Each week, we'll explore one or two topics on a proven leadership methodology taught by an expert in that field.*
Personal Leadership
Sessions include a personality assessment, emotional intelligence, public speaking and goal setting.
Leading Others
Sessions to include developing a rockstar team, instinctual 

leadership

 and conflict management.
Leading a Business
Sessions to include strategic planning, hiring best practices and workplace culture.
*Sessions subject to change based on speaker availability and needs of the 

Bootcamp

 participants. 
Applications close June 18, 2021. Partial scholarships are available! Please reach out to Samantha Geerdes at samantha@arvadachamber.org or call (303) 424-0313 and we can work with you on accommodations to attend.
Learn more and apply today for this powerful, award-winning program!