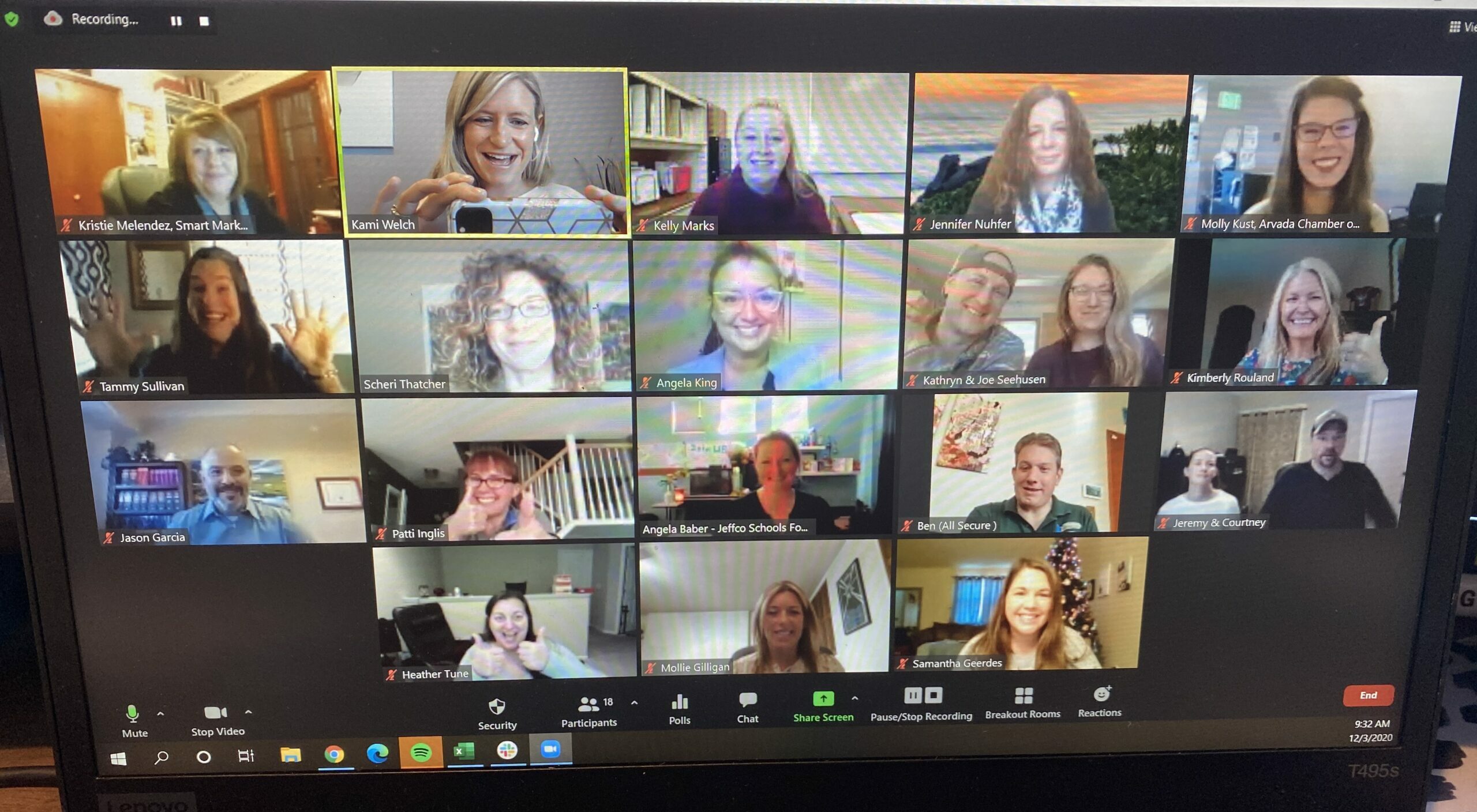 This week, 48 Arvada business and non-profit professionals graduated from the Arvada Chamber's fall 2020 leadership programs, Leadership Bootcamp and Resiliency Bootcamp. Completed on virtual meetings across 12 weeks, these programs were designed to advance Chamber members' ability to lead their business through a rapidly evolving 2020 and beyond.
The Leadership Bootcamp participants spent the last 12 weeks learning about communication, personality types, hiring, financial and HR best practices, strategic planning and goal setting, public speaking and much more. 
The top takeaways from participants included a better understanding of themselves and their co-workers, improved communication skills and recognizing that they can lead even if they aren't in a leadership role currently. Participants enjoyed "sharpening the saw"  throughout this bootcamp and being able to apply what they've learned in our sessions to what they are currently doing in their careers. 
"Leadership Bootcamp was an essential step in my professional journey," said Brenna Clendaniel from the Arvada Center for Arts & Humanities. "From the knowledgeable speakers to the local connections and networking, I feel more connected to Arvada and I have a full slate of techniques to carry into my future."
New for 2020, our Resiliency Bootcamp was designed for small business owners and high-level managers looking to strengthen their business and be nimble in the face of adversity. Topics ranged from leading during a crisis, to disaster preparedness, technology, marketing, business sustainability and more.
"A key takeaway for me was assigning quarterly rocks (or objectives) aligned to 1, 3, and 5 year metrics," said Angela Baber at Jeffco Schools Foundation. "Then developing a marketing plan sensitive to the current climate, anchored in our vision statement, transparent to our community, and built in conjunction with our rocks."
Congratulations to our 2020 leadership graduates!
Leadership Graduates
Aalia van Binsbergen, Sonsio

Brenna Clendaniel, Arvada Center for Arts & Humanities

Mackenzie Egan,

Mackenzie A Egan, OD LLC

Amanda Fent, Family Tree

Levi Geffre, I-KOTA 

Jeff Hahn, Family Tree

Lindsey Honaman, Piper Electric

Darrin Haymond, Sonsio

Deana Hill, Odyssey Beerwerks

Matt Horn, Rocky Mountain Partnership

Chris Koehler,

Nutrition Therapy Institute

Sophia King,

Stone Leaf Pottery

Chris Martin, Golden Triangle Construction

Tonia Martinez,

Career Transformations

Deanna Mayberry, Beyond Home

Mariela Michael, Family Tree

Brittany Morrow, Thrive Workplace

Scott Nance,

Front Range Excavating, Inc.

Izabela Petrykowska, Arvada Economic Development Association

Cassie Ratliff, Family Tree

Sarah Richards,

Calm Spirit Acupuncture and Wellness

Ryan Rowlette, IVCF

Caitlin Sexton, Thrive Workplace

Josh Schwartz, The Bluegrass Lounge

Laura Simpkins, Family Tree

Lisa Smith, Team Rubicon

Peter Spelke,  I-KOTA
Resiliency Bootcamp
Angela Baber, Jeffco Schools Foundation 

Cherie Fletcher, Arvada Fire Protection District

Jason Garcia, Mile High Tax & Accounting

Mollie Gilligan, Payroll Vault

Courtney Gregory, Olde Town Flower Shop

Jeremy Gregory, Olde Town Flower Shop

Angela King, Red Rocks Community  College

Molly Kust, Arvada Chamber of Commerce

Kristie Melendez, Smart Marketing

Jennifer Nuhfer

, Spearca Communications

Kimberly Rouland, Arvada Center for Arts and Humanities

Melissa Ryder, City of Arvada

Joe Seehusen, Colorado Home Realty

Kathryn Seehusen, Colorado Home Realty

Scheri Thatcher, Two Dot Consulting
Graduates of Both Bootcamps
Patti Inglis, Sonsio

Ben Lawrence, All Secure Lock & Security

Kelly Marks, CES

Rachel Rodriguez, Family Tree

Tammy Sullivan, Lamar Street Center

Heather Tune, The Solution
Applications Now Open for 2021 Leadership Programs!
The Arvada Chamber of Commerce has two exciting Leadership Arvada Programs to offer you in 2021: Leadership Bootcamp and Business Bootcamp. You can apply for either program or both. 
Leadership Bootcamp is designed for current managers or supervisors or anyone who is looking to move into more of a leadership role in the future as well as anyone interested in honing their management and leadership skills. This program runs from January 19 – April 6, with virtual sessions from 8:00 – 9:30 am. We will also host bi-weekly small group sessions from 9:30-10am. Space is limited to 30 participants. 
Learn more and apply today for this powerful, award-winning program!
New for 2021, Business Bootcamp is designed for small business owners and high-level executives who are looking to strengthen and grow their business, rise above the competition and create lasting change to benefit your business and employees. There will be a 90-minute session every Tuesday, April 13-June 29, 8:00 -9:30 am. Plus bi-weekly small group sessions from 9:30-10am. 
Learn more and apply today to Business Bootcamp!
Applications for Leadership Bootcamp close January 8, 2021. Partial scholarships are available! Please reach out to Samantha Geerdes at samantha@arvadachamber.org or call (303) 424-0313 and we can work with you on accommodations to attend.
---