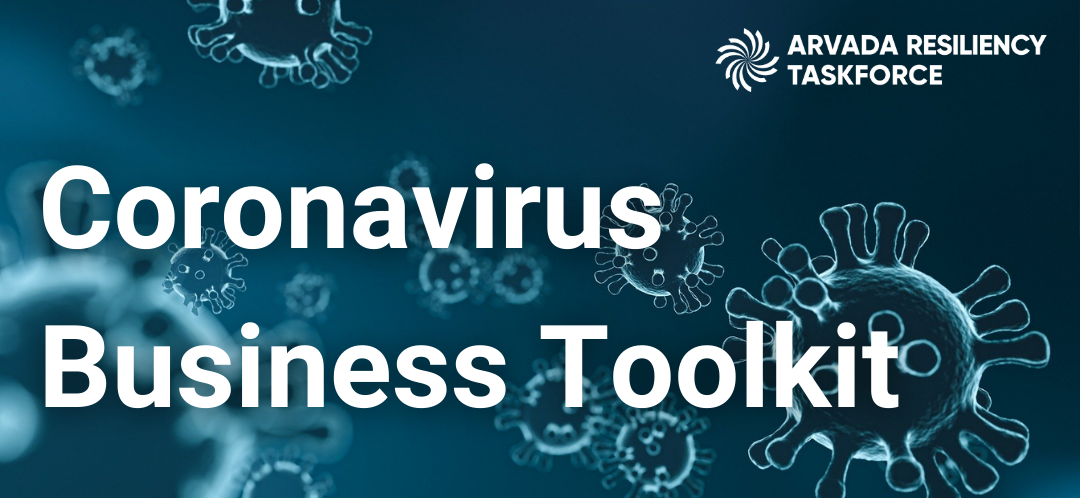 The Arvada Chamber and the Arvada Resiliency Taskforce are closely tracking the impact of the Coronavirus (COVID-19) for all Arvada businesses and the community. Below are resources for how your business and family can plan for and respond to the virus. We will update this page as information is made available. Updated 8/18/2021.
Latest News and Top Resources
Public Health OrdersTesting and Vaccine InfoOverview and MonitoringBusiness Grants & Loans
Latest Jefferson County Public Health Orders
Related Resources
Latest Colorado Department of Public Health Orders
COVID-19 Testing Information
Antibody Tests tell you if you had a past infection with the virus that causes COVID-19; whether results are positive or negative, that does not confirm whether or not you can spread the virus or if you are immune.
Viral Tests tell you if you have a current infection.
Find the latest locations for both tests HERE.
COVID-19 Vaccine Information
State of Colorado Economic Recovery Programs
Small Business Administration
Small Business Navigator Hotline
The SBA Colorado District Office is working closely with state-wide strategic partners, such as the Colorado Office of Economic Development and International Trade (OEDIT). The State of Colorado – OEDIT has established a Small Business Navigator Hotline and Email for businesses seeking general guidance, information on access to capital programs, workforce development concerns, and other areas small businesses are affected by.
The Small Business Navigator hotline is available Monday through Friday from 8:00 a.m. to 5:00 p.m. MT, or, they can be reached via email. Hotline: (303) 860-5881 Email: oedit_sbnavigator@state.co.us
Sign up here for e-mail updates for the latest news and information from the Colorado SBA.
Other Resources
Unemployment and HRCommercial Leasing and Rent ConcernsMental Health ResourcesRetail and Restaurant ResourcesManufacturing ResourcesNon-Profit ResourcesBusiness Consulting and EducationWebinarsOther Community ResourcesHeadlines
To include additional resources, please contact ryan@arvadachamber.org.
Thank you to Arvada Economic Development Association for its support on this resource!