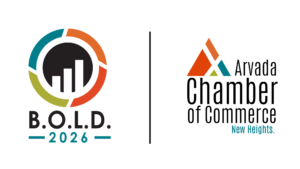 The Arvada Chamber of Commerce launched B.O.L.D. 2026 earlier this year to address big challenges impacting businesses, employees, our economy, and the community. The B.O.L.D. 2026 Campaign set an ambitious target of raising $2.725 million to tackle challenges around talent development, workforce housing, childcare capacity, and the business environment.
As we approach the end of the campaign with just under $300,000 in investments remaining, we are eager to engage the public in making B.O.L.D. 2026 a reality and helping our community and businesses thrive in ways we never imagined. Thanks to a partnership with Community First Foundation, you can contribute now through Colorado Gives Day (December 6, 2022) to help ensure our community sees the following benefits:
An increase in jobs that meet self-sufficient wage standards bolstering economic health and resilience for residents
An increase in the number of quality candidates for open jobs
Improved retention and employee satisfaction
Income-aligned housing and childcare solutions for employees
Immediate access to education, partnerships, and resources for employers helping them to grow and thrive
An increased tax base that supports the growth of community assets such as parks and infrastructure
A well-balanced community that recognizes and supports a variety of socio-economic needs including income-aligned housing and childcare options
---
Support B.O.L.D. 2026 as a Business Champion!
The Arvada Chamber of Commerce is pleased to announce a new Champion program! Our work through initiatives like B.O.L.D. 2026 requires a team of business, non-profit and community leaders to play an active role in solving the challenges that are stifling economic strength and opportunity for businesses and families. Perks of being a Champion include name and company listed on the Chamber website, emailed updates and data, a complimentary ticket to a community forum tied to your Champion area, and more.
Learn more and sign up here!