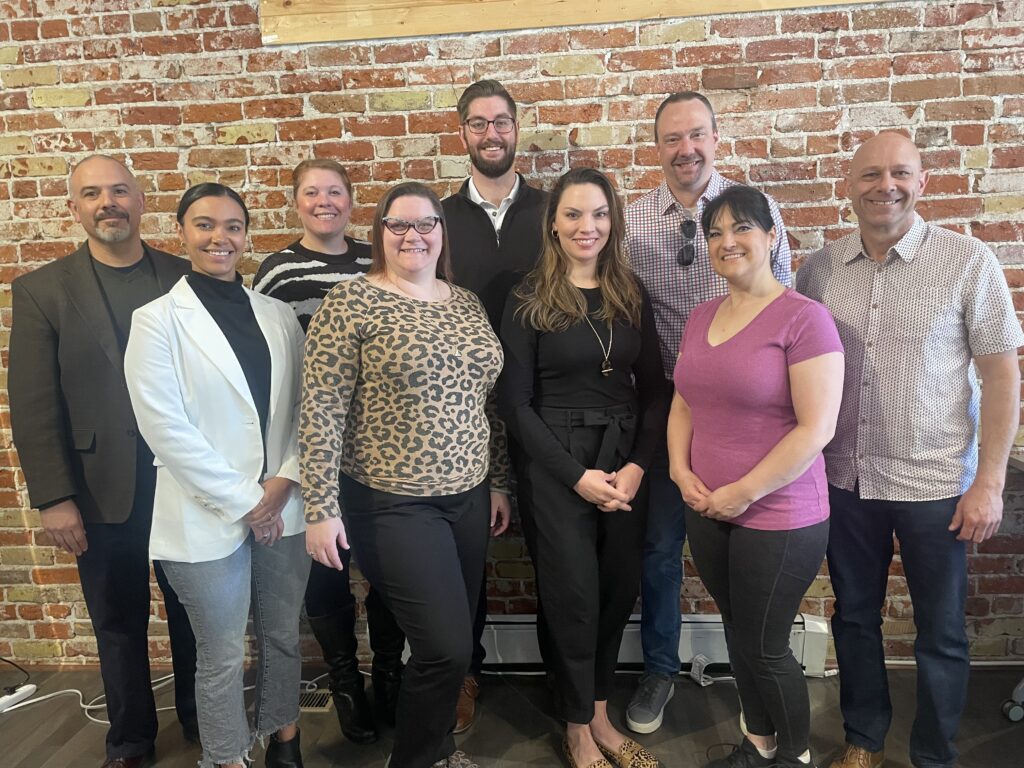 Arvada Chamber business leaders created the Business Mastery Group in August of 2022 with the goal of a group focused on discussion, learning, and professional growth. Also known as "Biz Mastery" or "BMG," the collaborative group members tend to value the relationships that come from the consistency and depth of each group meeting. Business growth will come from the solid relationships created, many group members agree, and that may not always be in the form of direct leads.
"Despite most/all of the group being in 'sales' to some degree, the focus is more on how we can all learn, grow and develop by leaning on the group's combined experience and expertise—while not 'leads' focused, I know business has happened within the group (and likely some external referrals, as well) simply by being comfortable, and confident, that any transfer of opportunity will be handled with respect and trust. While every opportunity may not net 'new business,' I have faith that everyone in the group brings the mentality of 'help first,' so even if the answer is 'I can't,' it's followed by 'I'll help find someone who can.'"

– Jeremy Gregory, Sunflower Bank & Co-Owner of Olde Town Flower Shoppe
Who should join the group? This group is for people with extensive experience in their practice field, often drawing owners, managers, or other leaders to the discussion-based meetings.
What is a typical meeting like? The group meets at various locations around the Arvada region – on the first and third Thursdays of each month. They rotate between a 9:00 a.m. meeting and a 4:00 p.m. meeting to best accommodate the schedules of their group members.
Are you interested in checking out this group? Guests are welcome to visit any Chamber group up to two times before officially joining the chamber and the group. With any questions, please feel free to reach out to Mary Runkel, who will connect you with the current group moderator. Please fill out this form so we can check availability and help you find the right fit!
"Business Mastery is a networking opportunity that focuses on growth and acumen while fostering genuine connections, vulnerability, and encouragement. It makes it fun and easy to show up whether for yourself or others."
– Vanessa Kendrick, Realtor at Your Castle Real Estate
"One of the key reasons I joined the Business Mastery Group was to gain access to a wealth of knowledge through the books and topics we cover. Every session uncovers new perspectives and provides fresh insights into various aspects of business, leadership, and personal growth. From strategies for effective communication to innovative marketing techniques and beyond, the topics we explore have enriched my business knowledge in ways I never thought possible."
– Nicole Bendig-Lamb, Owner & Master Cake Designer at Snarky Sweet Cake Chick
"Our group has the feeling of a "support group" for small business owners. Rather than going around giving our 60-second commercial or trying to sell what we do, we bring up the issues and challenges we are facing in running our respective businesses. Business definitely grows out of these trusting relationships but supporting one another is the primary focus of the group."
– Jason Garcia, Owner of Mile High Tax & Accounting
"My favorite part of the BMG is sharing ideas, sales tactics, business processes, and struggles that we all face as business owners. There are very genuine relationships within the members of the group. I know there are leads/ business transactions but it is more about support and encouragement!"
– Andrea Romero, Insurance Agent/Financial Representative at COUNTRY Financial – Arvada Agency
---