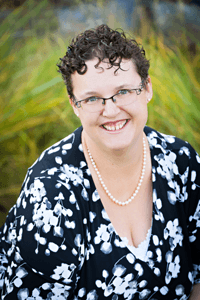 Meggin Rutherford, an Arvada-based attorney, has been named the Gary McPherson Young Lawyer of the Year by the Colorado Bar Association for 2020-2021. Her firm focuses on out-of-court solutions for clients in the areas of family law, elder law, probate, and estate planning.
"I was surprised and delighted to hear that my work serving the community won this recognition from the state bar. This is truly an honor and the acknowledgment shows that working for the good of the community and the people who live here really matters," says Ms. Rutherford.
The Gary McPherson Award is given annually to an attorney under the age of 37 who shows "an outstanding record of professional success, community service achievements, and a strong commitment to civic participation and inspiring others, whether within the legal profession or elsewhere." (Source)
Meggin was recognized for her community service, client-focused practice, and her work to help keep divorcing families out of court by her efforts to help pass the Uniform Collaborative Law Act. "I realized very early in my career that court is the worst place possible for most family law cases. It causes long term emotional harm to the parents and children and is usually a waste of money for the clients. I have built a firm that helps clients reach creative and long-lasting solutions without court," she says.
"I graduated from the CU Law School in 2009 at the depth of the recession. There were no jobs, and so I opened my own practice. It was a struggle at first, but it is the best thing that could have happened to my career," she says.
"I have been able to build a successful firm because I focus on the values that are important to me and the community—creating peaceful solutions where we can and protecting the vulnerable from exploitation. At the same time, we have created a work environment that is a positive and supportive place for employees and that promotes their personal and professional growth."
Her work promoting collaborative divorce won Ms. Rutherford particular acclaim.  "When I was introduced to Collaborative Law, I knew that this process could make meaningful change in the lives of families by promoting a divorce process that is as peaceful and healthy as such an event can be. I was thrilled to be a part of the legislative process and to promote a law that is so important to me through testimony to the Colorado legislature in 2020 and 2021.  I look forward to further involvement in the legislative process in the future."
She worked with Terri Harrington, a senior family law attorney and the primary drafter and proponent of the bill, to help secure its passage into law in 2021. Meggin has served as a board member of the Colorado Collaborative Divorce Professionals (CCDP) since 2015. She served as the president of the organization in 2020 and continues to serve as the vice president for education and training.
"I love training collaborative professionals by leading the introduction and advanced study courses. It brings more practitioners into our field, and fundamentally changes the way that they practice law. I also learn something new every time I teach one of our courses."
In addition to her work with CCDP, Ms. Rutherford volunteers extensively in the community through her children's school, Jefferson Unitarian Church, and Girl Scouts. "I believe that one of the most important things a person can do in their lives is to lead by serving.  I am glad that I can make a positive impact in my community, both through my business and through service to others in the community."
Meggin graduated Summa Cum Laude and Phi Beta Kappa from Austin College in Sherman, Texas, where she was also in the four year leadership institute program. She then graduated from the University of Colorado Law School in 2009 with distinction.
She started her firm in Arvada in 2010, and it has now grown to four attorneys and a number of staff.  "I look forward to what the future has in store for us as we continue to promote and grow peaceful resolution to legal problems for our clients."
---
About Rutherford Law Center
The Rutherford Law Center are Arvada lawyers and mediators dedicated to helping Colorado families plan for the future and put their lives back together. Whether it is family law, collaborative law, mediation, estate planning, elder law, adopting a child, or helping you through the probate of your parent's estate, the Rutherford Law Center, LLC is here to help.
Learn more at www.mrutherfordlaw.com.