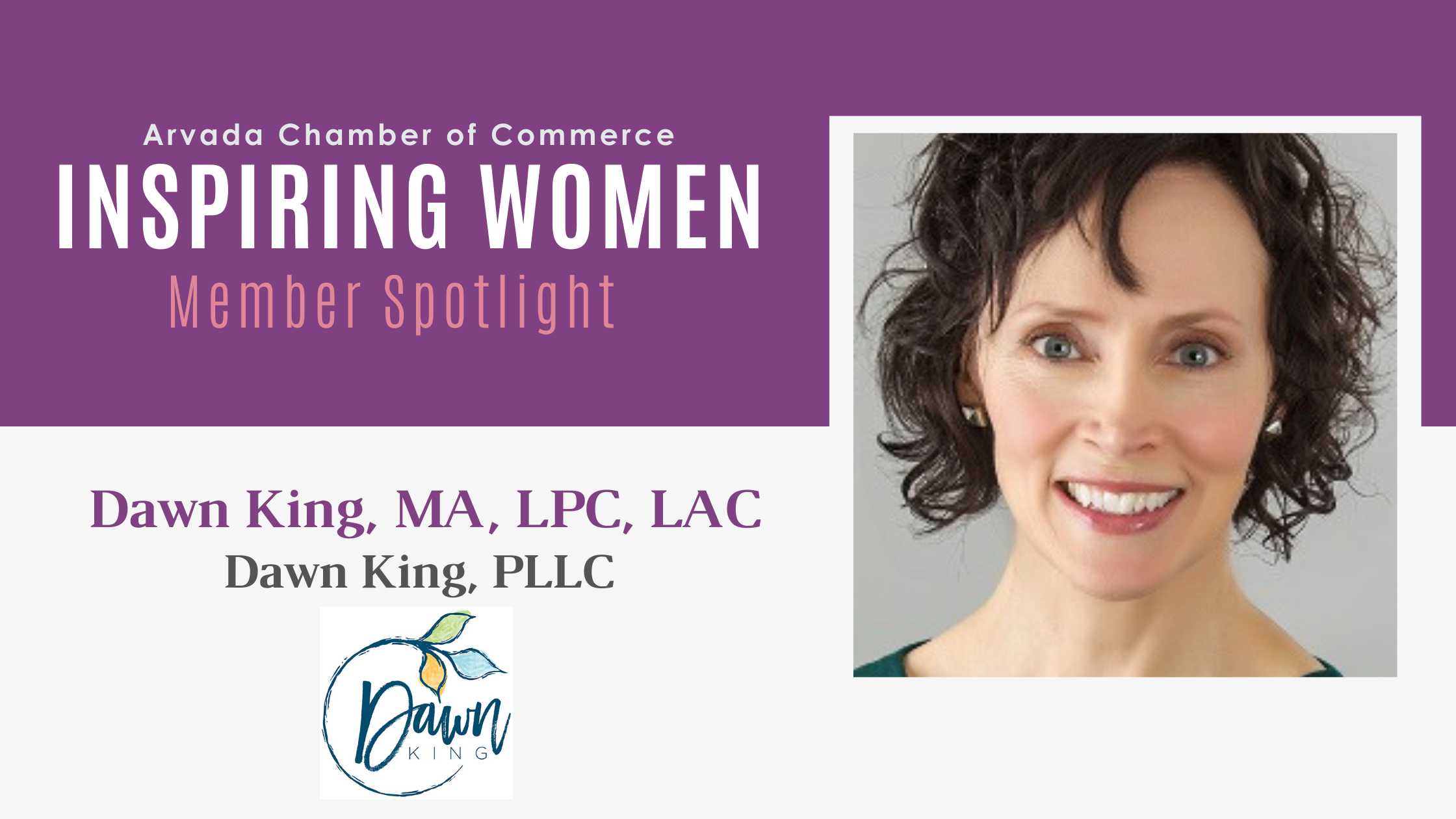 Dawn King, LPC, LAC, PLLC, Owner and Psychotherapist at Dawn King, PLLC
Tell us more about you and/or your business.
I'm a Licensed Professional Counselor and a Licensed Addiction Counselor with over 20 years experience in the mental health field. I am currently in private practice with an office close to Olde Town Arvada. My focus is helping busy professionals to get past unhelpful habits that are getting in the way of personal and professional success. I specialize in anxiety, addiction and stress management. I also work with trauma and am trained in EMDR (Eye Movement Desensitization and Reprocessing). I offer both Mindfulness-Based Stress Reduction and Mindful Self-Compassion Courses in the community.
What keeps you motivated?
My belief in my clients and their potential for positive change. Healing does happen, change does happen and I feel honored to be a part of that process. I am an eternal optimist and believe this is one of the most important contributions to the therapeutic relationship. I am a life-long learner and have a deep desire to find answers, not only for my clients, but for myself. I feel energized by learning and sharing what I've learned in the service of others – whether in a class, an online workshop or in session. I think of psychotherapy not simply as a profession, but as a calling, a lifestyle and a vehicle for personal growth.
What do you enjoy most about your work?
Just like in other professions, there are challenges, difficulties and risks, but being a therapist has been overall incredibly rich and meaningful. I have the opportunity to help others while simultaneously discovering and growing myself. I think people want to be seen and heard. I get to offer this gift. Being present, connecting and witnessing a client's struggles and triumphs fills me with warmth and gratitude.
What is one thing you would like the Arvada Chamber community to know about you?
That I am here for the community, to be of service in any way that I can. Also, therapy can be whatever you want it to be. You don't have to suffer from a major mental illness to seek out help. Sometimes we just need another perspective, a safe place to land and to know that we are not alone.
What are you excited about this year?
The vaccine for Covid-19, being back in my office and teaching the Mindful Self-Compassion course.
Describe your ideal business power partner, someone you can rely on to help you both be successful.
Likely someone in the healing arts such as a massage therapist, acupuncturist or medical provider.
What is a piece of career advice that has served you well?
Never burn bridges.
Are there any current trends or changes in your industry that would help small businesses or consumers?
The prevalence of online therapy since the pandemic and more people are working from home. It makes therapy more accessible and convenient.
—–
Dawn King, PLLC Website
dawnkinglpc@gmail.com | Phone call/text 303.229.2804
---
The Arvada Chamber's Inspiring Women group is an excellent platform to connect with other like-minded women in the Chamber and support one another professionally and personally. Inspiring Women is not industry-specific and we invite women from all ages and career levels to join. Learn more here!