Since 1973, Arvada Vacuum has delivered exceptional servicing and top-tier cleaning products to the community. With locations in west Arvada and Broomfield, the business is owned and operated by two generations of the Barhite family. We talked to Liz and Dave Jr., who manage the Arvada location, about working with family, cleaning tips, and business lessons from nearly 50 years of dusting the competition.
Going back nearly half a century, how did the business start? 
Liz: My dad always said he wanted to have a family business and he thought about doing a farm but he didn't want to be up that early. He started in the vacuum industry doing door-to-door sales in the beginning of the 70s. He was in the vacuum industry before Dave and I were even alive. Then he opened a store in Broomfield. That location would change hands but we bought the store again a little over five years ago. It was such deja vu walking back in because we would go in there as little kids. 
There's six kids in our family and all the kids have worked in the vacuum industry. Four of us still work together full time, one works with us part time doing sewing machines. I have a sister-in-law who helps out now and then we have a brother who's retired. We always tell people our parents raised a bunch of suckers.
I was going to ask what is your favorite vacuum joke.
Liz: That's my favorite. The one that we most commonly hear from people is "Boy business must suck!" We have fun with people. Besides having good products, we share stories and we pray with people and cry when things happen. This is the cheapest psychiatrist appointment. 
What has been your secret to customer service through all these years? 
David: We really focused on customer service because all the kids grew up in the store. We truly care about our customers, some of whom go back years and years and years with us. 
We also work on everything. As far as we know we're the busiest shop in Denver. We process more than 200 vacuums a week. We have always had the mindset that repairing vacuums and keeping them on the road is always a good thing. But the average vacuum today is designed to last less than two years. We have always sold vacuums and dealt with vacuum companies that cleans great, filters well and you can keep on the road. That way you can maintain not only performance but you're not constantly throwing stuff away. The other benefit is your carpet lasts longer and you're not throwing carpet away all the time either.
Liz: As David said, it's just about taking care of people. I always tell people "Out there you're market share, here you're a customer." 
What's the best part of running a family business and what is the biggest challenge?
Liz: We actually get along really well. When we very first started working together we had all been out at different stores. My dad at one point had multiple stores and sold them all off and we then came back into the primary store. You have to learn to work with them and in close proximity again. Dave and I butted heads a lot when we were little kids. He was the youngest and spoiled. But now we are super close. I love the family that I work with. 
The primary challenge I think for many small businesses is staying in the flow. You want to be aware of products, be aware of your customers, and be alert out on the floor and not just be thinking about all the different stuff you have to do behind the wall. There's always paperwork and ordering products and staying up with estimates and repairs and it can become overwhelming. I think that the primary thing is when we come upfront that we just want to be able to leave that so that we can be present.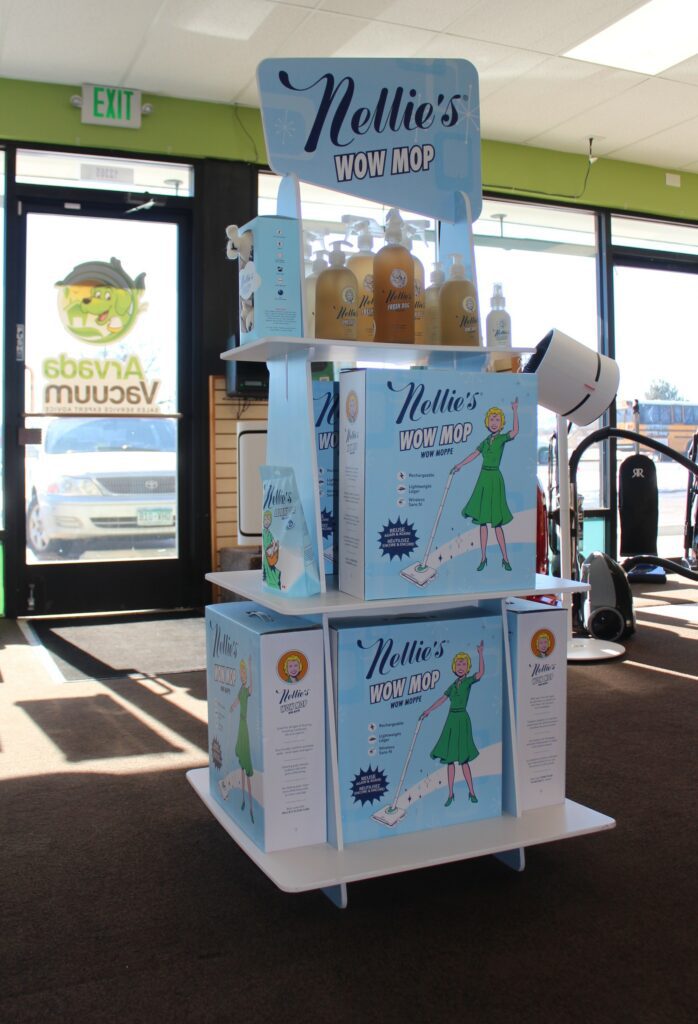 What's new in the vacuum game that you are excited about?
Liz: Well there's always new cheap things that are coming out. The primary manufacturers that we deal with are not coming out with new stuff all the time because they have invested not only in technology but also durability. 
As far as one of our absolute favorite things and the most popular thing that we have ever brought into our store is our Nellie's Mop. It's actually not a vacuum, it's a scrubbing mop. It has an hour and a half runtime on it and it's got two scrubbing pads. Spray comes out of the front pivots to get in and around stuff and the pads are washable. You can push it with just your fingers.
If it's in my store, it's in my house. I try it, and if I like the product, I decide to sell it. 
What's the number one mistake that people are making to clean their house?
Liz: The primary thing is buying vacuums that don't clean and filter well. There are a lot of people out there who love bagless machines but bagless machines give you such a disadvantage to actually cleaning your home. They not only pollute a lot more because they don't seal tight like a high filtration system does, but they also don't pull as much debris out of the carpeting. So many vacuums are just optically cleaning the surface but they aren't pulling anything out of the carpet. 
In all the years you've been operating, what have you learned about the people in Arvada?
Liz: The first thing I would say is that they are fiercely loyal to good local businesses. We have a ton of people that come through the store that own local businesses. I think that's something that is particularly unique to Arvada. There are so many mom and pops up and down every street. Our parents were originally from Arvada and it was a small farm town at that time. Even as Arvada continues to grow, you have this very tight-knit, small feeling community.
What advice would you give to a business that has just opened?
Liz: Take care of people. Don't just treat them like they're there just to hand you money. 
It's also hard not to overextend yourself, especially as a self-employed person. I tell people all the time, "If you want to work the hardest, be self-employed." You need time to invest in the business but also to invest in yourself. We have learned our lessons with that over decades. We still have to remind ourselves to eat throughout the day or know when it's time to go home. It's really easy to do and can sort of suck up your time – literally!
---
Arvada Vacuum
12365 W 58th Ave Arvada, CO 80002
303-421-6320