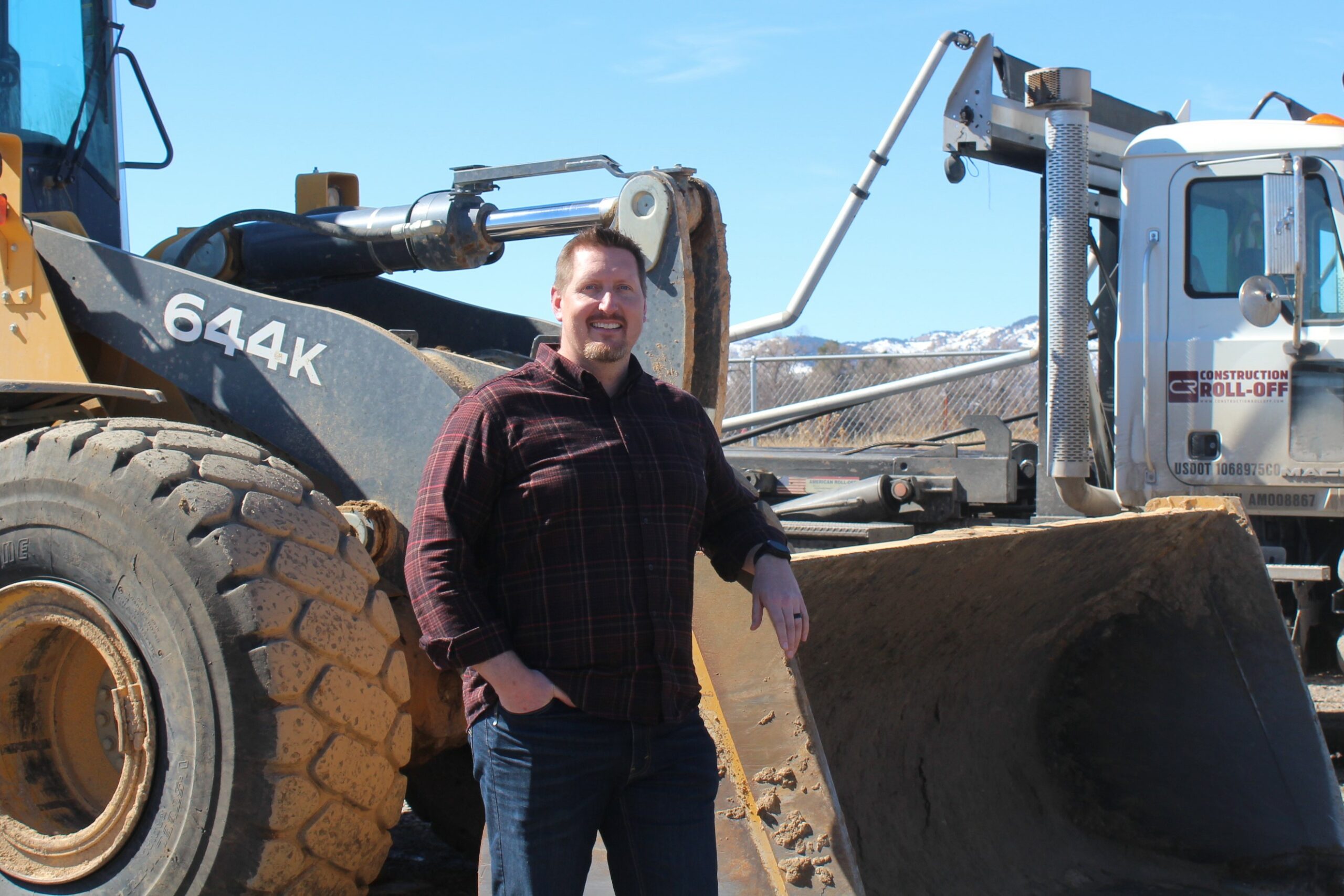 "People pay you to do that?" That is a common response Scott Nance gets when he explains that he moves dirt for a living. Since 1988, Front Range Excavating has cleared the way for projects like Bass Pro Shops, The Shops at Northfield, the Bluegrass Candelas, and Colorado Tap House. Then in 2021, in addition to taking over the family business at Front Range, Scott turned his trash removal side hustle into another thriving business called Construction Roll-Off, LLC. We talked to the Arvada native about contractor vs end-user relationships, cleaning up after the Marshall Fires, and the bittersweet task of taking over the family business.
What was your motivation to start the Construction Roll-Off?
I've always looked for ways to diversify what we offer, partly because of the seasonality of Front Range and the inconsistencies in revenues throughout the year. So I bought a truck and 10 dumpsters from a friend, had one of our mechanics drive the truck, and put up a website. I told a couple of people and it didn't take long for all those dumpsters to be out. Now we have 28 dumpsters and we're adding another 15 this month. We have an excellent full-time driver now and we're hiring another employee to help with sales.
What are typical projects that you work on?
Right now it's probably 30% contractors with commercial construction projects or residential contractors doing house flips and then the other 70% has been homeowners doing their own renovations or yard cleanup. The dumpsters are good for bulk trash removal or anything you can take to the landfill or recycle center. 
It's been fun for me. In commercial construction, we have relationships with the contractors, but we never really deal with the end-user. Now, it's a whole different avenue with the way you get paid, the way you build relationships with the customer and the types of jobs we're doing. I love interacting with the customers and helping them find solutions to their trash needs. You're in and out and you may never see them again, but we're always striving to leave a great impression that could lead to a referral. I like helping, serving, and giving. That's what energizes me as a person. With the roll-off business, I feel like I'm able to do that on more of a personal level.
Do any projects so far stand out?
With the Marshall fires, we've been hauling off burned debris and soil. All of the material from the fire is considered to be asbestos-containing, so there are special guidelines that need to be followed. There are some intricacies to handling contaminated materials, but with my dirt background I had quite a bit of experience with it already.
One of our existing customers lost a home in the Marshall fire. Last year we were helping him clean up the property that he just bought and was renovating. It had basically been a dumping ground for years and years, including about 70 old tires that needed to go. We were able to haul those off to a recycling place. He had just finished renovating the house on that property, moved his stuff in, and went on vacation…and then came home to the whole thing burned to the ground.
That is terrible. I wonder, once new construction happens on that lot, maybe you will be brought back again? 
I hope so. We've built a pretty nice relationship. He's put us in touch with some other neighbors that we've done some work for. That's always the goal: leave them with a good impression so that they would want to call you back or feel comfortable passing your name to somebody and know that we'll take care of them.
Front Range Excavating, Inc. has been around for over 30 years. How did your father start that business?
My dad Ralph Nance started the business in 1988. They didn't have a lot, but through prayer and good circumstances he had some good people show up and a lot of people are still here today. Three employees have been here for 30 plus years. 
Dad was in excavating before and the company was closing its doors so he decided to start this business. He had some good relationships in the business and really built the thing on his reputation. We've always tried to operate with a high level of character. He's just a very giving, generous man and he's been able to help employees, schools, and churches. The company is really a tool just to be able to do more outside of it and that's my hope as well. I want to serve and put other people first. I watched him time and time again when the company struggled, he was always the first to take pay cuts or the first to lose benefits, or the first one to work more hours. 
I worked with him for almost 20 years. I did everything from payroll and job costing to estimating and project management to running equipment and laboring. I stepped into the vice president role six years ago. He retired at the end of 2021 and handed the torch over.
What was that transition like for your dad?
I think it's been challenging in a lot of different ways and hopefully exciting in other ways. I think the challenge is having something that you spent a good chunk of your life building and being responsible for and we have 35 families that work here. There's a lot of responsibility to make sure that they go home with a paycheck and health insurance and all those other things. There's a lot of trust in me and we still talk through some bigger decisions. 
What's your favorite memory working with him?
My dad is a really big guy so he's hard to miss. Everybody that I've met personally and through business always has a Ralph story when they first met my dad because he's the biggest, most imposing guy they've ever seen. But he's a good man and he's made a lot of good impressions on people. It's quite the legacy. 
---
Construction Roll-Off, LLC.
6783 Fig Street, Suite 101
(720) 664-8664