Jefferson County ballots will be mailed on October 16 and drop boxes will open ahead of Election Day on November 7. Arvada ballots will include City Council elections and school board elections, as well as two statewide ballot measures: Proposition II and Proposition HH. We invite you to join us on October 20 for Ballots & Breakfast for a detailed explanation of both measures.
Before your ballot arrives, read the Arvada Chamber's position on the measures, understand how they impact our business community, and explore additional resources.
---
Proposition II
In 2020, Colorado voters approved a ballot measure to increase taxes on tobacco and nicotine products. This decision allowed the state to allocate the additional revenue towards funding a universal preschool program.
The increased taxes ended up generating more revenue than initially anticipated, amounting to approximately $24 million. In response to this surplus, the legislature is seeking permission from voters to let the state retain the excess funds and all future revenue from these taxes, which will then be used to expand the preschool program even further.
If voters decide against Proposition II, any surplus tax revenue collected above the initial projection will be refunded to nicotine and tobacco wholesalers and distributors. Additionally, measures will be taken to adjust the nicotine and tobacco tax rates to prevent future instances of excessive revenue.
Arvada Chamber Position: Support
Rationale: Passing Proposition II ensures that the state's excess revenue, totaling $23.65 million, is directed toward the enhancement of preschool education. This crucial investment will play a pivotal role in nurturing our youngest learners and laying a solid educational foundation for their future success in direct alignment with the Arvada Chamber B.O.L.D. 2026 initiative. The Arvada Chamber believes that endorsing Proposition II is not only a fiscally responsible decision but also a significant step towards providing equitable access to quality early childhood education, ultimately benefiting our community's well-being and prosperity.
Resources:
---
Proposition HH
Proposition HH is one of the most controversial ballot measures ever presented to voters. The proposition modifies or reduces taxation rates and exemptions for multiple types of property while increasing taxes by allowing the state to retain more tax revenue. Proposition HH gives Coloradans a choice; trade some property tax relief, for a long-term increase in state taxes.
Common Sense Institute of Colorado (CSI) recently released a report evaluating the long-term impacts of the proposition. According to CSI, while any revenue forecast is uncertain, under normal economic conditions, taxpayers would bear the full tax increases under Proposition HH even if the economy faced a sizeable downturn. While all Coloradoans benefit from TABOR refunds, only property owners would see direct benefits of the property tax decrease.
Arvada Chamber Position: Oppose
Rationale: The Arvada Chamber of Commerce recognizes the potential benefits of Prop HH, but is concerned that the long-term consequences of increasing the overall tax rate in our community outweigh the short-term gains. This measure could lead to a heavier tax burden on local businesses and residents, potentially impeding economic growth, job creation, and business development.
Resources:
Property Tax Calculator
MyPropertyTaxCO is an online resource to help Coloradans navigate the issue of rising property taxes. Will proposed fixes save you money or cost you more in the long run?

Simply enter your address and calculate your bill.
---
Questions? Join us on October 20 for an Extended Conversation on Prop HH and Prop II at "Ballots and Breakfast"
For a further discussion of Prop HH and Prop II, join us for Ballots and Breakfast on Friday, October 20. We will present a detailed breakdown on the pros and cons of these measures, plus hear from the School Board candidates on your ballot.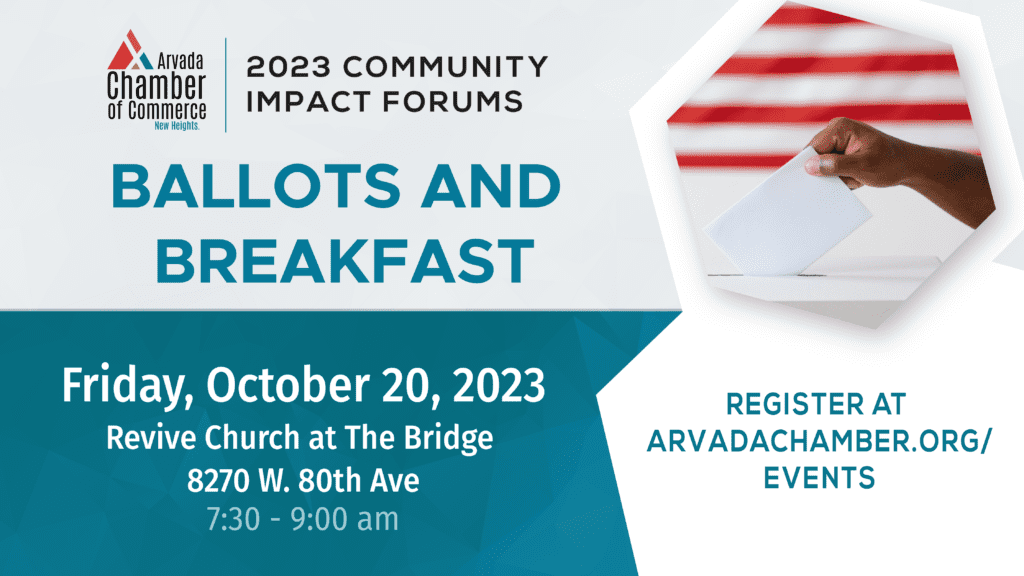 ---