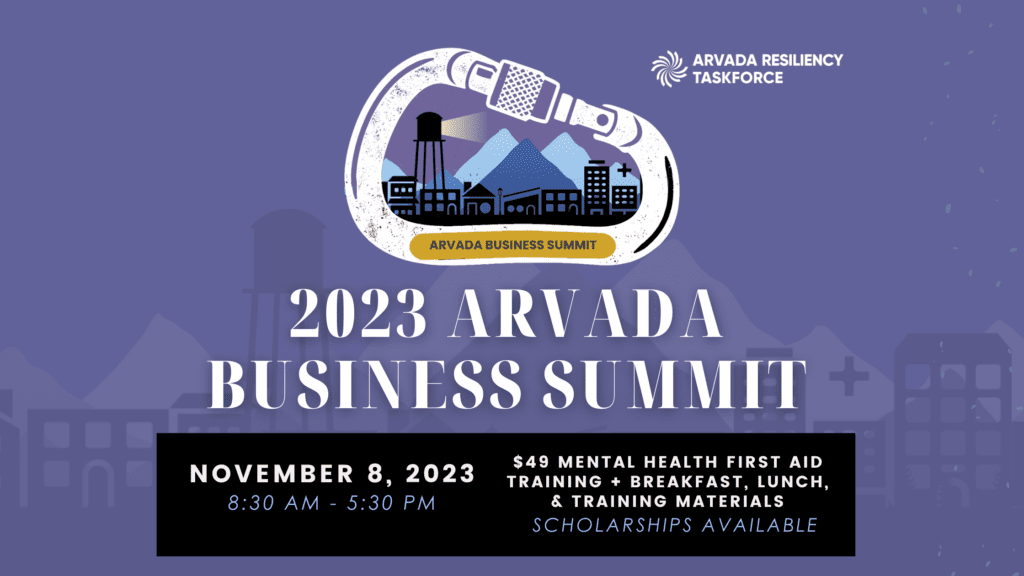 OCTOBER 5, 2023 – ARVADA, CO. Today, the Arvada Resiliency Taskforce announced the 2023 Arvada Business Summit, a full-day training on November 8 that will certify 90 business professionals, community leaders and elected officials in Mental Health First Aid. The course, provided by the Jefferson Center for Mental Health, will provide skills, resources and knowledge to help an individual in crisis connect with appropriate care. This year's event will take place at the Arvada Center for the Arts & Humanities.
The Taskforce's Q3 2023 business survey found that "Employee mental health and burnout" was a rising challenge for Arvada businesses. In response to these growing concerns and in concert with the Taskforce's new Crime & Safety Program, the Arvada Business Summit offers a low-cost, interactive event for community and business leaders across Arvada to be trained in mental health best practices and emergency tactics.
The Arvada Resiliency Taskforce invites all Arvada business owners, non-profit leaders, managers, rising stars, and elected officials to attend the Summit. The program is valued at over $150, but thanks to partnerships and underwriting, the Taskforce is able to offer this event at a discount to be accessible for all businesses.
"Our goal is for Arvada to be the safest community in Colorado," said Arvada Chamber President and CEO, Kami Welch. "The 2023 Business Summit is an opportunity for our professionals to better identify when someone at their business or in the community is struggling and how they can help. This event is an exciting, tangible way for us to make a collective difference as leaders in Arvada."
Learn more about the 2023 Business Summit and register.
The Arvada Resiliency Taskforce is a cross-section of local partners assembled to support the latest challenges impacting all Arvada businesses and non-profits. The Taskforce includes the Arvada Chamber of Commerce, Arvada Economic Development Association, Arvada Visitors Center, the City of Arvada, Olde Town Business Improvement District, Arvada Police Department, Arvada Fire, The Arvada Center, and Apex Park and Recreation District.