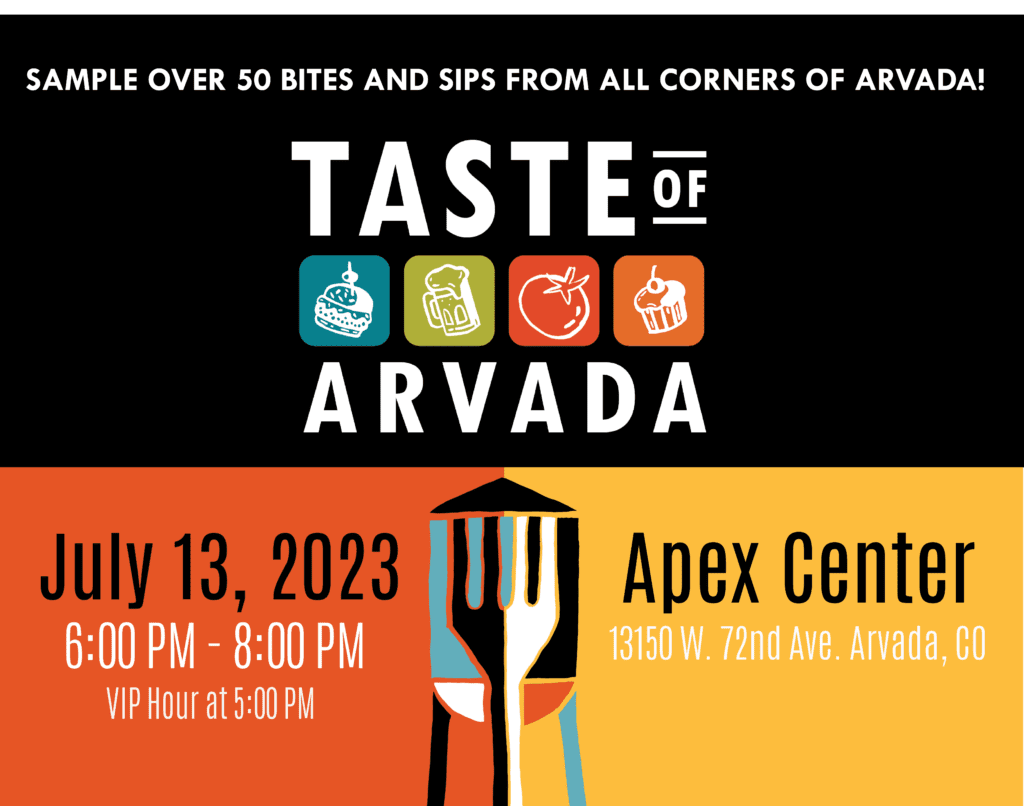 Arvada, CO (May 2, 2023) – The Arvada Chamber of Commerce announced today that tickets are on sale now for Taste of Arvada which will take place Thursday, July 13, 2023 at the Apex Center located at 13150 72nd Ave.
More than 50 Denver Metro and Arvada restaurants, craft breweries, distilleries, wineries, bakeries and non-food vendors will display their finest culinary bites, sips, and offerings from 6 p.m. to 8 p.m. on July 13, with a VIP early access hour starting at 5:00 p.m. In addition, restaurant and bar vendors will compete for coveted prizes in their categories, voted on by attendees. Tickets to the event include all the samples from both food and drink vendors. Guests are asked to bring a photo ID to sample alcoholic beverages.
"Taste of Arvada is one of Arvada's biggest annual events and an important one for the community to support our incredible restaurants, bars, and businesses," said Arvada Chamber President and CEO, Kami Welch. "We are lucky to have a rich culinary and craft drink community in Arvada and we're excited to see new restaurants bring their flavor to this year's event."
Taste of Arvada will showcase delicacies from all corners of Arvada. For the fourth year, the event will feature an expansive indoor/outdoor space that allows for additional food and drink options, live music, art vendors, and more! Tickets cost just $30 for general admission, $15 for children ages 3-12 and children 2 and under are free. Strollers are not permitted inside the event. VIP Tickets cost $50 and allow early access to the event, plus VIP-only food and drink.
Learn more and buy tickets today at arvadachamber.org/taste.
Media Contact: Danielle Dascalos 720-837-3845 ddascalos@comcast.net
###