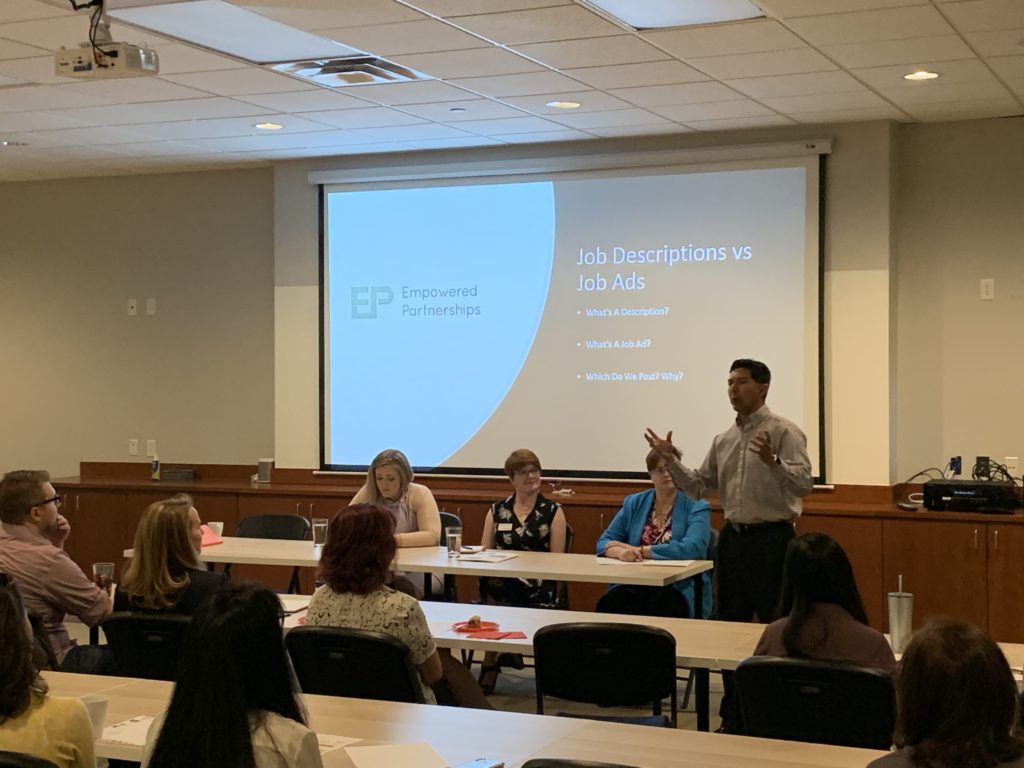 On June 13, the Arvada Chamber of Commerce hosted the Arvada Works Q2 Summit "Hiring Your Best Employees Yet." The Arvada Chamber is committed to improving our local talent pipeline through Arvada Works events, training, and workforce summits. This Arvada Works summit offered advice for each step of hiring quality candidates, from job posting, to interviews, to onboarding and retention. Thank you to all our presenters at this summit: Jon Drogheo (National Sr. Director of Talent Acquisition at Empowered Partnerships, LLC), Alex Conway Peterson (Senior Manager, at Skillful Initiatives), Donna Shannon (President and CEO, Personal Touch Career Services), and Kim DeVisser (Sr. HR Business Partner, Jefferson County).
4 Takeaways From The Summit
When posting job openings, write an ad, not a job description.

Jon Drogheo recommends telling your organization's story in the job posting. That means matching the company culture in tone and making someone

want

to work there. Picture your best friend wants to work for the job you're recruiting for. What would you tell them?

Hire with skills-based, not experience-based, practices.

Alex Conway Peterson shared the free

Skillful Job Posting Generator

, which helps employers write skills-based job postings. By identifying and utilizing occupational competencies, you can better attract candidates with the right qualifications and improve retention.

Your interview questions should meet five criteria.

According to Donna Shannon, the best interview questions should: be insightful; be relevant to the job; address your needs skills; test for culture; and be legal.

Let the new hire know why you chose them.

Kim DeVisser says that people decide in the first three days if they want to stay long term at an organization. Make sure that everyone involved in the recruiting process states why they are excited for the new hire to start and then have something on the new hire's desk based on what you know about them.
---
Are you ready to help improve our local talent pipeline? The Arvada Works program relies on the varied contributions of our community employers, educators and partners. If you're interested in helping us close the skills gap in Arvada, there are many ways for you to get involved today! Click here to learn more about the program, sign up to receive updates, and discover how you can help make an impact.