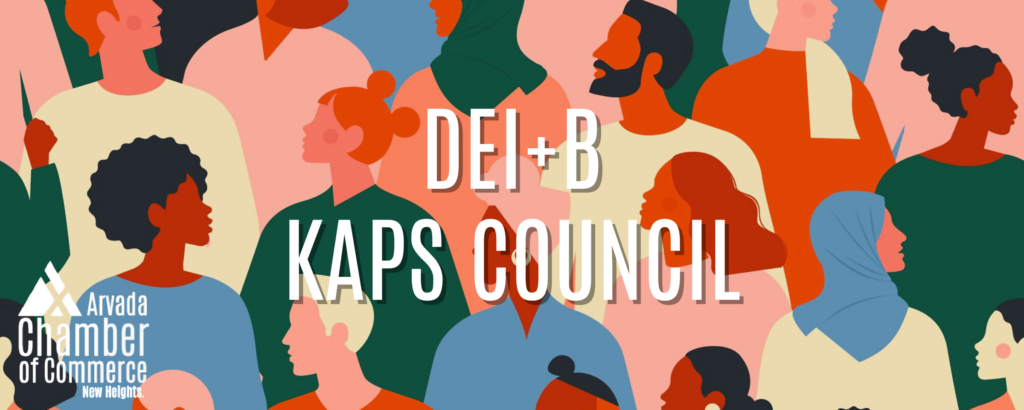 November 17, 2022 – ARVADA, CO. Today, the Arvada Chamber of Commerce announced a Diversity, Equity, Inclusion + Belonging (DEI+B) KAPS Council to ensure that the Arvada business community is leading the way in taking meaningful action to improve DEI+B best practices. KAPS stands for Kick-Ass Problem Solvers and the business and community leaders on this council will work diligently to advance the Chamber's DEI+B commitment.
Belonging is at the heart of the Arvada Chamber's core values and work to serve the Arvada business community. By creating an inclusive environment, the Chamber's vision in this work is to empower new perspectives, solutions, and opportunities for our local economy and serve as a champion for advancing all businesses and employees in Arvada. 
Members of the DEI+B KAPS Council include:
Jodye Whitesell, Rocky Mountain Children's Health Foundation

Jenny Macias, Hope House Colorado

Raven V. Faber, EngErotics, Inc./Faber Anderson Development and Design, LLC

Vanessa Kendrick, VK Signature Real Estate

Tina Hageman, Family Tree

Leslie Brezina, Regis University

Maya Oren, Talnua Distillery

Teresa YoKell, Arvada Center for the Arts and Humanities

Terry Carter-Davis, Sooper Credit Union

Aurora Elicerio, Comcast

Elisa Thurston, Greater Colorado Council, Boy Scouts of America

Brianne Sheridan, SFinvest & The Square at Five Parks

Masaru Torito, Kokoro Restaurant

Joel Zigman, Deeply Rooted Music
Learn more about this council at www.arvadachamber.org/DEIB-KAPS-council.
The DEI+B KAPS Council is the latest step in the Arvada Chamber's DEI+B focus over the last 21 months. In that time, the Chamber staff and board members have engaged in four distinct training experiences to help better understand internal and external opportunities to support businesses and the Arvada community. This includes working with Thriving Culture, a Denver-based consulting agency to audit, engage and educate the organization's stakeholders and business leaders on DEI+B best practices and joining Colorado Inclusive Economy's Cohort 5.
The Arvada Chamber will publish updates, resources, and programs from the DEI+B KAPS Council, as well as opportunities for business and community leaders to get involved.