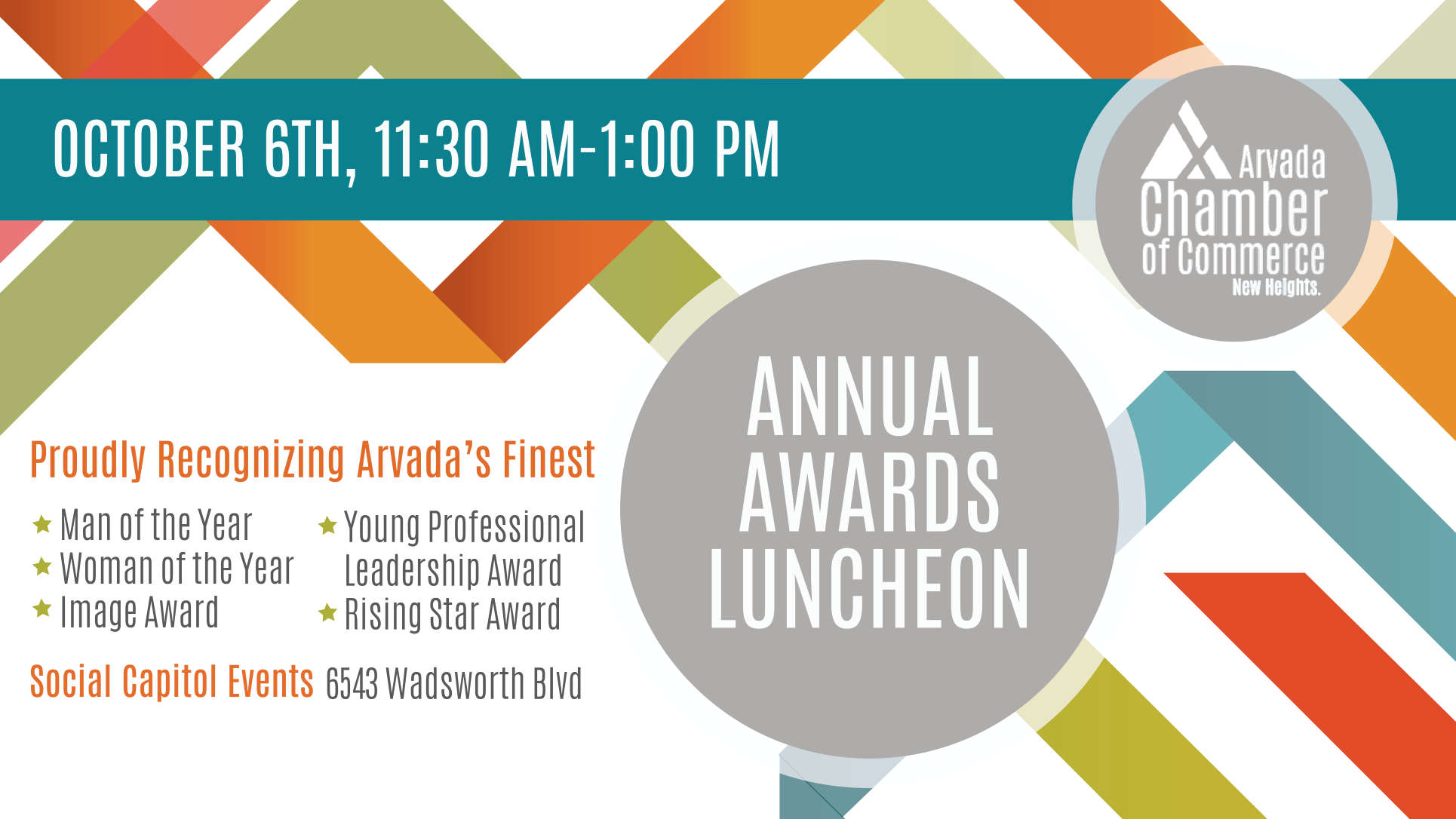 ARVADA, Co, September 29, 2021 – The Arvada Chamber of Commerce is pleased to announce the 2020 Man and Woman of the Year, Image Award, Young Professional Leadership Award, and Rising Star Award winners. Recipients of these awards will be honored at the October 6, 2021 Arvada Chamber of Commerce 70th Annual Awards Luncheon from 11:30-1:00 pm at Social Capitol Events.
The Man and Woman of the Year Awards are a long-standing tradition in Arvada recognizing outstanding men and women in the community for their amazing community involvement, generosity and overall impact on Arvada. Nominations for this award are reviewed by a selection committee made up of previous winners. The 2020 winner of Man of the Year is Ed Rothschild and the 2020 winner of Woman of the Year is Marie Beeler. 
The selection committee also names individuals and/or groups as Image Award Recipients. Image Award winners are selected for their commitment to Arvada and the overall positive image they portray within the community. The committee will be giving out two Image Awards at this year's event. The first will honor fallen Arvada Officer Gordon Beesley for his commitment to the Arvada community in 19 years on patrol and as a school resource officer. The second award goes to Justin Andrade, who ran 280 miles to raise money for a scholarship in memory of a fallen high school friend.
The recipients of the Young Professional Leadership Awards are Joe Hengstler and Deanna Mayberry. As the Executive Director of the Olde Town Arvada Business Improvement District, Joe works to support Olde Town businesses and the community as a whole. Joe also served on the Arvada Festivals Commission, heading the Arvada On Tap event. Associate Director of BeyondHome, Deanna Mayberry has been essential to the growth of programming and grant funding for the low-income housing community. Deanna has also been instrumental in the development and growth of Reintegra, a nonprofit that assists young women who have been trafficked in Mexico.
The Rising Star Award recognizes an outstanding high school student in Arvada who has exemplified extraordinary skills in entrepreneurship, innovation, community impact and/or leadership. This year's Rising Star Award recipient is Curtis Fay. Curtis created a technology internship position at Arvada West High School to assist fellow students with various IT issues and the school hired him for summer school tech support. Curtis also leads sound, lighting and other technology support for all auditorium and theater events.
Man and Woman of the Year will be honored with a video of their accomplishments at the Awards Luncheon. Videos and more information about the wonderful work done by each of the recipients will be released after the event. For more information on attending the awards luncheon, please call 303-424-0313 or visit www.arvadachamber.org/events.