The Arvada Chamber of Commerce celebrated businesses, organizations and community leaders at the 95th Annual Dinner at the Arvada Center for the Arts and Humanities on January 24, 2020. Find information on all the award winners, plus photos and videos of the event below.
2019 Business of the Year | Jack's Bar and Grill and Steamers Coffeehouse
Jack's Bar and Grill & Steamers Coffeehouse has been an Arvada favorite for over a decade, driven by a mission of hiring and training special needs individuals. Located in the Village at Five Parks, the restaurant has expanded numerous times, including adding a 1,300-square-foot commercial prep kitchen across the street. This growth and introduction of new training programs has allowed the business to employ over 90 individuals with developmental disabilities at one time.
Learn more about Jack's and Steamers in the video below.
2019 Nonprofit of the Year | BeyondHome
For over 30 years, Colorado Homeless Families, now BeyondHome, has helped working families who are experiencing homelessness or who are on the verge of becoming homeless by helping them achieve self-sufficiency for life. Through partnerships with the Arvada Housing Authority, The Daniels Fund, HomeAid CO, churches, and multiple local organizations and individuals, our families receive the support they need while living in a safe home surrounded by a community of others. In January 2020, Colorado Homeless Families became BeyondHome because of its focus on future success; housing is just the beginning for families.
Learn more about BeyondHome in the video below.
2019 Chairman's Choice Awards | Thrive Workplace and Ron Slinger
In just one year of being open in Arvada, Thrive Workplace has proven a substantial commitment to the Arvada Chamber and Community by offering a place for businesses to come together. They have shown an investment in the success of businesses as they focus on resilience, leadership and building community. The Chamber is proud to call Thrive Workplace a partner and is thrilled to recognize them with the Chairman's Choice award!
Ron Slinger has been a staple in the Arvada Chamber and Community for 10+ years. During that time he has positively impacted the community through active volunteerism, leadership and advocacy. He has left a legacy that will be difficult for anyone to fill!
2019 Ambassador of the Year | Dwayne Cameron, Minuteman Press
This year's winner has shown incredible commitment to Arvada through his role as an Arvada Chamber Ambassador. Dwayne Cameron consistently is at events and meetings offering support and a friendly face to other businesses. It is clear that Dwayne has a deep understanding and investment in the success of businesses in Arvada.
2019 Behind the Scenes Award | Jeffco Public Schools

Career Links

The Jeffco Public Schools Career Links team has been integral in positively shaping conversations with our education partners around the skills and knowledge needed to improve our local talent pipeline leading to sufficient demand, economic mobility and skill alignment for our future workforce. Every year, 6,743 9th graders will start school in Jefferson County and only 25% of those students will complete college. Along with community partners like Jeffco Public Schools Career Links, the Arvada Works program is designed to help individuals find and magnify their true calling to transform their lives and the communities they live in.
Last year, Arvada Works made connections for 750 local students to internships, job shadows, apprenticeships and mentorships. The program has also engaged over 150 local businesses in employer collaboratives and trainings to form a diverse coalition of advocates for advancing the local workforce pipeline. During the dinner, attendees generously raised over $7,500 for Arvada Works. In 2020, the Chamber is committed to providing 1000+ work-based learning experiences for youth and adults, the development of a local matchmaking workforce database and complete a systems gap analysis that will drive improved outcomes for employers and our residents. To contribute to this mission, please click here, register an account, and click the green DONATE button.
---
Annual Dinner Photos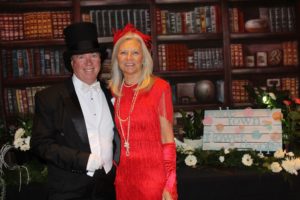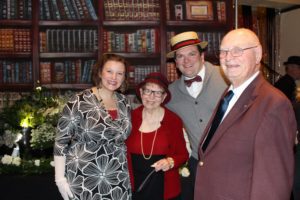 Find all the photos from the event at this link.
---
Thank You Sponsors!
Annual sponsors: Custom Environmental Services, City of Arvada, Arvada Economic Development, PBS Wealth Management, APEX Park and Recreation District, Sooper Credit Union, Mahnke Autobody and Morning Story.
Event sponsors: Equalized Productions, Lutheran Medical Center, Crown Trophy, Lumina Entertainment, Vista Chiara, Odyssey Beerwerks and Talnua Distillery.
Cookie sponsor: La Patisserie Francaise
Florist: Olde Town Flower Shoppe
Printing: Minuteman Press
Videos: Mountain Media Productions