ARVADA, CO – May 24, 2023 – The Arvada Chamber of Commerce is delighted to announce it will provide support for the state's Work-Based Learning Incentive (WBLI) Program, which is accepting applications from Colorado-based employers for reimbursements of up to $10,000.
The Colorado State Legislature passed Senate Bill 22-140 in May of 2022, creating the WBLI Program. The goal of this $3 million program is to increase and expand the number of work-based learning opportunities available to youth and adults across Colorado by providing monetary incentives to employers to create new or enhance existing, work-based learning programs. The WBLI Program will reimburse employers for developing and implementing Work-Based Learning activities in their company through May 31, 2024.
Work-based learning emphasizes practical, hands-on experience in a professional work setting as a means of complementing traditional classroom-based instruction. This type of learning can take many forms, such as internships, apprenticeships, on-the-job training, or job shadowing. Work-based learning benefits the economy by building a talent pipeline that is exposed to the job functions of local businesses. This can also support future productivity and profitability by developing potential employees' skills and fostering a culture of innovation and continuous improvement.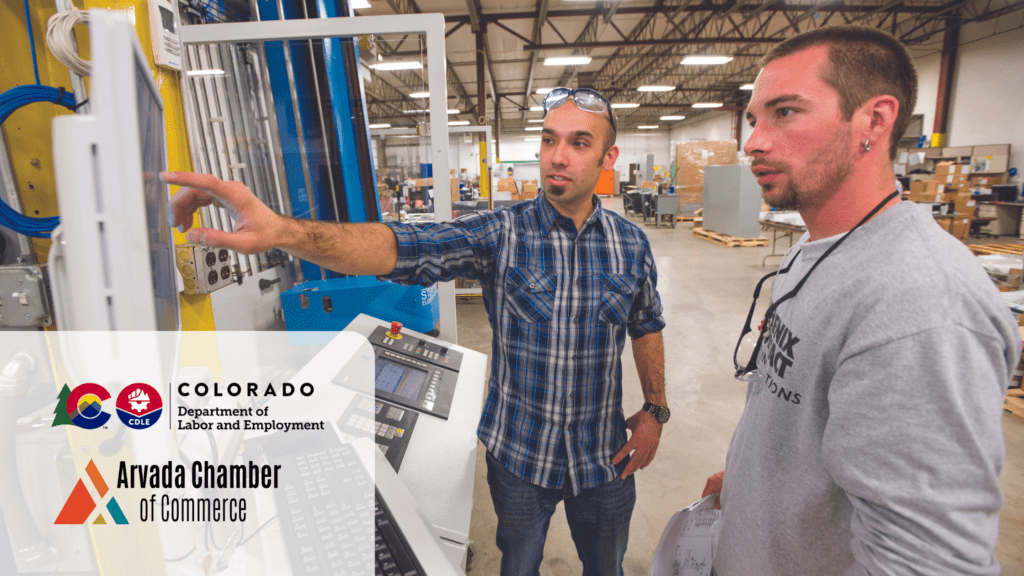 "As a critical goal of our B.O.L.D. 2026 initiative, the Arvada Chamber is deeply invested in growing our talent pipeline to meet the skills needs of employers," said Arvada Chamber President and CEO Kami Welch.
"We have been dedicated to forming partnerships and creating resources, like our Work-Based Learning Toolkits, to advance work-based learning awareness and opportunities and we view this program as a big next step."
The WBLI program offers a variety of scenarios for reimbursement through activities designed to learn about work, learn through work, or learn at work. Employers may be starting at different points in work-based learning opportunities and this grant offers incentives for the design and placement of participants in a program at any size.
Businesses can apply to the WBLI Program at arvadachamber.org/WBLIP. The Arvada Chamber team is committed to our local business success and will be available to answer any questions and support in defining work-based learning goals and reimbursement requests. Funds allocated through the Arvada Chamber are limited to $400,000 in total disbursements and will be awarded on a first-come, first-served basis. 
Businesses are invited to attend a virtual kick-off meeting on May 25 at 9:00 am. Learn more and register at arvadachamber.org/events.
---
For media inquiries or further information, please contact:
Kami Welch
President and CEO, Arvada Chamber of Commerce
Email: kami@arvadachamber.org
Phone: (303) 424-0313
About the Arvada Chamber of Commerce
The Arvada Chamber of Commerce is a community of businesses, organizations, and local leaders working together to solve challenges, foster meaningful connections, and develop the next generation of talent and leadership. Our work – driving action on conversations, resources, and large-scale initiatives that businesses can't tackle on their own – is central to the long-term success of our community as a whole. When you play a part, we all thrive.