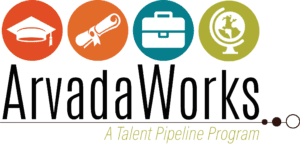 The Arvada Chamber of Commerce recently celebrated ONE YEAR of working to improve our local talent supply chain through Arvada Works. Year one was filled with a long list of lessons, but one theme consistently rose to the top in this work: ARVADA CARES. It has been incredible to see how many businesses and community partners came together to start the conversations that are crucial to identifying the challenges, gaps and opportunities associated with the workforce readiness paradigm shift.
What did we learn?
Communication is key. There are currently no local systems in place to support communication between industry and education/non-profits. This leads to one-off efforts and misinformation around industry demand.
There are a lot of resources out there. With hundreds of partners across Colorado who are working to "fix" workforce, there is incredible opportunity to clearly determine roles and support local boots on the ground. This top-down alignment will support improved communication and resource sharing, and ultimately improve systems.
We need to get crystal clear on our data and then share it! There are many data points floating around (sometimes contradictory to each other). Both industry and suppliers (anyone getting someone ready for the workforce) have an opportunity to lean in to data as a tool for tracking progress and seeking opportunities for improvement.
What did we accomplish in 2018?
Engaged nearly 80 local businesses in the Arvada Works program.

Developed strategic partnerships with over 30 local suppliers who understand the value of convening with industry.

Held 200+ meetings with community partners in this work to establish a strong understanding of the importance of improving the local talent pipeline.

Launched four industry collaboratives, focused on closing the skills gap in the Construction/Trades, Healthcare, STEM/Manufacturing and Professional Services fields.

Created industry-specific communication tools to assist in the development of a better informed future workforce.
What is next?
Creation of additional opportunities for industry and suppliers to engage in solutions through Workforce Summits, Trainings and Special Events.

Implementation of Career Exploration Week geared toward connecting local businesses with their future workforce.

Development of a database focused on connecting Industry with Supplier partners. For example, if a school counselor has a student who wants to be an engineer, they would be able to connect them to a local business leader with the experience to support that dream.

Improved communication around industry demand and skills requirements through the employer lens.

A complete gap analysis of our local system, from Career Awareness to Employee Retention. We will soon know if our system is flowing seamlessly or we need to improve certain areas.
What does success look like?
100 youth or adults connect to work-based learning opportunities.

100 + employers attending an Arvada Works Summit or Training.

Clearly defined documentation of the talent pipeline roles for each industry.

An increase in the number of students completing post-secondary opportunities.
To learn more about the program and how you can get involved, visit the Arvada Works page.