By Marsha Barancik, Senior Vice President of Strategic Impact
Increasing the number of childcare specialists in Jefferson County to enable caregivers to join the workforce and give children quality early learning experience are B.O.L.D. 2026 goals aligned with Red Rocks Community College's Childhood Education Program. The program's value has grown significantly in recent years as 80% of childcare centers are experiencing staffing shortages, a problem that intensified during the pandemic. 
Requiring the profession's candidates to gain exposure to a range of training and career options, such as home-based child care programs versus center-based childcare and preschool teaching, will help boost the number of local childcare specialists, according to Janiece Kneppe, Ed.D., faculty lead of the RRCC program.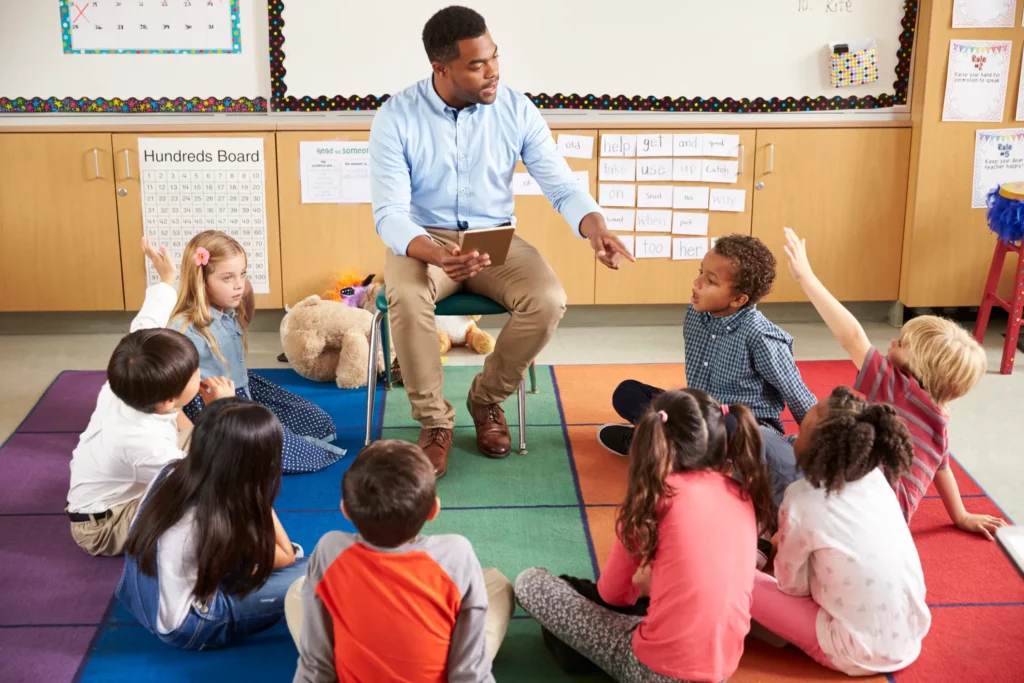 The ECE (Early Childhood Education) Associate's degree program offers two degrees: an Associate of Applied Science in ECE and the AA-Early Childhood Teacher Education degree that transfers to 4-year programs leading to a Bachelor's degree. The ECE program has 159 college students and 23 concurrent high school students enrolled across 15 ECE courses. Most students take two courses per semester. Completing an Associate's degree program can take five years.
The majority of the students are pursuing the AAS degree which offers various career options in early childhood including becoming a home childcare provider, or owning/operating a community-based childcare program or other related careers. The roughly 5% of students that are following the AA degree program will earn a teacher licensure, allowing these individuals to teach Kindergarten through grade 3 in public school settings. "My students are nontraditional," Kneppe says. "Typically, they are women, 27-45 years old, with their own families."
Flexible, integrated learning and real-time experience combinations are essential. That's why RRCC offers:
Onsite practicums: RRCC's The Children's Center on average has 45-55 kids, 18 months to 5-years of age, enrolled and being taught by 8 teachers. The Children's Center uses an emergent curriculum focused on children's interests yet integrates learning across all subjects. Every ECE student will complete at least one practicum course. Students who are not currently working in an early childhood program can complete their practicum hours with the RRCC Children's Center. The ECE program will typically place between 1- 5 students into the Children's Center or other community early childhood programs they have built relationships with.


Fast-track licensing: In lieu of completing an Associate's degree, Kneppe says students can stack certificates that lead to recognized credentials with childcare licensing. And the best way to earn these certificates is taking two courses at a time that lead to the EC Assistant Teacher certificate (6 credits), ECE certificate (12 credits), and Early Childhood Teacher certificate (18 credits). These certificates can be used to reach increasing EC credentials in the Professional Development Information System (PDIS) for all early childhood professionals working in home-based or center-based settings.


External apprenticeships: RRCC's Child Care Innovations Center provides access to a federally registered apprenticeship in early childhood. These apprentices can choose to enroll with RRCC's ECE program to earn the certificates and AAS-ECE degree through work-based learning experiences gained via the apprenticeship. The apprenticeship program with Child Care Innovations serves apprentices across Colorado and is becoming a popular way to enter into the EC workforce earning a wage while learning the knowledge and skills to become a great EC educator.
Learn more about the program's certifications and degrees by visiting: Early Childhood Education Degrees and Certificates | Red Rocks Community College (rrcc.edu)
B.O.L.D. 2026 is a five-year regional economic strength and resiliency initiative of the Arvada Chamber of Commerce. The Chamber developed BOLD 2026 in consultation with private and public sector leaders and partners in Arvada, Jefferson / Adams Counties, Metro Denver and the state of Colorado. One goal of B.O.L.D. 2026 is to increase childcare capacity in Jefferson County. Learn more about our childcare challenges and work here.