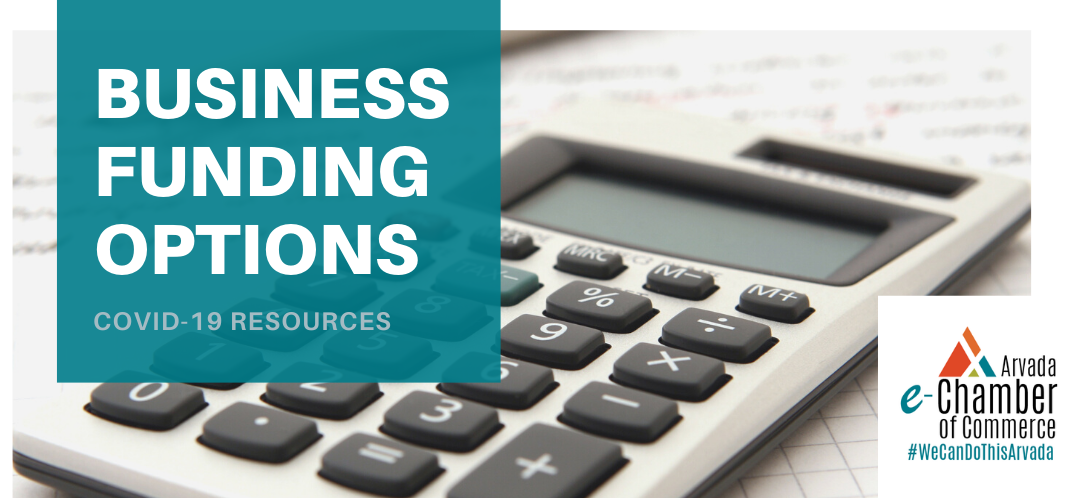 The Arvada Resiliency Taskforce has compiled a list of COVID-19 funding opportunities that may be available to you and your business. Please explore your options carefully. We will keep this list updated as new programs are announced. Updated 5/1/2020.
You do not have to do any of this alone. We ask all businesses in Arvada to take four minutes to complete this COVID-19 IMPACT & OPPORTUNITY SURVEY to help us understand how we can best serve you and we will be in touch. Additionally, the State of Colorado established a Small Business Navigator Hotline and Email for businesses seeking general guidance, information on access to capital programs, workforce development concerns, and other areas small businesses are affected by. The Small Business Navigator hotline is available Monday through Friday from 8:00 a.m. to 5:00 p.m. MT, or, they can be reached via email. Hotline: (303) 860-5881 Email: oedit_sbnavigator@state.co.us.
---
NATIONWIDE PROGRAMS
CARES Act – Paycheck Protection Program
The Coronavirus Aid, Relief, and Economic Security (CARES) Act allocated $350 billion to help small businesses keep workers employed. Known as the Paycheck Protection Program, this loan is designed to provide a direct incentive for small businesses to keep their workers on the payroll. SBA will forgive loans if all employees are kept on the payroll for eight weeks and the money is used for payroll, rent, mortgage interest, or utilities. The Paycheck Protection Program will be available through June 30, 2020. Note: The SBA will resume accepting Paycheck Protection Program applications from participating lenders on Monday, April 27, 2020 at 10:30am EDT.
---
SBA Economic Injury Disaster Loan Program
Small business owners in all U.S. states, Washington D.C., and territories are eligible to apply for an Economic Injury Disaster Loan advance of up to $10,000. The SBA's Economic Injury Disaster Loan program provides small businesses with working capital loans of up to $2 million that can provide vital economic support to small businesses to help overcome the temporary loss of revenue they are experiencing. Funds will be made available within three days of a successful application, and this loan advance will not have to be repaid.
---
SBA Express Bridge Loan Pilot Program
The SBA's Express Bridge Loan (EBL) Pilot Program allows small businesses who currently have a business relationship with an SBA Express Lender to access up to $25,000 with less paperwork. Because it's an express loan, the SBA has stated that you'll receive the funds within 45 days of approval, and no later than 90 days.
---
U.S. Chamber of Commerce Foundation's Save Small Business Fund
Funded by corporate and philanthropic partners, the Save Small Business Fund is a collective effort to provide $5,000 grants to as many small employers as possible.

ACCION Small Business Loans
Accion is a nonprofit, community organization dedicated solely to helping small business owners succeed and communities thrive. Loans amounts range from $300 – $250,000.
---
Facebook Small Business Grants Program
Facebook is offering $100M in cash grants and ad credits for up to 30,000 eligible small businesses in over 30 countries where we operate. We'll share more details as they become available. Facebook will begin taking applications in the coming weeks. In the meantime, you can sign up to receive more information when it becomes available here.
---
Hello Alice COVID-19 Business for All Emergency Grant
Hello Alice is offering $10,000 grants being distributed immediately to small business owners impacted by coronavirus, as part of our broader mission to ensure Business for All. In addition to funding, grant recipients will receive ongoing support from the Hello Alice community. No details are known on eligibility. Apply here.
---
COLORADO PROGRAMS
Arvada Emergency Business Recovery Initiative
The City of Arvada has announced an initiative to support Arvada businesses as the community continues to respond to the COVID-19 health crisis. Developed in partnership with the Arvada Economic Development Association (AEDA), the Arvada Urban Renewal Authority (AURA) and other partners, the Arvada Emergency Business Recovery Initiative includes a suite of resources to support Arvada businesses and workers coping with the economic impacts of COVID-19. The program features a $2.5 million loan fund to help qualifying businesses stay afloat until funding from the Small Business Administration (through the CARES Act) becomes available. The City will award no-interest loans of up to $10,000.00 from the fund to qualifying small businesses.
Arvada Small Business CEF COVID-19 Relief Loan
Colorado Enterprise Fund is offering COVID Relief Loans with a maximum loan amount of $25,000 to businesses that were existing and generating revenue pre COVID.
Colorado Lending Source
A partnership with Kiva creates a new 0% interest, 0 fee loans through the Kiva platform for US small businesses. If you have any specific questions, you can reach out to Rachael Sall, the Kiva Hub Capital Access Manager.
---