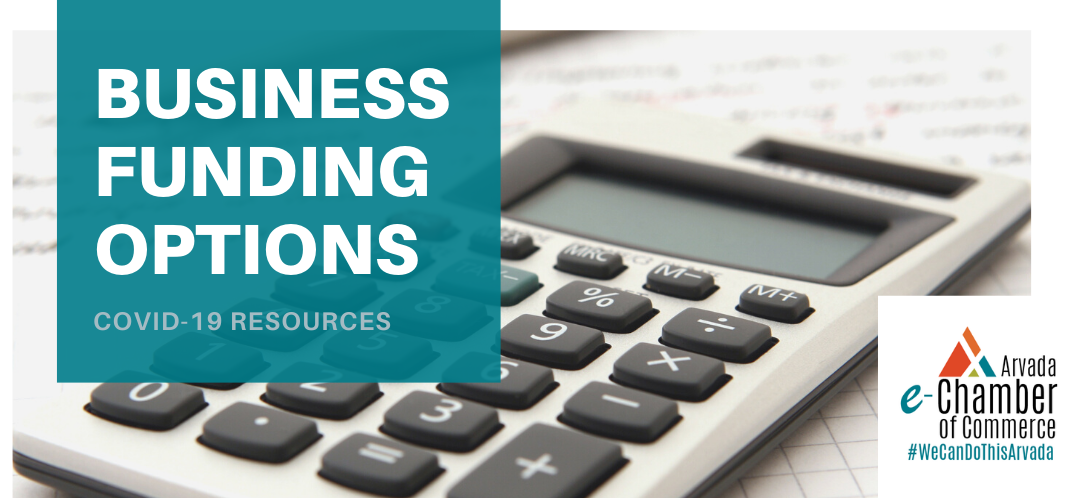 The Arvada Resiliency Taskforce has compiled a list of COVID-19 funding opportunities that may be available to you and your business. Please explore your options carefully. We will keep this list updated as new programs are announced. Updated 12/9/2020.
The State of Colorado established a Small Business Navigator Hotline and Email for businesses seeking general guidance, information on access to capital programs, workforce development concerns, and other areas small businesses are affected by. Even the issues and concerns surrounding cybersecurity, and how to get in touch with a Cyber Security Consulting company to provide support in this area. The Small Business Navigator hotline is available Monday through Friday from 8:00 a.m. to 5:00 p.m. MT, or, they can be reached via email. Hotline: (303) 860-5881 Email: oedit_sbnavigator@state.co.us.
---
COLORADO PROGRAMS
NEW – City of Arvada and Adams County Mini-Grants
The Arvada Chamber of Commerce, in partnership with Adams County and the City of Arvada, is pleased to announce the second round of mini-grants to support all physical Arvada small businesses and non-profits impacted by COVID-19.
All Arvada businesses and non-profits with physical locations can apply for mini-grants at adamscountycovid19.org/minigrants in the four categories. While the program was started by Adams County, a partnership with the City of Arvada opened grants to businesses and non-profits across Arvada. Read more here.
---
NEW – Colorado Restaurant Association Grants
Colorado Restaurant Association will be offering grants to restaurants to help with costs of winterizing outdoor space. Applications will be available by November 1. Learn more and apply here.
---
Arvada Emergency Business Recovery Initiative |
The City of Arvada has announced an initiative to support Arvada businesses as the community continues to respond to the COVID-19 health crisis. Developed in partnership with the Arvada Economic Development Association (AEDA), the Arvada Urban Renewal Authority (AURA) and other partners, the Arvada Emergency Business Recovery Initiative includes a suite of resources to support Arvada businesses and workers coping with the economic impacts of COVID-19.
The City of Arvada has announced a second round of support for the local business community and continued recovery from the economic effects of the COVID-19 pandemic. An additional $1.5 million in funding is now available, bringing the total amount of support provided to local businesses to $4.3 million. The application process is currently closed.
Who is eligible?FinancingHow to Apply
Is a non-home-based business with a physical address within the City of Arvada.
Is a for-profit business.
Has been in operation on Jan. 1, 2020.
Has an active Arvada business license.
Is in good standing with any City permits, licenses, fees or taxes as of March 1, 2020.
Is a small business with no more than 50 full-time equivalent Full Time Employees (FTE) positions.
Has been forced to temporarily close or forced to dramatically limit operations due to the Public Health Orders related to the COVID-19 public health crisis.
Businesses with more than one physical location in the City of Arvada may apply for the program for one location only. For purposes of estimating FTEs, the FTE count shall be based only on the specific location applying for the program. Corporately-owned national chains may not apply for the program; however, locally owned franchise owners/operators are allowed to apply. Loans will be awarded only to for-profit businesses.
The support is being offered in the form of grants from $1,000 to $40,000 depending on the size of the company and the nature of revenue loss. In allocating funding, the City may prioritize businesses that:
are applying for the first time
are disadvantaged
are able to demonstrate losses including revenue loss projections
have been most deeply impacted by the effects of the pandemic
APPLICATION WINDOW: The City will accept applications beginning on Sept. 21 at 8 a.m. The application deadline was Oct. 16 at 5 p.m.
Participants must complete and return a CARES Act funding Second Round Business Recovery form (including the W-9, the grant application and the terms and agreement).
---
Energize Colorado Gap Fund
The Energize Colorado Gap Fund will provide more than $25M in small business loans and grants to boost small business enterprises that are the economic engines throughout the state. Sole proprietors, businesses and nonprofits with less than 25 full-time employees can apply for up to a $15,000 grant and a $20,000 loan for a possible combined total of $35,000 in financial assistance. Applications are currently closed, however, there are banks that are available that might be able to help small businesses with their loans, you can try here for more information.
---
Arvada Small Business CEF COVID-19 Relief Loan
Colorado Enterprise Fund is offering COVID Relief Loans with a maximum loan amount of $25,000 to businesses that were existing and generating revenue pre COVID.
Who is eligible?FinancingHow to Apply
Businesses, including home-based, generating revenue pre-COVID
Non-profits generated earned income (non-donations) pre-COVID
Loans up to $25,000 at rates as low at 3.5% with a 6 year term.
Learn more and apply here. CEF can close the loan and distribute funding in 10 days from application.
Colorado Lending Source
A partnership with Kiva creates a new 0% interest, 0 fee loans through the Kiva platform for US small businesses. If you have any specific questions, you can reach out to Rachael Sall, the Kiva Hub Capital Access Manager.
Who is eligible?FinancingHow to Apply
Small businesses (<500 employees), Sole proprietors, Independent contractors, 501(c)6 organizations
Small businesses in the hospitality and food industry with more than one location could also be eligible at the store and location level if the store employs less than 500 workers. This means each store location could be eligible.
Maximum Granted: $2 million
Interest: 3.75% (2.75% for non-profits)
Duration: Up to 30 years
Deferment options available
Click here for more information on how you can prepare and apply for these loans. For program questions or assistance in completing the application, businesses can contact the Customer Service Center at 1-800-659-2955 or email disastercustomerservice@sba.gov. The website is running very slow due to high traffic and the application process takes 2-3 hours (consider applying after 7pm and prior to 7am)
---
SBA Express Bridge Loan Pilot Program
The SBA's Express Bridge Loan (EBL) Pilot Program allows small businesses who currently have a business relationship with an SBA Express Lender to access up to $25,000 with less paperwork. Because it's an express loan, the SBA has stated that you'll receive the funds within 45 days of approval, and no later than 90 days.
Who is eligible?FinancingHow to Apply
Any U.S.-based small business that can prove to be adversely affected by COVID-19 is eligible for an Express Bridge Loan. A small business is defined as having a maximum of $750,000 to $35.5 million in revenue or a maximum of 100 to 1,500 employees.
Maximum Granted: $25,000
Interest: The maximum allowable interest is 6.5% over the prime rate (currently 4.25%). Interest rates can be fixed or variable.
Duration: Seven years
---
U.S. Chamber of Commerce Foundation's Save Small Business Fund
Funded by corporate and philanthropic partners, the Save Small Business Fund is a collective effort to provide $5,000 grants to as many small employers as possible.

Who is eligible?FinancingHow to Apply
Employ between 3 and 20 people

Be located in an economically vulnerable community (enter your zip code here)
Have been harmed financially by the COVID-19 pandemic
Each grant is for $5,000 and must be applied toward business expenses. The Foundation will send a follow-up survey to all grantees to learn how it was spent and the impact that it made.
Starting April 20, 2020, you can submit a short application that will be linked to this page. If you'd like a reminder when the application process opens, please sign up with your email address at the link on that page. The application will take about 10 minutes to complete and will only require your business's W-9 form and basic supporting information about your business.
ACCION Small Business Loans
Accion is a nonprofit, community organization dedicated solely to helping small business owners succeed and communities thrive. Loans amounts range from $300 – $250,000.
Who is eligible?FinancingHow to Apply
Accion works with businesses in a variety of different industries such as construction, transportation, retail sales, landscaping, restaurants, professional services and more. Must have a minimum credit score of 575.
Maximum Granted: $250,000
Interest: Fixed rates from 7% – 34% APR
Learn more and apply online here.
---
Facebook Small Business Grants Program
Facebook is offering $100M in cash grants and ad credits for up to 30,000 eligible small businesses in over 30 countries where we operate. We'll share more details as they become available. Facebook will begin taking applications in the coming weeks. In the meantime, you can sign up to receive more information when it becomes available here.
---
Hello Alice COVID-19 Business for All Emergency Grant
Hello Alice is offering $10,000 grants being distributed immediately to small business owners impacted by coronavirus, as part of our broader mission to ensure Business for All. In addition to funding, grant recipients will receive ongoing support from the Hello Alice community. No details are known on eligibility. Apply here.
---
CARES Act – Paycheck Protection Program | Update: PPP Close August 8
The Coronavirus Aid, Relief, and Economic Security (CARES) Act allocated $350 billion to help small businesses keep workers employed. Known as the Paycheck Protection Program, this loan is designed to provide a direct incentive for small businesses to keep their workers on the payroll. SBA will forgive loans if all employees are kept on the payroll for eight weeks and the money is used for payroll, rent, mortgage interest, or utilities.
Who is eligible?FinancingHow to Apply
This program is for any small business with less than 500 employees (including sole proprietorships, independent contractors and self-employed persons), private non-profit organization or 501(c)(19) veterans organizations affected by COVID-19
Small businesses in the hospitality and food industry with more than one location could also be eligible at the store and location level if the store employs less than 500 workers. This means each store location could be eligible.
Loans can be up to 2.5x the borrower's average monthly payroll costs, not to exceed $10 million
Interest: The initial rate is 0.5%, but it may rise. It is capped at 4%.
Duration: Up to 10 years
The loan will be fully forgiven if the funds are used for payroll costs, interest on mortgages, rent, and utilities (due to likely high subscription, at least 75% of the forgiven amount must have been used for payroll). Loan payments will also be deferred for six months. No collateral or personal guarantees are required. Neither the government nor lenders will charge small businesses any fees. Forgiveness is based on the employer maintaining or quickly rehiring employees and maintaining salary levels. Forgiveness will be reduced if full-time headcount declines, or if salaries and wages decrease. Click here for details.
You can apply through any existing SBA 7(a) lender or through any federally insured depository institution, federally insured credit union, and Farm Credit System institution that is participating. Other regulated lenders will be available to make these loans once they are approved and enrolled in the program. You should consult with your local lender as to whether it is participating in the program. Click here for the borrower application form. The SBA will resume accepting Paycheck Protection Program applications from participating lenders on Monday, April 27, 2020 at 10:30am EDT. We encourage you to apply as quickly as you can because there is a funding cap.
Colorado Enterprise Fund is accepting PPP applications up to $250,000. Learn more and apply here.
Colorado Lending Source is also accepting PPP applications up to $250,000. Learn more and apply here.
---