Thank you to everyone who helped feed our champions of Arvada as a way to say we all care! Many amazing sponsors have stepped up and contributed full meals to our Chow for Champions campaign and we are so grateful to them and the community for coming together on this cause. Since March 24th, we fed over 800 local Champions including first responders, healthcare workers, essential city staff and those who provide childcare to essential workers. We've received over $5,600 in contributions from local businesses and citizens and supported 22 local restaurants.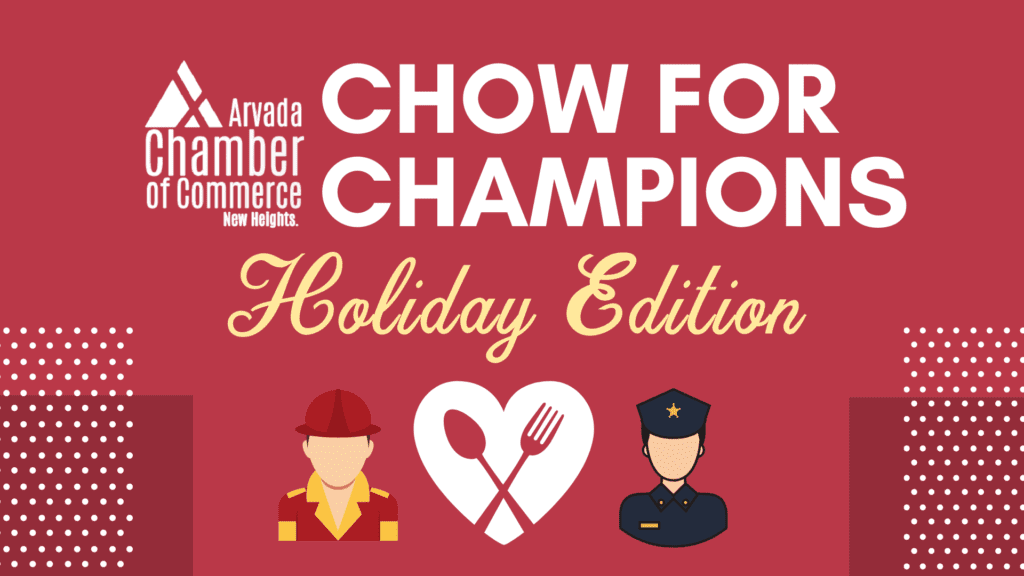 Organized and hosted by the City of Arvada, Arvada Chamber of Commerce, resident Kimber Just, and City Councilmember Lauren Simpson. Please consider contributing to this fund to feed Arvada Fire and PD on Thanksgiving and Christmas. 2020 has been a challenging year for essential workers and our local firefighters, EMS and police have been working tirelessly all year to keep the citizens of Arvada safe and healthy. We would like to give back to them by feeding those working on Thanksgiving and Christmas a delicious holiday meal.
Click here to learn more and make a contribution!
---
Chow For Champions Gallery and Calendar 
| | | | | |
| --- | --- | --- | --- | --- |
| Date | Champion | Restaurant  | # of Meals | Sponsor |
| March 24 | Arvada PD | Bennett's BBQ | 55 | Individuals |
| March 26 | Arvada Fire | 3 Sons BBQ | 20 | Sunrise Rotary |
| March 30 | City of Arvada Emergency Operations Center and Facilities | School House | 35 | This meal provided by grateful members of the Arvada community since 1981! |
| March 31 | Roots of Courage – A Family Tree Program | Pho Dong Huong and La Patisserie Francaise | 40 | Team Rubicon |
| April 1 | Lutheran Hospital- Intensive Care Unit, Critical care Team | Grandview Tavern | 20 | Community First Foundation |
| April 2 | City of Arvada Water Treatment | CD's Wings | 20 | 86th Place Neighbors |
| April 6 | Lutheran Hospital- Intensive Care Unit, Critical care Team | Bluegrass Lounge | 20 | Councilman Bob Fifer |
| April 7 | City of Arvada Public Works | Newk's | 20 | Arvada Center |
| April 9 | Arvada Fire Stations 1, 2, 3, 4, 5, 7, 8, 9 and HQ | Randi's Pizza | 70 | Various community members |
| April 10 | Arvada PD | Jack's and Steamers | 50 | Arvada Economic Development Association and Lakeside Insurance |
| April 14 | City of Arvada Indiana Shops (Parks, Water System Operations, Streets) | Santiagos | 30 | City of Arvada HR Department |
| April 15 | Duncan YMCA | Malone's Clubhouse | 15 | "A Grateful Citizen" |
| April 16 | King Soopers- 64th and Ward | New Image and Steuben's Arvada | 60 | Hazel Hartbarger and Arvada Economic Development Association |
| April 21 | The Goddard School of Arvada | Rib City | 23 | Sooper Credit Union |
| April 23 | Care Animal Hospital | Lot One | 15 | Kaki Zeeb |
| April 29 | Jeffcom | La Patisserie Francaise | 100 | Arvada Rent-Alls |
| April 30 | Costco | Chick-Fil-A | 40 | Chick-Fil-A |
| May 3 | Foothills Animal Shelter | Bada Bing Grill | 15 | Alphagraphics |
| May 6 | Lutheran Hosptial CU B (second critical care unit that we have had to open for COVID patients) | Abrusci's Fire and Vine | 20 | Phipps Team |
| May 8 | Arvada Fire, Station 6, B Shift | | 8 | Julie McLeod |
| May 11 | Arvada Fire… stations 1, 2. 3,4 | Bennett's BBQ | 35 | Various Individuals |
| May 14 | Springwood Memory Care | Knead the Bakery | 10 | Judith Hill & Karen Cravens |
| May 21 | Community Table | Homegrown Tap & Dough | 10 | Bob Roark |
| May 28 | Hope House | Jack's and Steamers | 15 | Jack's and Steamers |
| May 30 | Post Office – Indian Tree Location | Knead the Bakery | 40 | Linda Hadley |