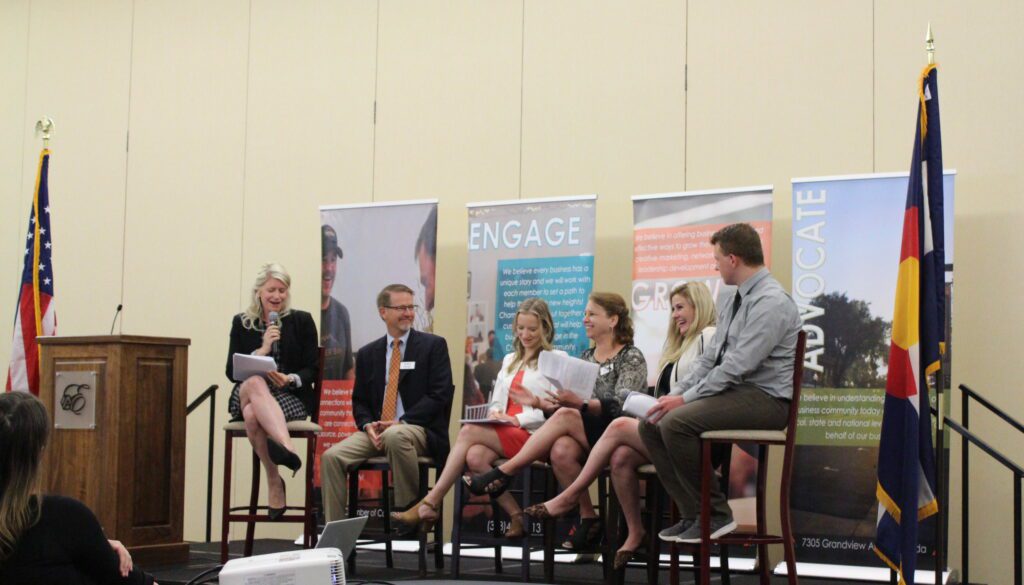 On June 21, the Arvada Chamber of Commerce hosted a Community Impact Breakfast to discuss "Improving the Talent Pipeline." We understand that finding and retaining good talent continues to be at the top of almost every employer's list of challenges. At this breakfast, we heard from a panel of local, regional and state partners about what it will take to change the way we address everything from career awareness to employee retention. 
The panel included Brad Rupert (Jefferson County Schools), Kelly Caulfeld (Colorado Succeeds), Colleen Davis (PIIAC), Marna Messner (Jefferson County Schools) and Austin Beazley (senior, Arvada High School). Kami Welch, Arvada Chamber of Commerce President, moderated the panel and began the discussion with an interactive demonstration of the post-secondary workforce gap in our community. Every year, 6,743 9th graders will start school in Jefferson County and only 1,368 of those students will complete college. Closing the skills gap will require engagement from employers, educators and partners across Arvada. "This is not a Chamber initiative; this is a community initiative," Kami emphasized.
Immediate barriers in our workforce gap are the systems, conversations, and stigmas that support college as the lone post-secondary pathway. "My education was very focused on what college to go to," said Austin. Marna confirmed that the schools do a great job preparing students for college, but "we don't do great to prepare students for after college or no college." She then asked, "What does it look like to think careers first?"
Brad noted that to change the college stigma to career first requires a collective change in the conversation for parents and adults in the community. For example, employers should rethink if the skills needed for a job truly do require a college degree. And the community should do a better job promoting the jobs that don't require post-secondary education. "We need to define what success means [in 2019]," he said. "We know many people doing trades supporting a family. They have no college degree, but are essential to our economy." 
Austin entered his senior year seven credits behind – a full year. The Career Explore program at Arvada High program offered an alternative: exposure, training and certification for a career pathway in hospitality, medical, construction, and other trades. "We should have more options like this for kids who don't have comfort in traditional school," Austin said. He added we should "get kids in middle school and high school to job fairs and job visits to see what careers really look like before senior year."
The ask for employers and employees is to better communicate with educators and community partners what skills are needed and how that experience can be achieved. "Tell your stories," asked Marna of the business community. "Help students understand the pathways to careers."
Additional takeaways from the panel
Collen Davis: "One of my favorite analogies when discussing career successes albeit cliché, is climbing to the summit of a mountain. There is more than one path to the summit, and it takes different contributors within the community to show the different trails that one can blaze so that everyone can reach the top."
Kelly Caulfeld: "It's not about college or career. This is how we lose people. It's about supporting students along postsecondary and career pathways where students receive work-based learning experiences that lead to postsecondary academic credit."
Marna Messner: "We cannot do this work in isolation. For years we have been trying to solve the education-workforce problem independently within our own organizations.  The reality is this work requires solid collaboration between all stakeholders. Jeffco Public Schools will continue to build partnerships to bridge the gap between our community and industry needs and how we prepare students for a successful future.  I believe that the ArvadaWorks project is imperative to ensuring bright futures for all Arvada students and will help us learn how to make this type of program a reality for all students in Jeffco."
---
Are you ready to help improve our local talent pipeline? The Arvada Works program relies on the varied contributions of our community employers, educators and partners. If you're interested in helping us close the skills gap in Arvada, there are many ways for you to get involved today! Click here to learn more about the program, sign up to receive updates, and discover how you can help make impact.