The 2018 Colorado General Assembly started in January with relatively low expectations for major accomplishments given split political control of the legislature in an election year. However, by the time the legislature adjourned last week, major legislation important to the JeffCo business community passed – even if some of those last minute deals took place on the 120th day of the 120-day session.
The Jefferson County Business Lobby took formal "support" or "oppose" position on 34 bills with a direct impact on our business members, with a 91% success rate. Not a single bill opposed by the JCBL made it to the Governor's desk this year.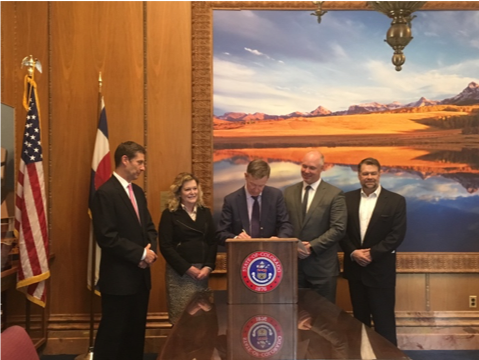 The JCBL realized a major win with the passage of legislation (HB18-1250) to require all state regulatory agencies to identify the frequency and severity of regulatory fines imposed on businesses. Each agency must then determine if the rule being violated should be clarified, enforced differently or if the agency should engage in outreach and education of the impacted industries. This legislation was sponsored by JeffCo's own Representative Tracy Kraft-Tharp (D-Arvada) and Representative Lang Sias (R-Arvada) (pictured above at the bill signing ceremony, along with Governor John Hickenlooper, Senate sponsor Kevin Priola (R-Henderson) and JCBL lobbyist Jeff Weist.)
In general, however, this session will mostly be remembered for a handful of major bi-partisan deals to advance some long-outstanding issues. And, unfortunately, for an occasionally adversarial and negative tone generated by a number of sexual harassment complaints against sitting legislators, with some of these complaints being reviewed by sexual harassment law specialists.
The Republican Senate and the Democratic House of Representatives did meaningfully move the ball down the field with bi-partisan agreements on:
Increased funding for transportation, including referring a ballot question in 2019 asking the voters to approve $2.3 billion in bonds for roads and transit (SB18-001);
Reforms to the insolvent state employees' retirement system (PERA) (SB18-200); and
Funding for rural Broadband deployment (SB18-002).
Other successful bills supported by the JCBL include:
Workforce Development
HB18-1004 – Extending the child care contribution tax credit
HB18-1005 – Providing more information to students about concurrent enrollment
HB18-1316 – Extending the WORK Act skilled worker recruitment program
HB18-1266 – Extending the Career Development Success Program
Economic Development
HB18-1083 – Creating sale tax credit for on-demand air carriers
HB18-1135 – Extending the Advance Industry Export Acceleration Program
HB18-1185 – Changing business sales apportionment to a market-sourced system
HB18-1190 – Modifying the Job Creation and Main Street Revitalization Act
HB18-1271 – Permitting electric utilities to create economic development rates
SB18-007 – Extending the Affordable Housing Tax Credit
General Business
HB18-1022 – Sales Tax Simplification
On the other hand, some of the major bills opposed by the JCBL that died during the session were:
HB18-1001 – Mandating paid family and medical leave
HB18-1261 & 1261 – Making arbitration clauses in business contracts difficult to enforce
HB18-1298 – Mandating a state-run retirement program on private businesses
HB18-1311 – Requiring health plans to charge the same premiums in high-cost and low-cost areas of the state
HB18-1368 – Permitting local governments to set their own minimum wage
HB18-1377 – Prohibiting employers from inquiring about salary history from applicants
With the end of the 2018 legislative session, the JCBL's attention will now turn to the coming November elections, when voters will elect a new Governor and determine the partisan make-up of the Colorado legislature in 2019. Businesses will also have to pay close attention to a number of ballot questions voters will decide in November.
Those include a sales tax increase for transportation funding, residential growth limits, an income tax increase and measures to cut down on partisan gerrymandering in drawing state and federal legislative district lines. The JCBL will be communicating more information to our members about ballot questions this summer.
Just a reminder that you can find the status of all of the JCBL bills at jeffcobusinesslobby.org. While you are there, sign up for regular updates under the "Take Action" icon.
The Jefferson County Business Lobby is the united voice of JeffCo businesses at the Colorado State Capitol. The JCBL is a partnership comprised of the Arvada, Evergreen, Golden, West Metro, Westminster and Wheat Ridge Chambers of Commerce, the Jefferson County Economic Development Corporation and the Applewood and Wheat Ridge Business Associations.