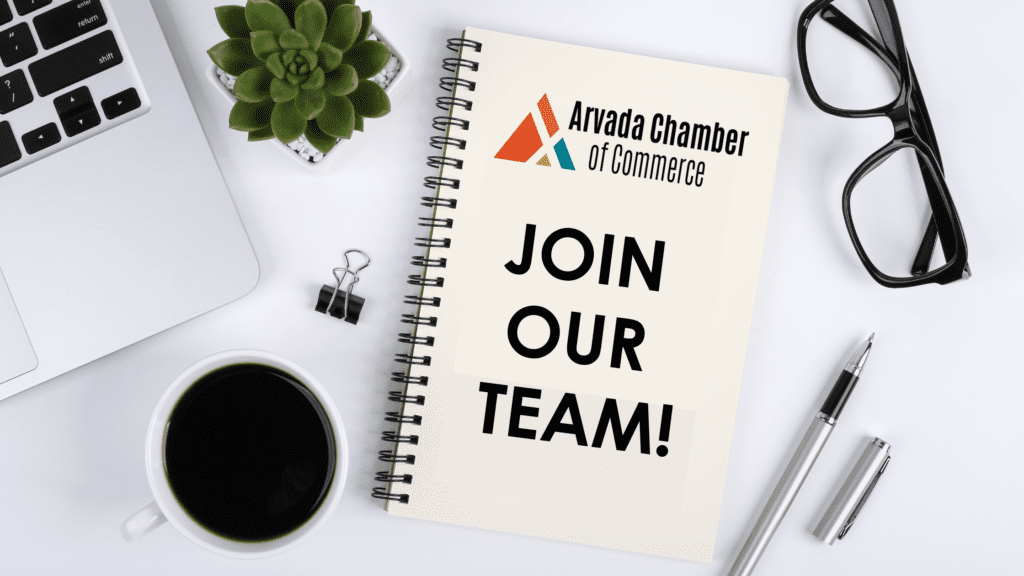 The Story
The Arvada Chamber of Commerce is in the midst of a strategic initiative, B.O.L.D. 2026 (Big Opportunities For Leaders To Deliver), focused on improving persistent business challenges that include talent, housing, childcare, and the business environment. We are building a team of tenacious problem solvers who will work to ensure that our region is the strongest in the country by increasing collaboration, aligning performance measures, designing sustainable systems, and sharing best practices.
---
Your Day-to-Day
Expand business relationships via outreach strategy:
Develop and execute a comprehensive outreach strategy to establish and nurture relationships with prospective businesses related to the 4 goal areas of B.O.L.D. 2026.
Identify key industry leaders and engage in targeted communication to promote collaboration and growth opportunities.
Utilize various communication channels, including digital platforms and direct interactions, to expand the organization's network.
Build relationships with partners in business growth:
Cultivate strong and lasting relationships with partners, stakeholders, and collaborators invested in driving business growth.
Collaborate on joint initiatives, co-sponsored events, and mutually beneficial projects that support shared objectives.
Act as a point of contact for partners, addressing inquiries, resolving issues, and fostering positive engagement.
Manage B.O.L.D. 2026 CRM:
Oversee the organization's CRM system for B.O.L.D. 2026, managing data entry, updates, and accuracy.
Utilize CRM data to track interactions, monitor engagement, and develop insights into partner preferences and needs.
Generate reports and analytics to inform strategic decision-making and measure the effectiveness of outreach efforts.
Manage programmatic elements of the Business Resource Center:
Oversee the operational aspects of the new Business Resource Center, ensuring seamless delivery of programs, services, and resources to business partners.
Collaborate with internal teams to design, implement, and optimize initiatives that provide value to the business community.
Monitor program performance, collect feedback, and make continuous improvements to enhance participant experience.
Maintain business program and resource inventory:
Curate and maintain an up-to-date inventory of business programs, tools, and resources offered by the organization and external partners.
Regularly review and update program materials to reflect current trends, industry best practices, and evolving business needs.
Ensure easy accessibility of resources for business partners through digital platforms and other distribution channels.
Manage outreach and growth data dashboard metrics:
Maintain and update data dashboard metrics that track outreach initiatives, engagement levels, and business growth outcomes.
Analyze data trends and metrics to provide actionable insights for continuous improvement and goal attainment.
---
Must-Have Skills
Customer service: Maintain a high level of engagement, empathy, problem-solving, and communication with internal and external partners
Flexibility: Adjust to short-term change quickly and calmly, so that you can deal with unexpected problems or tasks effectively
Project/process management: Manage priorities, processes, contracts, timelines, and task deliverables across a variety of overlapping projects
Business development: Form and nurture long-term partnerships that lead to growth opportunities between organizations
Interact well with others from a diverse set of backgrounds: Uphold the Arvada Chamber Inclusion purpose:  "Belonging is at the heart of our core values and work at the Arvada Chamber of Commerce. By creating an inclusive environment we will empower new perspectives, solutions, and opportunities for our local economy and serve our mission as a champion for advancing ALL businesses and employees in Arvada."
Public speaking and presentation: Excellent written, phone, and verbal communication abilities that command audience respect
Technological proficiency: Comfort with technology including Google suite, basic social media and contact management
Data collection and interpretation: Understanding of economic and demographic data collection; and a strong ability to collect, interpret and tell a meaningful story using the data
---
The Environment
The Arvada Chamber team is dynamic and committed to the success of our organization and community. While team members are given flexibility – they are held accountable to performance measurements to ensure objectives are achieved. Early mornings and occasional evening meetings are a part of our work and all team members are asked to attend as appropriate. Applicants must be able to travel efficiently to off-site meeting locations throughout the region. The Chamber team embraces our team values and will be seeking candidates who are willing to commit to the culture we have built.
---
Perks of the Job
Salary $70,000/year
Competitive medical, dental, and vision benefits
Short-term and long-term disability
3% match on IRA
Unlimited paid time off within guidelines of organizational policy
Flexible work environment
Mileage reimbursement
Regular team building
---
Ready to apply?
Submit your cover letter and resume by September 8, 2023 at 5 pm via email to molly@arvadachamber.org. No phone calls, please. We're an equal-opportunity employer. All applicants will be considered for employment without attention to race, color, religion, sex, sexual orientation, gender identity, national origin, veteran or disability status.