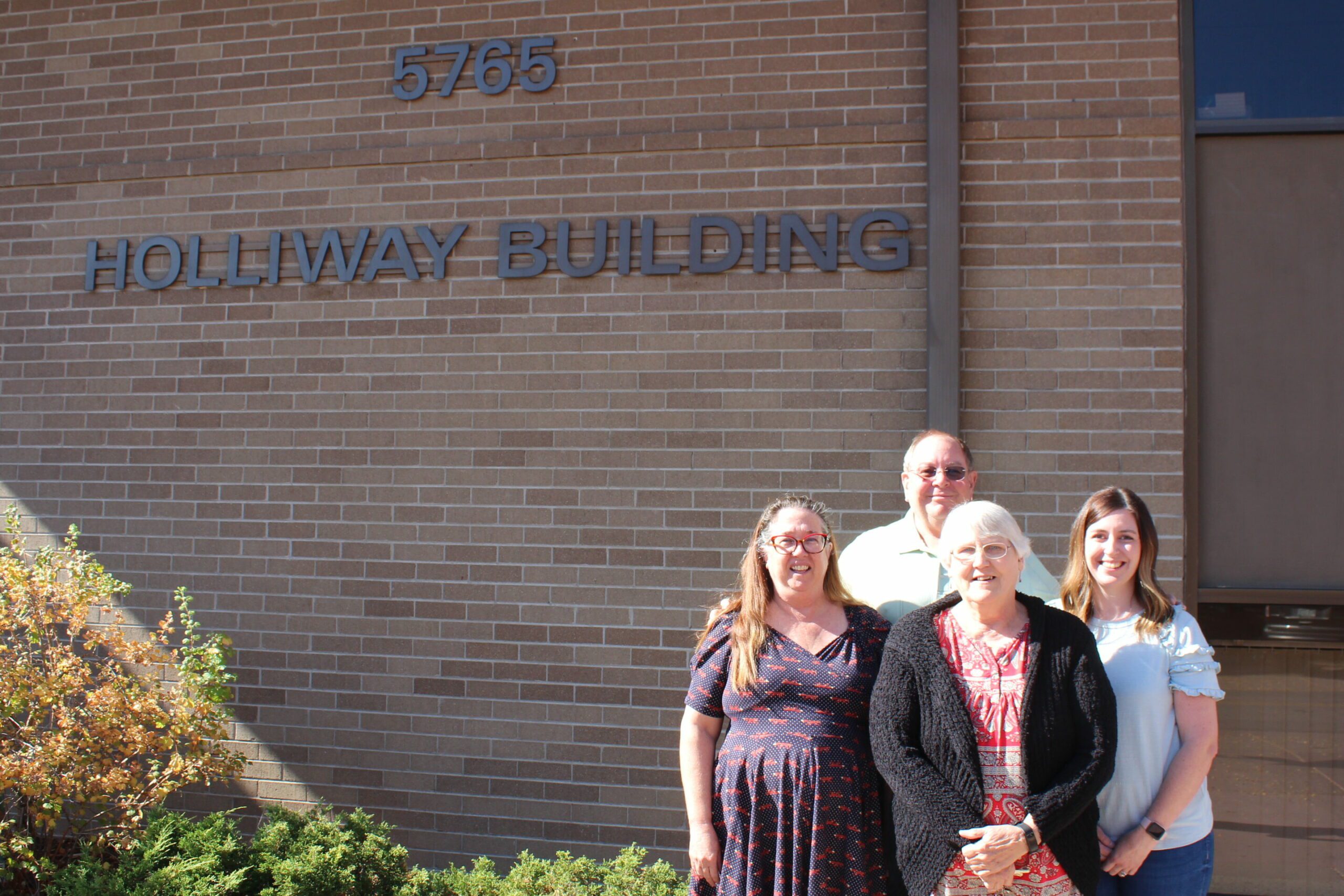 Holliway Insurance Agency Inc., since 1963, is a family-owned, independent insurance agency insuring and servicing clients across the state from its office in Olde Town Arvada. Ryan Hecht, marketing director at the Arvada Chamber, visited with owner Kent Holliway to talk about the rich history and lessons learned of doing business in Arvada for 60 years.
Kent and his daughter, Lisa, first showed off a collage of the firm's history on a big poster board that included newspaper clippings and original signage. Then, on a tour of the office, he paused to highlight his team. "Every office needs a Jean, he said. "She's like our genie in the bottle. She answers the phone, she files everything, she keeps us all on track…she's fabulous."
"And then Judy became Boss Lady one day," he said noting the Boss Lady nameplate on her desk.
Ryan: So let me ask your team: what do you like most about working here?
"Family comes first," said Judy. "And it's fun. I've worked for big agencies downtown and I'm gonna live 20 years longer because of the lack of pressure. Yes things have to get done, but somebody isn't looking over your shoulder all the time. He's a great boss. I wish I'd found him 20 years ago. You know, it's just a good place to work."
"Karen Schilz worked for me for 20 years and relocated to Pueblo about five years ago," said Kent walking into his office. "Then in January, she said I always talked about having a southern office. So she's now working remotely for us in her home in Pueblo West doing behind-the-scenes customer service work, which has just been awesome."
So now you're national?
"Well, we do business in Colorado and Arizona because of my snowbirds."
How did you first get into the insurance business?
"After I was the Assistant Sergeant at Arms to the State Senate for two years in 1980, I got my insurance license. I thought, yeah, I'll give this insurance gig a try [and work for my dad here]. But I also had an opportunity to go work for my grandfather and my great uncle at the Craig Chevrolet dealership across the street, that is now Denver Beer Co. You know, when they bought the building and were pulling off the sheets of plywood that I helped put up there in junior high school, I went over and told them, 'Before you paint over the sign, I want to take a picture of it.' Two days later, the owner came over and we gave him pictures and they restored the building just the way it was with the glass garage doors.
So at that time, I went to my dad and he said why should I join the insurance agency and then I went to my grandfather and he said why should I join the dealership. It came down to one thing: I kind of liked my nights and my weekends. So I told my grandfather and great uncle, 'You guys sell them and Dad and I will insure them.' That was 1981 and I never looked back. It's been a great career and it's gonna be continue to be a great career. Everybody needs insurance. Insurance is really stable in a lot of ways, regardless of a recession or what we call a hard market in insurance with pricing. I've never seen a hard insurance market like this in the 43 years that I have now been doing insurance."
What drives that market?
"It's about supply and demand, the cost of goods and services, and the cost of labor. We've had more catastrophic events in 2023 – hurricanes, earthquakes, fires, tornadoes, hail, wind…all those go into play and it's not just here it's globally. That's putting a real hard fix on our pricing on items and the labor. With a labor shortage of qualified candidates, all of a sudden it's just a perfect storm of everything that's driving the cost of insurance.
Take for instance the cost to repair new windshields. Five years ago, we could replace glass in cars for between $150 to $200. On a new car today, we just saw windshield replacement on a 2018 Ford for $1,280 because of the technology that's built into the windshields. So the sensors and the safety of the vehicles are great but if you get rear-ended in a car that has all those backup cameras and sensors and everything else, what used to be $1,500 to $2,000 is now $8,000 to $10,000."
So there are fewer accidents but they're more costly?
"More severity, yeah. Also, Colorado is the most populated spot in the world for hail now. If you get a big hailstorm, 30,000 rooftops are hit."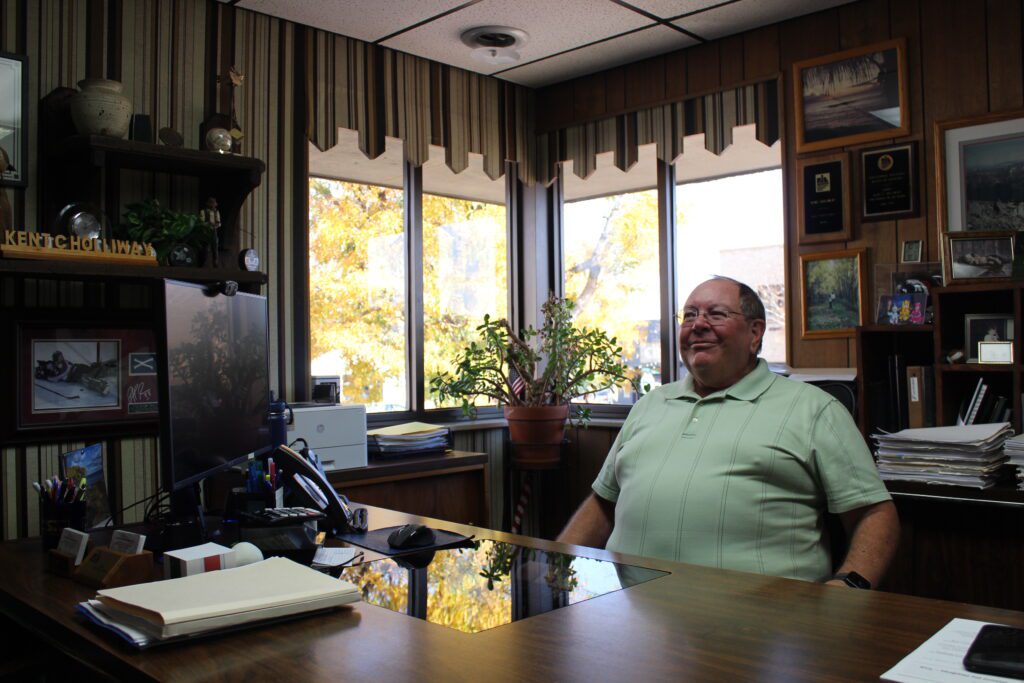 I just met with a State Farm agent yesterday. You're in such a saturated market and you don't have the marketing budget to have Patrick Mahomes or an animated gecko as a spokesperson. How do you set yourself apart to make it for 60 years?

"I think it just all comes down to that personalized customer service. I think of myself in the office as an insurance tailor. We can help our clients, if they allow us, to build a suit or dress that really fits them as an individual, that's what I do as an insurance professional. It's not one item fits all. There are no two real policies that are written alike. That's where we like being an independent insurance agency: I'm not driven by just one product line."
Why do you think it's important to have mom-and-pop legacy small businesses in Arvada make it for 60 years?
"You know I think it goes to the backbone of business. Small businesses, independent businesses, employ more people than the big businesses put together."
(Fact check: According to the U.S. Small Business Association, of the new jobs created between 1995 and 2020, small businesses accounted for 62%—12.7 million compared to 7.9 million by large enterprises.)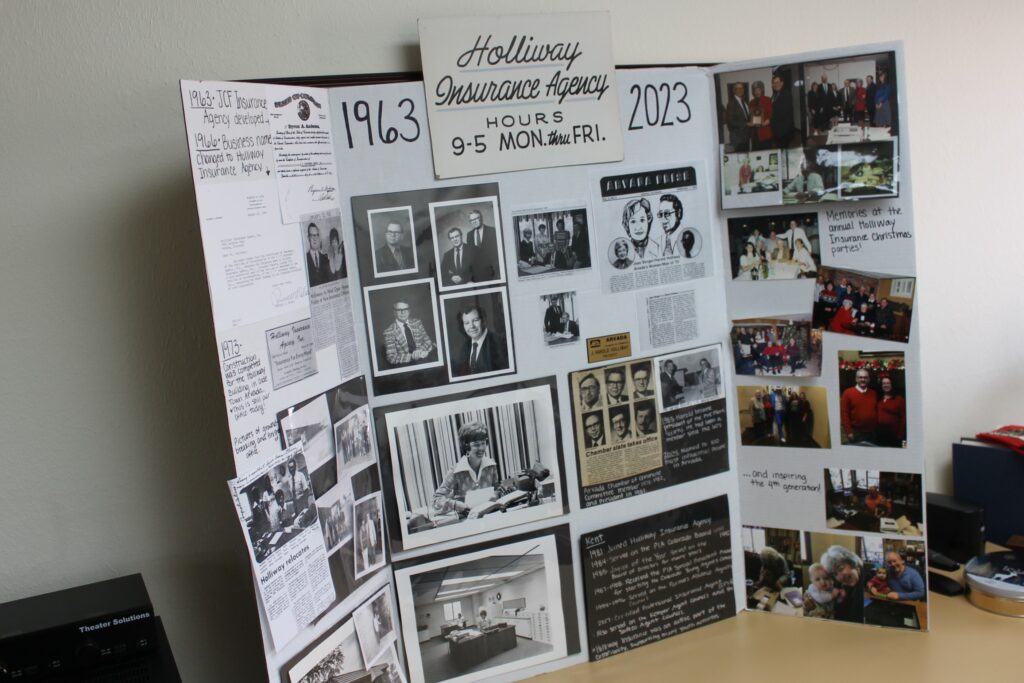 Is there another business in Arvada or business leader that you admire?
"I look at the longevity of some of the businesses here, like Rheinlander Bakery. They're just a few years older than we are here in Olde Town."
I think they sometimes claim an entire sense here; you can credit the smell of Olde Town to Rheinlander.
"I used to walk by and say 'Ed, I'm turning you in for air pollution! You leave that doggone door open every hour, every day and it sucks you in as you're walking down the street.' You just have to go in."
All these legacy businesses really make Olde Town what it is today – and it's not just restaurants and retail.
"Oh it really does and you know one really good competitor in town is Doris Stipech. We do a little bit of referrals back and forth. It's one of those things where I go back to my management classes and the study of McDonald's. If you want a successful business that requires a little bit of traffic, McDonald's has already done all the research as to why they're gonna put that McDonald's in that location. You're going to be just fine in the service retail business to be within a very short distance of most McDonald's."
To add to that, Burger King had basically no market research spend for years and they just built across the street from wherever the next McDonald's built.
"You are correct. You look in Olde Town Arvada and see all the little agencies that are down here. There's another State Farm office that does more financial services; the Carver team over there does primarily commercial; a good friend of mine is Rodger Bailey. There's a lot of small insurance businesses that I have a respect for and we really don't step on each other's toes. Even agencies that are not right around us in Olde Town Arvada, like Lakeside Insurance – they're doing great things for the industry as a whole."
As you think about hitting this milestone, what would you say you're most proud of?

"You know what I think that I'm most proud of is that the agency's given me an opportunity to grow as an individual and take care of people the way we do. If something catastrophic happens, we are able to put you back in a position that you're not gonna just fold. You can still stay here. That is our reputation and it shows from the referrals that I get from my current customers.

I'm riding a lot on what my mom and my dad built with Holliway Insurance in Olde Town and their anchor that they dropped here. Dad was Arvada Man of the Year and did a lot of stuff with the Chamber. I was heavily involved with the state insurance association for independent agents until my kids came along. I said it's okay to say no and at that point, family was more important. Like we said earlier, family comes first in this office. It always has."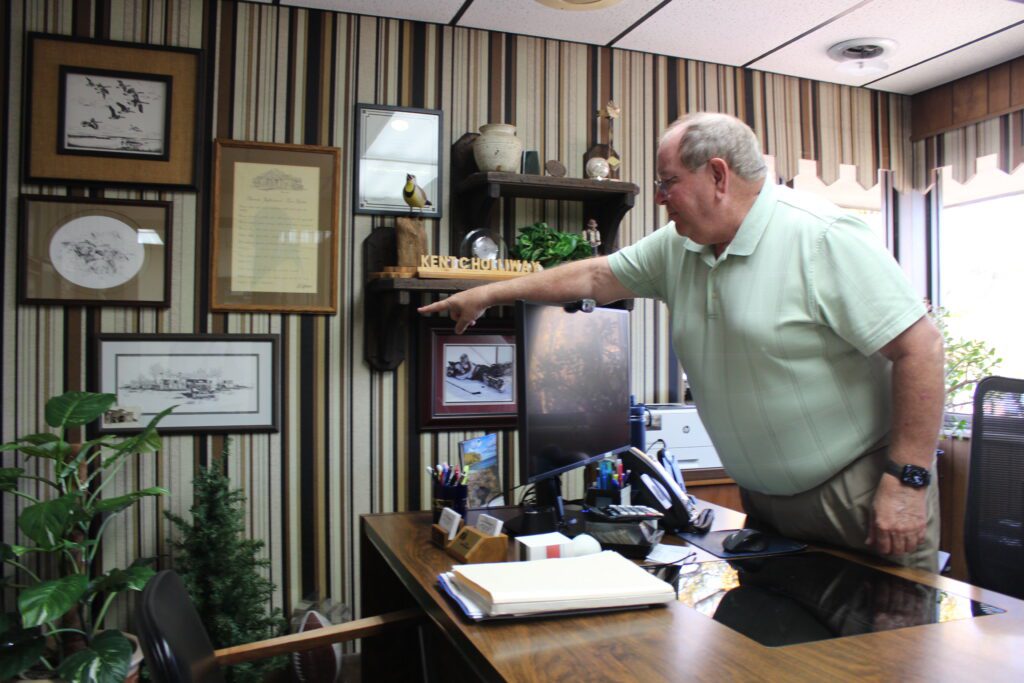 ---
Holliway Insurance Agency Inc.
5765 Olde Wadsworth Boulevard
(303) 421-3046