ARVADA, CO – October, 30, 2023 – The Arvada Chamber of Commerce is thrilled to announce that it has reimbursed $39,000 to area businesses and non-profits as part of the state's Work-Based Learning Incentive (WBLI) Program.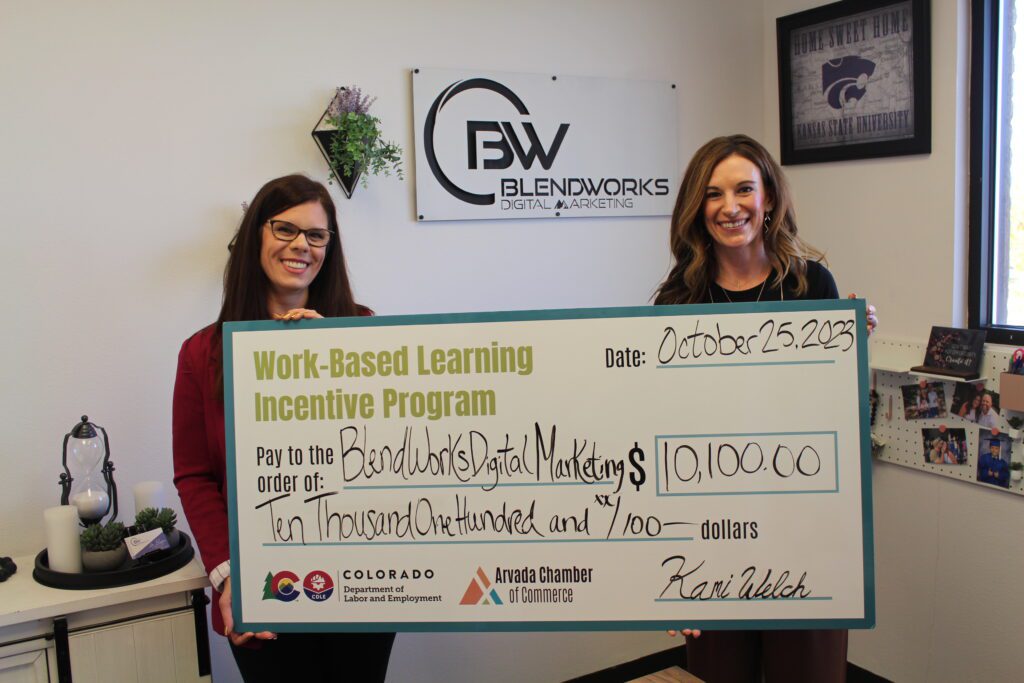 The goal of the $3 million WBLI Program is to increase and expand the number of work-based learning opportunities available to youth and adults by providing monetary incentives to employers to create new or enhance existing programs. The WBLI Program will reimburse employers up to $10,000 for developing and implementing Work-Based Learning activities in their company through May 31, 2024.
Work-based learning emphasizes practical, hands-on experience in a professional work setting as a means of complementing traditional classroom-based instruction. This type of learning can take many forms, such as internships, apprenticeships, on-the-job training, or job shadowing. Work-based learning benefits the economy by building a talent pipeline that is exposed to the job functions of local businesses. This can also support future productivity and profitability for employers by developing potential employees' skills and fostering a culture of innovation and continuous improvement.
Through its B.O.L.D. 2026 initiative, the Arvada Chamber is dedicated to supporting our regional talent pool with employer-led skills development. The Chamber can help any size business or non-profit in the Arvada area understand how to use this program to design activities for participants to learn about work, learn through work, or learn at work. The Chamber's grant reimbursements have been delivered to a diverse set of businesses, including BlendWorks Digital Marketing, Salzano Electric, Balefire Goods, and Snarky Sweet Cake Chick.
"The best part of participating in this program is helping me have that accountability to develop a detailed protocol so that I can ensure that my interns are getting the best experience possible," said Nicole Bendig-Lamb, Owner of Snarky Sweet Cake Chick.
Businesses can still apply to the WBLI Program at arvadachamber.org/WBLIP. The Arvada Chamber team is committed to our local business success and will be available to answer any questions and support in defining work-based learning goals and reimbursement requests. Funds allocated through the Arvada Chamber are limited to $400,000 in total disbursements and will be awarded on a first-come, first-served basis.
---