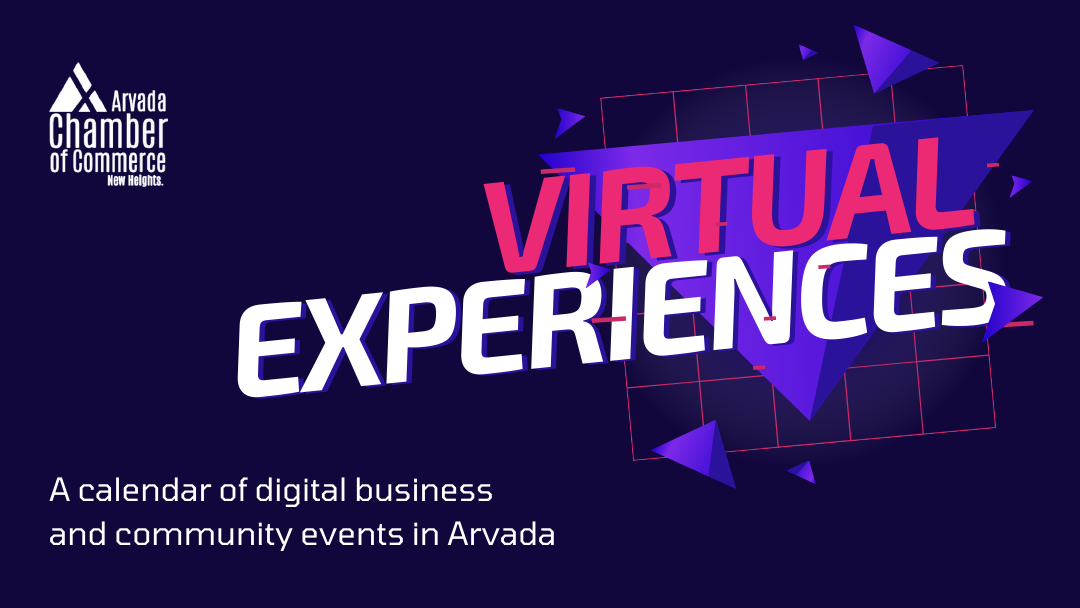 The Arvada Chamber of Commerce is excited to share this event calendar of all of the amazing virtual experiences happening in the coming weeks. Whether it be fitness and dance classes, virtual art gallery tours, videos of live theater performances, music and art lessons, etc., we want to share your happenings.
Please fill out this form to be included in our Virtual Experiences calendar.
Arvada Center - Virtual ToursThe Barre Standard - Fitness ClassesAmber Stevens - Wellness ClassesFlatirons Dance - Zoom ClassesApex Park and Recreation District - Fitness ClassesOne Yoga Center - Fitness ClassesSunrun - Virtual Solar ConsultationsBrute Force Training Center - At-Home and Body Weight WorkoutsBalefire Goods - Virtual ConsultationsDesign dei Capelli - Beauty TipsCarly's Boutique - Virtual ShoppingAnytime Fitness Arvada - Workout VideosJeffco Public Schools Foundation - Awards Ceremony - May 8
Virtual Tours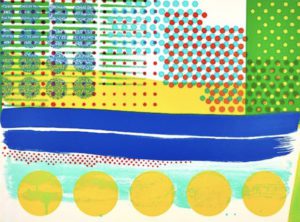 Audience: All Ages | Cost: Free
A series of videos that will take viewers on a tour of the Arvada Center's current exhibition, "528.0 Regional Juried Printmaking Exhibition."
Videos will be posted on all Arvada Center social media channels and will also be available to view on our website at arvadacenter.org/galleries.

Arvada Center for the Arts and Humanities
Contact: Marcus Turner | Mturner@arvadacenter.org / 720-308-2581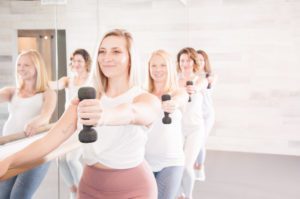 Fitness/Wellness Classes
Audience: Adults | Cost: $15 for a single class / $40 for a 3 class pack (classes expire 45 days after purchase date)
VIRTUAL CLASS OFFERINGS
Barre – The signature Barre Standard class combines an intense blend of barre, strength training, pilates and yoga into a 60-minute, total-body workout! Each class will consist of targeted isometric holds and heavy repetition to safely bring each muscle group to fatigue.
Sweat – This fast-paced class is the perfect balance of toning and high-intensity cardio guaranteed to make you sweat! Combining elements from our signature Barre Standard class with cardio circuits to increase your heart rate you will scorch calories and increase your metabolism.
Flow – Improve flexibility, connect movement to breathe, and relieve stress.
HOW TO ACCESS VIRTUAL CLASSES
Even though our physical studio is closed, we're excited to offer you the same classes that you know and love, led by your favorite TBS instructors, from the comfort of your home. For your convenience, these classes are available to access ALL DAY!
Be sure to register for class at least 15 minutes prior to receiving your private link to access the virtual workout of the day! You will receive the video link via the email address that we have on file. Links expire after 48 hours. We will post a new workout every morning and the video links are accessible all day.
The Barre Standard
Contact: Carlie Blanchard | info@thebarrestandard.com / 303-437-8538
Fitness/Wellness Classes
Audience: Adults | Cost: Free
Self-massage techniques for self-care, nutrition guidance, mindfulness resources. Learn more here!
Also, doing health coaching virtually. Amber is kicking off a special of $99 for a 1 hour virtual coaching session which includes a download of her ebook "Food, Feelings and Freedom: The End to Emotional Eating." Or for $299, you get a 3-hr Coaching intensive to create a health breakthrough and strategy.
Amber Stevens, LLC
Contact: Amber Stevens | amber@youareboundless.com / (720) 203-0239
Dance Classes
Audience: All Ages | Cost: Free
Free daily dance classes on Zoom. To learn more, call (720) 231-3435.
Fitness/Wellness Classes
Audience: All Ages | Cost: Free
All classes/activities will be posted to the Apex Facebook page daily.
Online Yoga & Tribal Belly Dance Classes
Audience: Adults | Cost: Free & Paid Online Classes
Once registered for a class (an account must be set up & waiver agreed to), then we will email a Zoom Conference Link to participate in the class. To participate you will need a WiFi connection, as well as a computer, tablet or smart phone. Learn more here!
At Home Solar Consultations
We can do the whole solar on your home process from beginning to end without having any physical contact with the customer. Learn more here!
At-Home and Body Weight Workouts
Audience: Adults | Cost: Free
Each evening you'll be receiving an email with the next day's workout for you to do at home. You will not need any specific equipment. You will see some sandbag and jump rope elements but you will also see a substitute for each of those movements. Learn more here!
Virtual Consultations
Schedule virtual consultations for custom jewelry and jewelry shopping. All available on the website.
Beauty Tips
Audience: Adults | Cost: Free
Get free beauty tips on @designdeicapelli Instagram and Facebook Live!
Virtual Shopping
Audience: Adults
Carly's Boutique offers Virtual Shopping -call (303)453-6565 to set an appointment.
Weekly Workouts and Facebook Videos
Audience: Adults | Cost: Part of membership / Free on Facebook
Anytime Fitness Arvada is sending weekly workouts, videos and other things to members. Free workouts are posted on Facebook every day at 7:30 am. Learn more here!
Awards Ceremony
May 8, 2020 | 5:30-7:00 pm
Audience: Adults, Teens | Cost: Free
We will not allow this virus to stop us from celebrating our Jeffco Heroes. However, due to governmental guidelines and to our intent to keep our community safe, we are changing the format. Instead of our planned in-person event on May 8, we will host a webinar and stream video with real-time presentations from Jeffco leadership and from our key partners. We want you to be able to join us in celebrating our Heroes from the safety of your home.
To RSVP, contact Angela Baber at angela.baber@jeffco.k12.co.us.