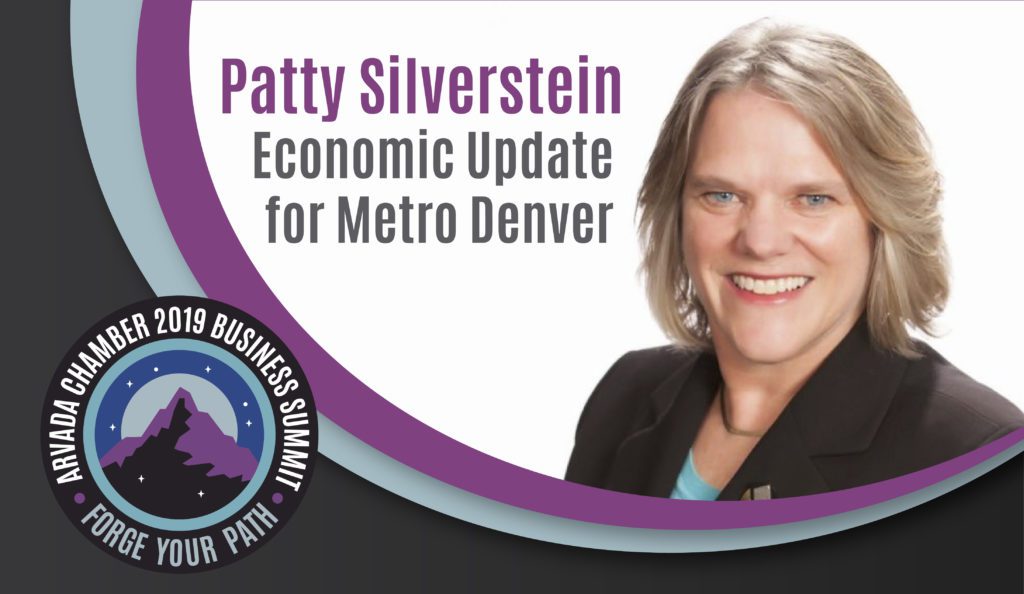 As many of our members know, Patty Silverstein's economic update for metro Denver is a can't-miss presentation. From 2013-2018, Silverstein provided "The State Of The Economy" at the Arvada Chamber community impact breakfasts. Her economic update at the Business Summit is her lone presentation in Arvada this year.
Silverstein is the president of Development Research Partners, a Jefferson County-based company specializing in economic research and real estate analysis. She has provided research and support for economic development efforts in Colorado and across the country since 1989. Silverstein's expertise in economic research and economic development includes industry cluster studies and strategic economic development planning. She has extensive experience in preparing economic impact and fiscal impact analysis for community development purposes.
In addition, Silverstein serves as the consulting chief economist for the Metro Denver Economic Development Corp. and the Denver Metro Chamber of Commerce. In these roles, she compiles, interprets, and forecasts economic and demographic data for the Denver metropolitan area and performs in-depth research on issues and proposed developments impacting the region. Silverstein provides numerous presentations on state and local economic conditions to business and professional organizations throughout the year.
Silverstein's presentation at the Business Summit will help to bring economic conditions into focus as we discuss current and projected growth trends at the national, state, and seven-county Metro Denver level. The presentation features employment and industry trends, population growth and consumer activity, and the residential and commercial real estate markets.
Heading into 2020, sower growth in China and other key trading partners, tariffs and trade disputes, and political uncertainty in many parts of the globe means a high degree of uncertainty in the national economic outlook. But current economic data reveals a situation of continued expansion at a slower pace. What should business leaders and consumers believe, and how should they plan and budget for the coming year? Explore all those questions and more with Silverstein's economic update at the 2019 Business Summit!
---
The Arvada Chamber of Commerce's inaugural Business Summit was born out of feedback from our businesses that they need innovative ways to grow and connect with other key local leaders to improve the quality of business and opportunity in Arvada. The 2019 Business Summit on October 30th will do just that, with a variety of educational topics to help attendees grow personally and professionally. This full-day summit includes breakfast and lunch, two keynote speakers,  four breakout sessions, and a networking happy hour.
Please click here to learn more about the keynote speakers and breakout sessions and to register for the 2019 Arvada Chamber of Commerce Business Summit!