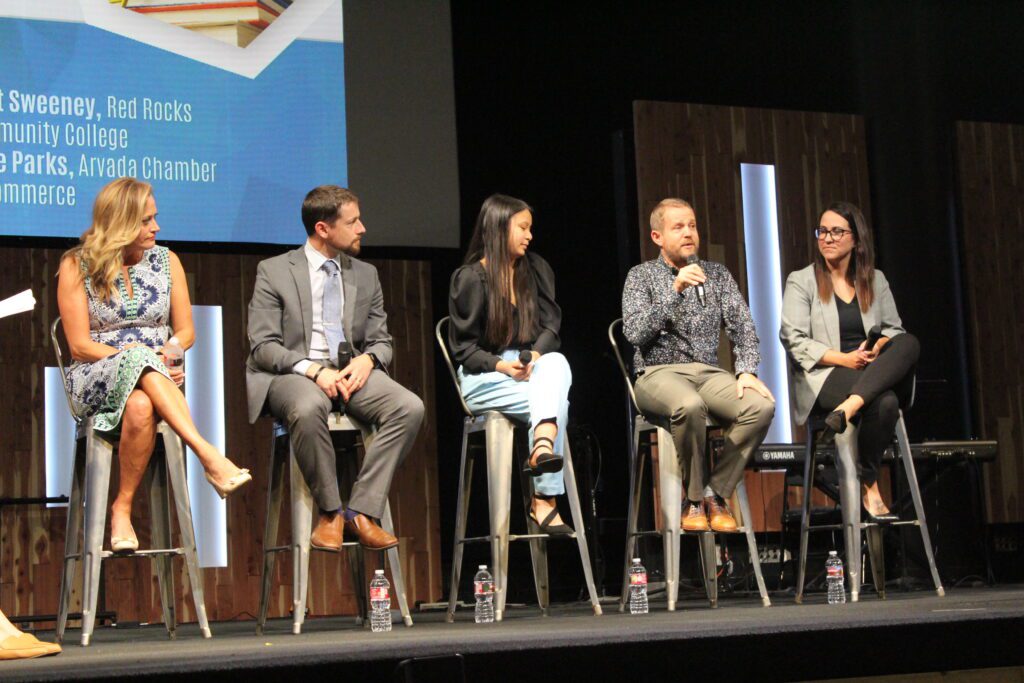 The Arvada Chamber hosted the State of Education on June 16 as part of its Community Impact Forum series. Tracy Dorland, Superintendent of Jefferson County Public Schools provided the keynote address, offering an inside look at the current state and future vision of Jeffco Schools.
A panel followed, moderated by Sara Swanson (Colorado Succeeds). The panel included:
Tracy Dorland, Superintendent, Jeffco Schools
Josh Shellard, Principal, Green Mountain High School
Kimmy Van, Student, Green Mountain High School
Matt Sweeney, Dean, Workforce Services, Red Rocks Community College
Kylie Parks, Director of Talent Pipeline Development, Arvada Chamber of Commerce
Five key takeaways from the forum:
Jeffco is addressing healthy and equitable start-time research
In April 2021, there were over 100 different school start and end times across schools in Jeffco. Some schools start as early as 7:15 a.m., while others begin their day closer to 9:00 a.m. These varying start times create different lengths of the school day and unequal amounts of in-classroom instruction time for students across the district.
Research shows that healthy school start times result in improved student attendance, more students arriving at school on time, and improved graduation rates.
Starting in the 2023-24 school year, Jeffco Public Schools will implement new start and end times for schools across the District. The District will now have just a handful of different lengths of day. Learn more about this initiative here.
Jeffco's data dashboard will provide accessible and transparent insights
"Jeffco has a lot of data but it is not centrally managed or available and there's a very small team that if you want to know something you go to," said Tracy Dorland. "What we need is a dashboard that's easy to read and access."
Dorland says a full data dashboard is planned by the end of this summer. Currently, the District has an interactive School Insights dashboard and a School Culture display at this link.
"A good example of the actionable data [we will provide] is on our website. The FCB dashboard includes the board policy for school consolidations and we were really transparent and data-driven in the decisions for which schools." The FCB Dashboard, which you can find here, is a comprehensive look at district-managed elementary school enrollment and capacity and related causes (enrollment trends over time) and effects (cost per pupil, staffing etc.).
Jeffco is committed to an "extraordinary student experiences" goal that often extends outside the classroom
"When we talk about the extraordinary student experience, we talked quite a bit about students having the opportunity to feel a sense of belonging in their school community," said Dorland. "For so many of our students, sometimes the entry point into belonging is outside of the academic world; it might be athletics or theater or an art class or club that they get to be part of or an experience that they have outside of school."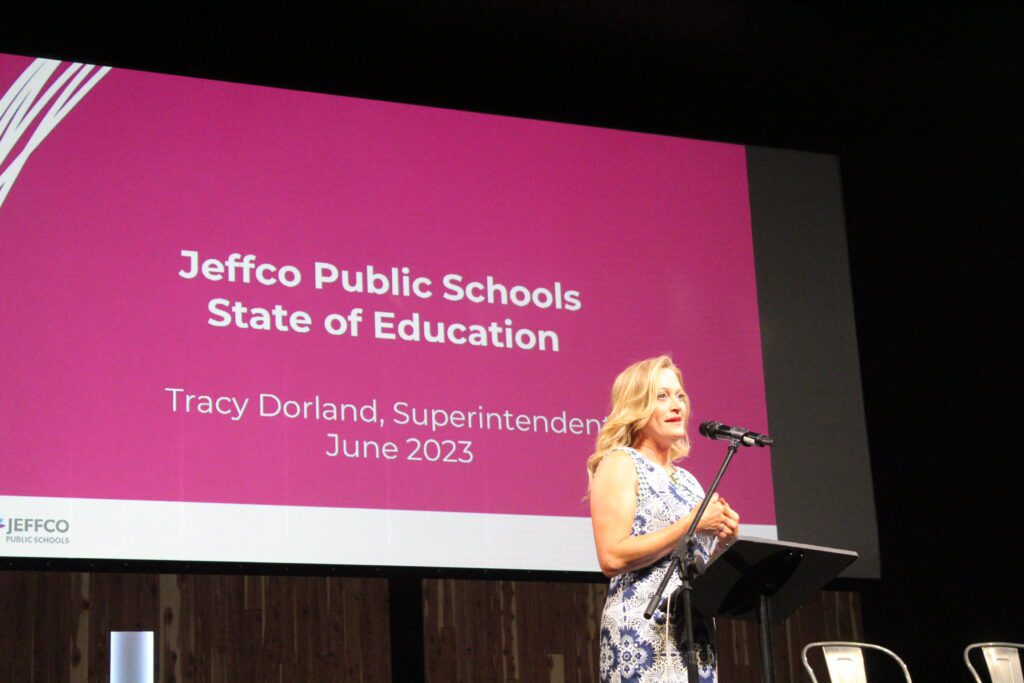 Dorland then referenced the importance of relevant learning experiences. "Students often say to me 'My assignments don't feel relevant.' Our vision is a relevant learning experience for every high school student and the opportunity to explore who they want to be after high school. We are doing that work through High School Reimagined and in partnership with our community, staff and industry partners."
As part of High School Reimagined, Jeffco Schools engaged the community to better understand the knowledge, skills, and experiences high school students need to thrive in their lives after graduation. This past Spring, they hosted discussions with students, families, teachers, principals, community and business partners like the Arvada Chamber to gather this crucial input.
"We need to make sure that our students don't just graduate knowing math and knowing how to read and knowing how to write," said Dorland. "We need for them to understand how to be leaders of their own lives: with their families, in their communities, and in the industries that they go into for work."
Jeffco will implement 20 Career Hubs through the GROW Jeffco partnership
An outcome of High School Reimagined is GROW Jeffco, which engages partners across the education-to-employment pipeline, including Jeffco Schools, the Arvada Chamber, Red Rocks Community College and Jefferson County Business and Workforce Center. Together, we will implement 20 high school career hubs across Jeffco resulting in a year-over-year impact reaching approximately 30,000 students and 2,500 employers. This initiative addresses the misalignment of school-to-career preparation, particularly for our highest-need students, and increases the diversity and pipeline of local talent. Within Colorado, Jeffco represents 9% of the population, 11% of the labor force, 9% of K-12 students, and 19% of businesses.
Learn more about the four Career Hubs that have launched to date here.
Kimmy Van, a student at Green Mountain High School where one Career Hub has been launched, talked about the importance of this school-to-career preparation. "[A strength] of our education system is the variety of classes that students are able to take and they're able to take initiative in their own learning and discover what career paths they are interested in."
Every business can make an impact on students
"Businesses need to understand that it's a two-way street," said Kylie Parks on talent pipeline challenges. "Schools are putting in the work and the effort with the students right now but business needs to step up and be more involved early on if they want the right talent."
Josh Shellard referenced a communication gap that the GROW Jeffco partners are working on as part of increased business engagement. "I think a lot of the work that we've been doing is trying to blow up some of the boundaries of our systems in education to allow juniors and seniors to then take part in those things. Educators can learn what's going on in the private industry so that we're better able to communicate and meet those needs. Also, the private sector can better understand what we're working on within public education so that we can actually partner and build those systems. In the past, it's been done as a one-off, like we will have this great internship opportunity rather than 50 kids a year who are going into internships and apprenticeships. We're trying to make them work together."
Work-based learning is becoming more popular with employers to expose potential team members to their company and work while also building a talent pipeline. The new Work-Based Learning Incentive Program encourages employers to get involved in work-based learning opportunities through reimbursement. Employers now until May 2024 have the opportunity to be reimbursed for work-based learning activities up to $10,000. To learn more about this program please visit www.arvadachamber.org/wblip.
We also encourage you to book time with Kylie Parks to talk through opportunities here.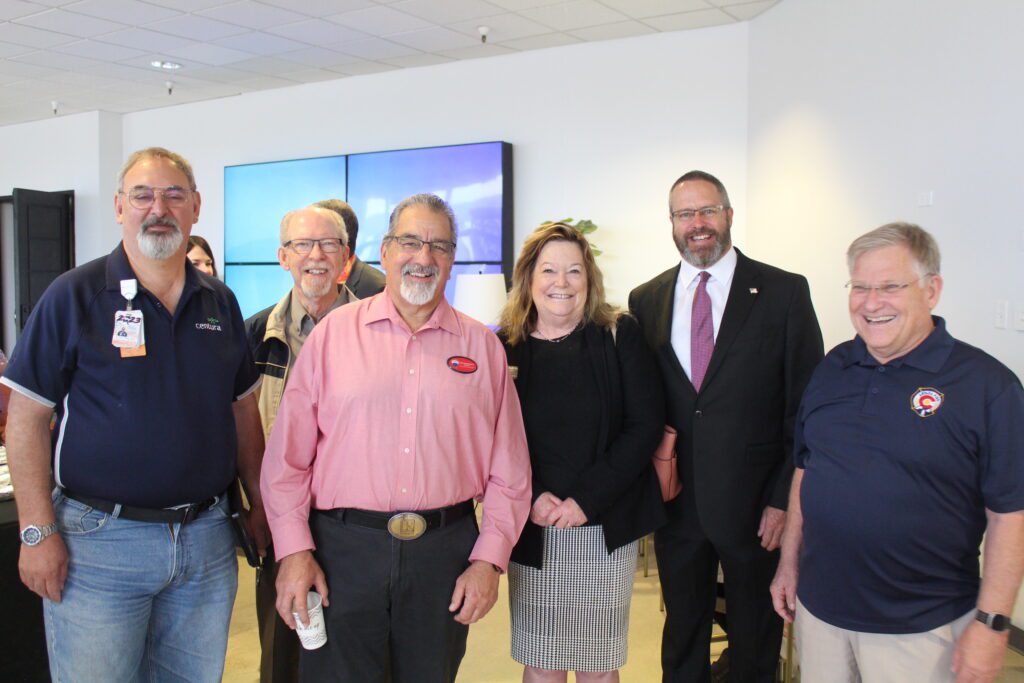 ---
Resources:
Upcoming Community Impact Forums: