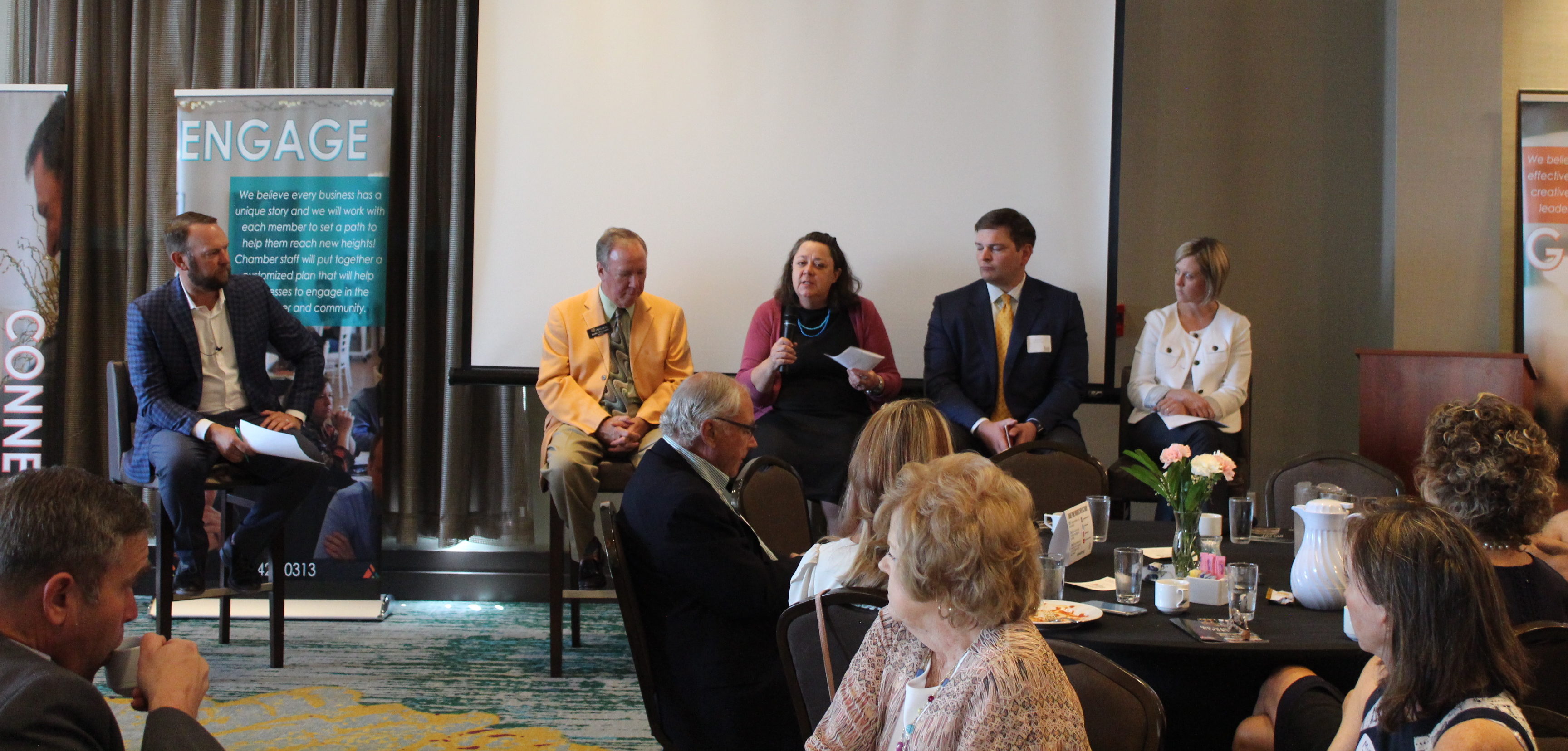 On August 7, the Arvada Chamber of Commerce hosted the Membership Luncheon "Impacting Civil Discourse: Say What You Mean, but Don't Say It Mean." Civility represents the quality of our behavior with others in our community and is a collection of positive behaviors that produce feelings of respect, dignity, and trust. At this luncheon, the Arvada Chamber and community leaders led a discussion on strategies to step up to improve civil discourse locally.
The panel discussion included City of Arvada Mayor Marc Williams, Ashley Verville (Director of Communications and Outreach for Congressman Ed Perlmutter), Dana Coffield (Senior Editor, Colorado Sun), and Ben Irwin (Communications Manager, City of Arvada). The discussion was moderated by Dave Runyon (Co-founder and Director, Arvada Church Network).
"We're in a unique time in our culture," Runyon said at the top of the program, referencing today's increasingly divisive climate. "When things get toxic, one or both parties are triggered and respond with emotion." He says this reaction is the lesson of "Lizard Brain vs Wizard Brain," taught in school to his kids. In times of conflict, the reptilian or "lizard" part of the brain – the section housing emotions and the fight or flight response – often takes over, triggering impulsive responses. Wizard Brain thinkers, however, recognize that they have more than one choice in responding, and use critical thinking skills to assess and analyze the best way to communicate.
More key lessons for improving civil discourse:
"You have to start with respect,"

says Verville, on conversations with differing opinions. "You have to listen," she adds. "Voice back what they're saying." Validating the other party's perspective is a

frequently-advised tactic

to keep the conflict focused on the issue. Mayor Williams echoed the importance of expressing "empathy for both sides." He referenced city council meetings that are often contentious, but a collective baseline of respect keeps conversations civil. "When we disagree, we disagree agreeably."
Build trust through transparent, informed communication.

Irwin says he's helped establish trusted communication channels for the city by committing to timely responses and available feedback loops. "To build trust with who you're communicating with, you first have to think about how it's being received." Verville added that "Words matter and tone matters" when it comes to establishing civil communication, but so does being knowledgeable. She stressed the importance of doing your due diligence to have the best facts before responding.
Treat digital interactions with in-person courtesy.

Coffield says far too often when she gets social media mentions or emails, "people forget there's someone on the other end." In heated online discussions, remember to ask yourself: Would I be a jerk if I said this to someone's face? If the answer is yes, rethink your tone and word choice.
Lean into relationships with people different than you.

Runyon asked what it would look like if everyone made an effort to get to know others with differing views, backgrounds and experiences. This is especially true at work, he says, where you don't choose the people around you. Taking the first steps to empathy for other ideas builds equity for understanding and civility in future discourse. Runyon paused to survey the event space and issued a challenge to actively engage dissimilar community members. "We're the bridge builders in this room."
---
We Choose Civility
The Arvada Chamber of Commerce is dedicated to developing the catalytic leaders of the future. Improving civil discourse in Arvada will allow leaders to have more effective conversations around the betterment of our community. We recognize that our membership and community as a whole is diverse and we need to ensure that we are working through civility to hear the voices and concerns of those we represent. This will allow us to better communicate not just with ourselves, but with key decision-makers at the local and state level.
With a goal of training 200 local leaders on civility, the Arvada Chamber will commit to improving civility in the community by: 
Setting the standard

Modeling the standard

Coaching the standard

Embedding accountability
Learn more at arvadachamber.org/choosecivility.