Northwest Arvada Fit Body Boot Camp is a gym focused on providing a sense of community and a place to become "better than you ever imagined you could be." Its supportive environment and signature high-intensity 30-minute workouts have helped the business quickly make a name for itself in Arvada. As the gym celebrates a momentous first year in business, we talked to owner Madison Heard about her late mother's inspiration, building a community, and the secret to maintaining goals.
What motivated you to open Northwest Arvada Fit Body Boot Camp?
I was a kickboxing instructor for about five years and that opened the door for me in fitness. But everyone who knows me and this gym knows that it was ultimately losing my mom that made me want to open my own business and do something a little bit more. I feel like I wasn't doing enough as a kickboxing instructor; I just wanted to have a place for people to work on their fitness on a deeper level. With fitness it's always deeper than how you look; it's really deep down. I feel like by opening an actual gym I was able to affect and influence more people's lives.
My dad was the one who really believed in me to start a gym. We talked about it for a year and looked at a few franchises. Fit Body Boot Camp stood out to us because it just seemed like they cared more about the individual than just money. It was a whole two-year process and then we opened last June.
In what ways did your mom inspire you?
She always believed me and felt like I wasn't reaching my potential. She always thought that I would do something more and pushed me. She wasn't necessarily into fitness but she lost her life to cancer. To combat that you have to really work on your health and wellness constantly. It opens your eyes to how sick people are and how short life can be.
What do you think would be her reaction to what you have accomplished this past year?
She would be insanely proud, I think. My dad always tells me that she would be absolutely blown away. She kind of pushes me even though she's not here anymore. I think about what I've done in the past year, especially when it was hard during the pandemic and you felt like giving up. But I didn't because I kept thinking, "I'm okay. She thought you could do it, so there's no reason that you can't."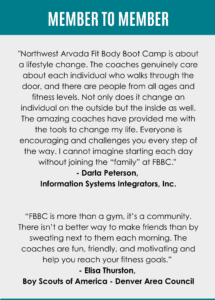 What have you learned about the people of Arvada as a business owner?
They're the most supportive community that I've ever known. We opened with five people in a class but people wanted to be here and were always excited. They knew a new business opening during this time was tough and they wanted to be here for us. There were other things that happened outside of the pandemic, like when we first opened there was a racist thing put on our door. But when that happened and I posted about it, everyone was so supportive and insisted that's not what we're about. They've helped build a community where it's virtually impossible to build a community. We've done that and they love each other and they support each other and that's really all I care about: building each other up. 
You have had to face so many challenges in the last couple of years to start this business. What is your advice for other small business owners who are just getting started?
It's gonna get scary. It's gonna get overwhelming. You have to go back to why you are doing it; your deeper reason why that is bigger than you. People start businesses to change lives in some way or another. Remember the people who believe in you, even if it's one person. And then find a way to believe in yourself.
What makes this gym unique?
We specialize in 30-minute group workouts, which is super intriguing to people with busy lives. Thirty minutes is really all you need three times a week. We provide people a combination of high-intensity interval training with strength training and together with those things are pretty much unstoppable. You're like a warrior. And they're fun; we don't take ourselves too seriously. We like people to walk through the doors and feel welcome. You can open up to us about anything. This is family and it's more than just working out and reaching your goals.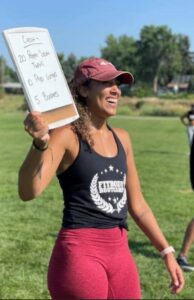 Do you feel like the welcoming and inclusive nature that you try to provide within these walls influences people when they leave?
Absolutely. I'd love to think so because when you're surrounded by that positive energy and that positive reinforcement, there's no way that it doesn't trickle into real life. That's what we do as coaches: we coach people both on the mat and in their lives. 
Your business is very goal-oriented for your clients. Where do people most often get stuck achieving their goals? 
Staying disciplined. Motivation is the first thing you think about but losing discipline is where you fall off track. Losing accountability is related, which is why we always try to reach out to people to see what we can do to add support.
Do you have a favorite client success story from your first year?
I won't say her name but when she came in she was very quiet, almost stand-off-ish. We don't take that personally. We know about it's probably because they are insecure about not having done a workout in years or ever. All we can do is just love them and that's what we did with her and she kept going back and slowly opening up. Not just with us but in her workouts, which improved to incredible results. She definitely surprised all of us.
---
Northwest Arvada Fit Body Boot Camp
16255 W 64th Ave Unit 3, Arvada, CO 80007
(720) 441-4746