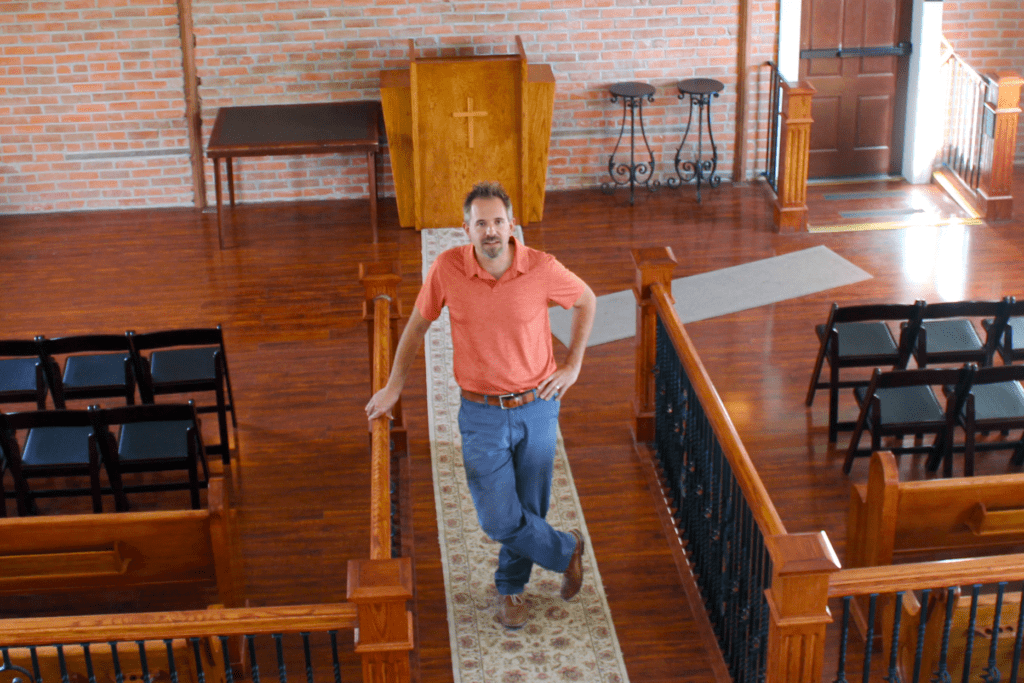 Pastor Jeremy Belter has only been in Arvada for a year, but he already counts many neighbors. In August of 2018, he moved to Colorado from Dallas, Texas to start the second campus of Shepherd of the Valley Lutheran Church in Westminster. Jeremy, a pastor for 11 years, jumped right in to build connections within the Arvada community to establish programs and a congregation. A year in the making, Shepherd of the Valley Lutheran Church Candelas will hold its long-awaited launch service on October 6 at 9:00 AM.
What are your expectations for the launch service?
We had one practice service in here at the end of August, just to get people used to the setup. That went well. Everyone's pretty excited about it. But I don't want our group to feel comfortable, like we've arrived, like a building is a destination. A church isn't a building, it's a group of people that should be making an impact in the community and getting connected to their neighbors and serving. The building for a Sunday worship service is just a tool to facilitate that.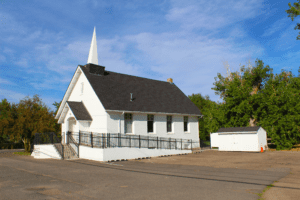 What ways are you trying to differentiate yourself in a crowded market?
Our tagline is "Connecting People to Jesus and One Another." My first goal is to get people connected to Jesus through excellent worship services. When you come, I want to enable people to participate and sing. We also want to add in-home bible studies where people can get connected to their neighbors. We then are focused on service and being connected to the community. I personally am a coach at the Apex Center. I'm part of the Arvada Festivals Commission and the Chamber's Arvada Young Professionals. One of my goals is to find a way that we can all impact the city of Arvada. We want to make such an impact that we have a reputation even for those who don't come here.
Can you talk about your Mornings With Mommy program?
It's not a religious thing. It's an educational playdate on Tuesday mornings. We're gearing it towards stay-at-home moms and dads and they get a chance to meet other adults while their children learn. Every week there's a theme and different stations that help kids with gross motor skills, fine motor skills, sensory, and arts and crafts. Kids are playing but they don't realize that they're learning. They're working on things necessary for toddlers. These playdates run September through the end of May.
When did you know you wanted to be a pastor?
For me, it was always part of my life. Life revolved around church. When I was a kid, I wanted to be a pastor because my dad was one. My grandpa was a pastor. I played church in our living room. I have a picture of me at probably four years old behind a garbage can with a blazer and a grey bowtie pretending to give a sermon.
What is your favorite piece of advice or lesson?
Starting a church is like starting any other business. In the back of mind, I worried that if this doesn't work out, I could lose funding to continue. But I have learned a lot over this year that your identity as a person is not what you do. I am a pastor, but that's what I do. First and foremost, I'm a child of God and that's never going to be taken away. I'm a dad. I'm a husband. I think finding your identity, not in what you do, is so important. One of the things I try to do when meeting people, instead of asking them what they do for a living, I ask them about their story. That opens opportunities for me to talk to people on a spiritual level and also helps me to remind them to not get so tangled up in their job. That could be here today and gone tomorrow. But that doesn't change who you are as a person.
---
Shepherd of the Valley Lutheran Church Candelas
Website | Facebook
7400 Indiana St., Arvada, CO
720-441-3182
candelaspastor@gmail.com