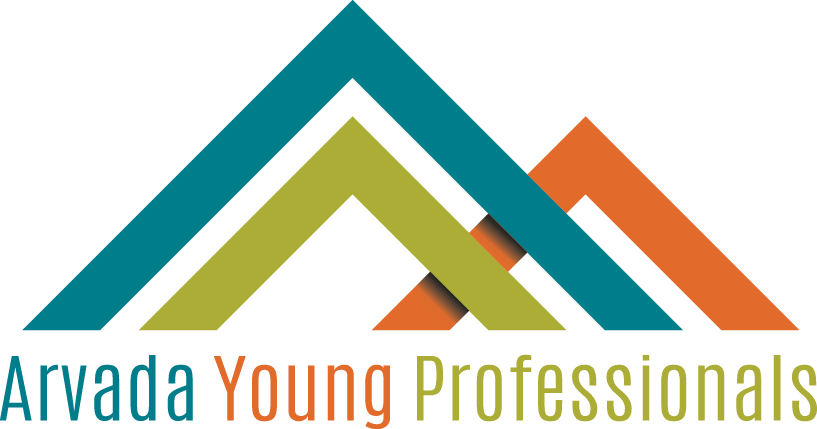 Updated March 17, 2020: All AYP Activity is on hold until further notice.

Click here for an update on COVID-19 from the Arvada Chamber as of Friday March 13th. Please visit the website for a regularly updated business resource toolkit for virus monitoring information, business advice, and community news.
Arvada Young Professionals provides the opportunity for individuals to expand their networks and build lasting connections within Arvada's professional and social arenas.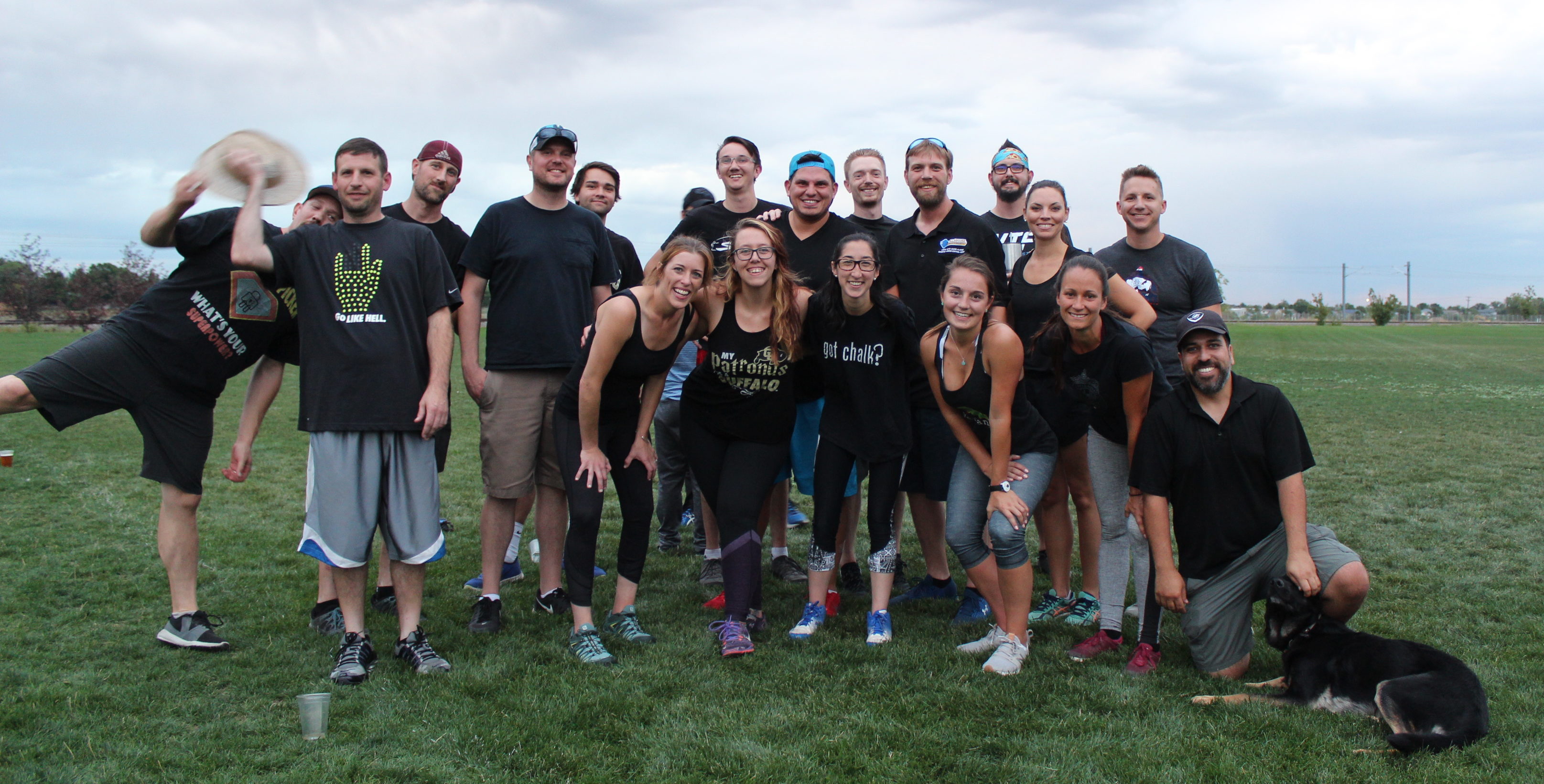 Mission Statement: AYP is dedicated to positively shaping the future of Arvada through professional development, community involvement, and building authentic relationships.
BENEFITS OF JOINING
DEVELOP FUTURE LEADERS | Advance your catalytic leadership skills:
Participate at 11 Professional Development Meetings including presentations by subject expert on career topics, peer-to-peer networking activities, and panel discussions
Opportunities to serve on the AYP Leadership Team of 10 AYP members and a dedicated Chamber staff member leading the planning and oversight of the program
Engage in peer-to-peer mentoring program (TBD)
ACTIVATE YOUR STORY | Elevate your business and voice in the community:
Opportunity to be the AYP Member of the Month receiving marketing and promotional benefits at a value of $150
Monthly email and social media communications on AYP activities, peer events, and member spotlights
 

GROW YOUR NETWORK | Build your client network and community reputation:
Build your network at 11 Networking Happy Hours and at least 2 Special Social Events
Make more than 100 connections annually through AYP membership
IMPACT THE COMMUNITY | Give back to people and organizations in Arvada:
Opportunities to volunteer with and/or contribute to non-profits
MEMBERSHIP FEES: $95/participant (Arvada Chamber member rate)  |  $195/participant (not-yet-Arvada Chamber member rate)

Stay up to date with Arvada Young Professionals on Facebook & Instagram!
---
NETWORKING HAPPY HOUR

2nd Wednesday of the month
5:00 - 7:00 pm
Visit the Chamber events calendar or Facebook for locations!

 
PROFESSIONAL DEVELOPMENT MEETINGS
3rd Wednesday of the month
Networking Breakfast & Professional Development
8:30 - 10:00 am
Gallery 1874, 5665 Olde Wadsworth Blvd, Arvada, CO 80002
COMMUNITY IMPACT & SOCIAL ACTIVITIES

As Opportunities are Available! Sign up for our newsletter below for updates.

Sign up below to receive AYP newsletters and read on to meet the AYP Leadership team!
---
---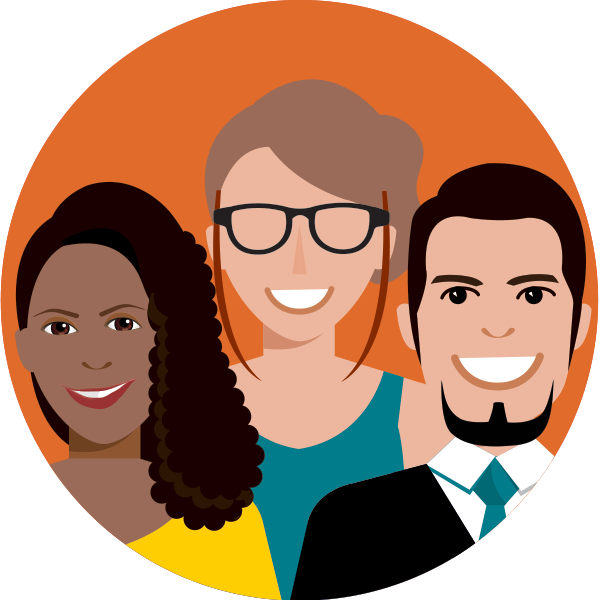 MEET THE AYP 2020 LEADERSHIP TEAM
Click HERE to review the responsibilities of Leadership positions and apply to be on the Team! Applications open year round.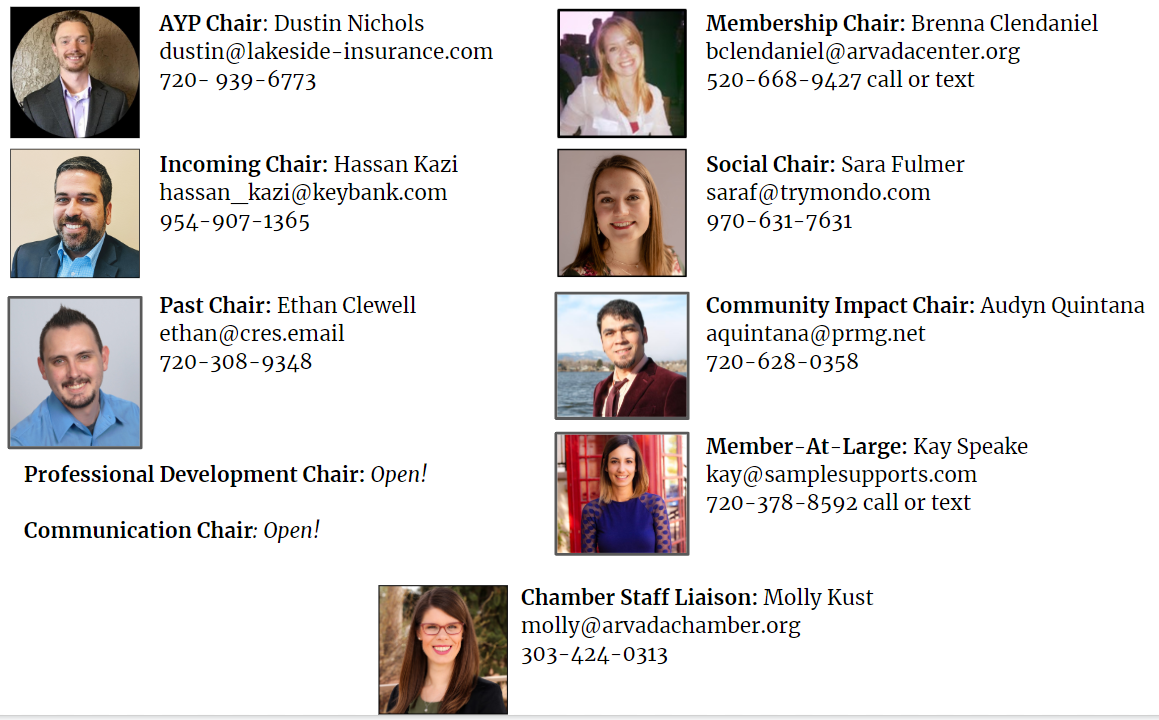 Last updated: 12/06/2019