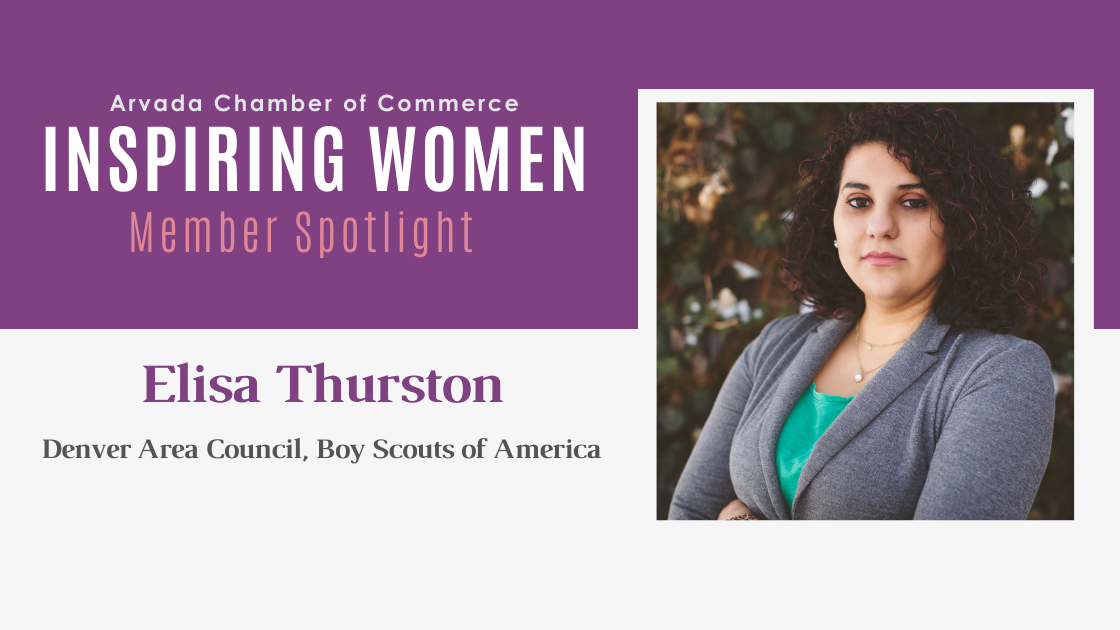 Elisa Thurston, Denver Area Council, Boy Scouts of America
Tell us more about you and/or your business:
One of my aspirations for 2022 is to continue to become a Master Networker. My slogan is that I am 2 steps away from a flamingo. That means that no matter what you need, I know someone who knows someone who can get it for you! My favorite part of this goal is that it drive me to add a wide range of people, businesses, resources, and talents to my network. Because there is nothing better than making the perfect connection!
What inspires you about your work?
My motivation comes from making a difference. I am so lucky to be in a career that allows me to make a difference every day through my work. I also fill my life outside of work with volunteer opportunities such as fostering for Mile High Canine Rescue.
What exciting things are happening this coming year?
I am most excited about our Vale La Pena event coming up on October 11. We had our post-COVID return to this event last February. Our October event will be our return to our full potential with this event. The Denver Area Council is excited to restart our Leadership Assistance Program, which provides low cost Scouting programs to communities in need. With our plan to bring back 20 after-school programs with the Leadership Assistance Program, our Vale La Pena recognition event will be raising funds to make that restart possible.
What is one thing you would like the Arvada Chamber community to know about you?
Many people believe that working for a nonprofit gives me all the philanthropic fulfillment I need. But, I have learned that giving more of my time outside of my work schedule to other causes helps me be a more well-rounded and fulfilled person. It also helps me see my work through the eyes of the volunteer and donor. If you know me, you know I love animals. I have been lucky to volunteer with a few animal rescues around town. Giving my time and resources as I foster, process adoptions, transport dogs, and serve at community events really fills my cup! So, if you're ever looking for a dog to adopt, let me help you find the perfect fit!
What is a piece of career advice that has served you well?:
"Be the best at whatever you are now." Early in my career, I had opportunities to interact with other professionals within the Boy Scouts of America nationally. Every time I met a Scout Executive (the CEO of Scouting in their area), I would ask them what I needed to do today to become a Scout Executive someday. The advice I heard most often, in varying terms, was to be the best at whatever you are now. It inspired me to be innovative, tenacious, and dedicated in my positions from entry level and up. It helped me be successful, get noticed, and get promoted.
—–
www.denverboyscouts.org | elisa.thurston@scouting.org
---
The Arvada Chamber's Inspiring Women group is an excellent platform to connect with other like-minded women in the Chamber and support one another professionally and personally. Inspiring Women is not industry-specific and we invite women from all ages and career levels to join. Learn more here!