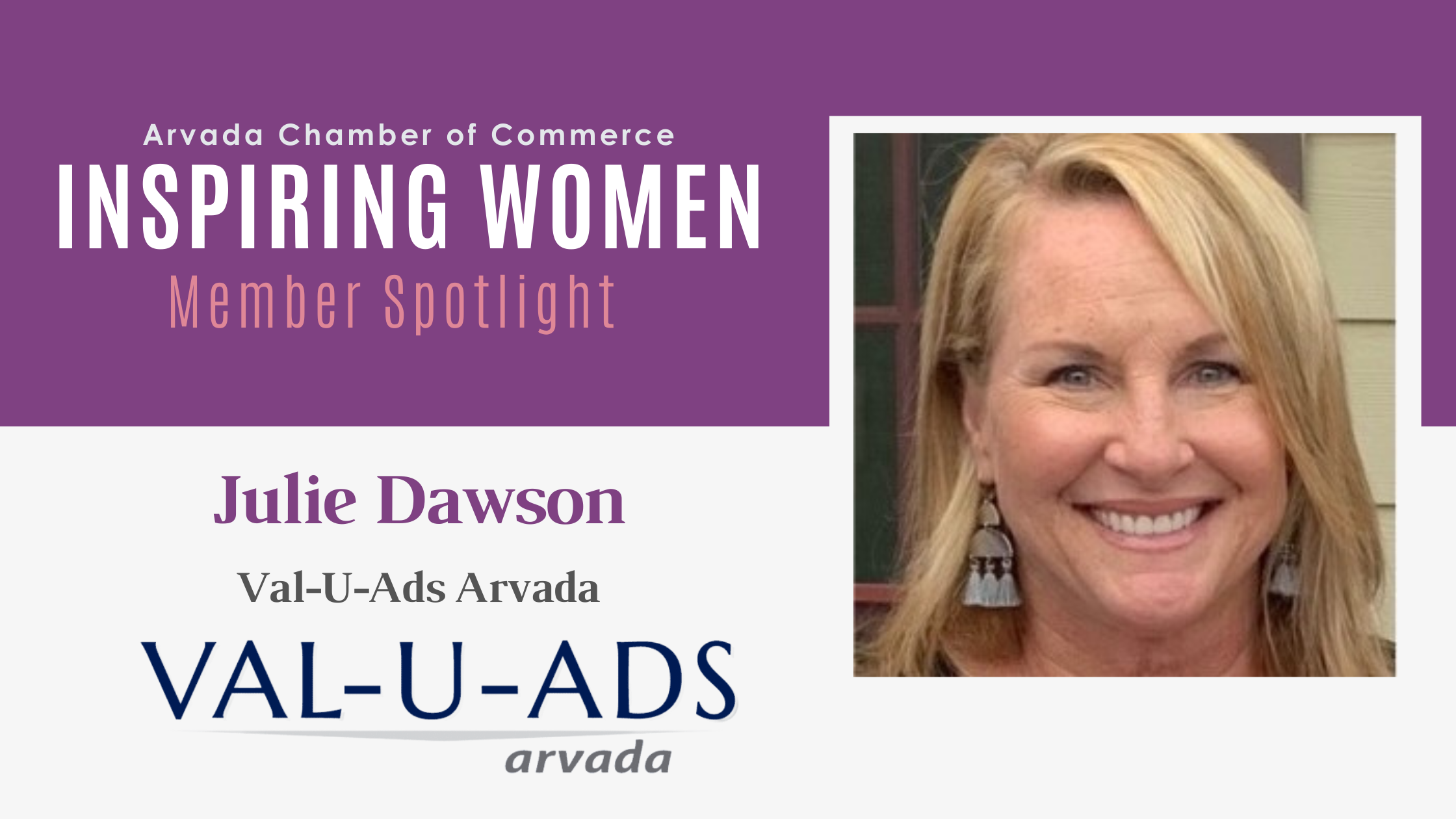 Julie Dawson, owner of Val-U-Ads Arvada
Tell us more about you and/or your business:
My husband Scott and I purchased Val-U-Ads a year and a half ago from a former Chamber Member and Friend, who retired. I worked for the Chamber handling Membership for 3 years and gained a true understanding of the needs of our Chamber Members, Business Owners and Community. I truly love being a part of Arvada and supporting our local businesses. In 2021 we created a new website: valuads.com, that features a digital copy of each issue. We now offer both Print & Digital Marketing and have expanded our Social Media via Facebook, Instagram and Linkedin. We are proud to highlight a different non-profit each issue, in hopes to bring awareness to the many needs of our community.
What keeps you motivated?
In the last two years, the struggle has been real for our local business owners, both small and large. It breaks my heart to see a business have to close it's doors, due to Covid, not enough employees or not enough customers. If advertising with Val-U-Ads can help a business in anyway, it makes me happy and that is what inspires me on a daily basis.
What do you enjoy most about your work?:
Meeting business owners and hearing their story as to what motivated them to step out and start a business. Everyone has a different story, and taking the time and getting to know them is what I enjoy most.
What is one thing you would like the Arvada Chamber community to know about you?:
I love meeting people, attending social gatherings, hearing peoples story and connecting them to someone for business or just a new friendship.
What makes me unique is, I really want everyone to succeed.
What are you excited about this year?:
I am looking forward to the day that Covid is behind us, masks are a thing of the past and people feel comfortable shaking hands and hugging one another. I am hopeful that this will be our reality.
Describe your ideal business power partner, someone you can rely on to help you both be successful.:
A positive person who understands that advertising in general is a marathon, not a sprint.
What is a piece of career advice that has served you well?:
Do something you love and it will never feel like work.
Do unto others, as you would like them to do unto you. Be nice to everyone, you have no idea the struggles they are going through.
What have you found valuable about being of member of Inspiring Women? What is your favorite part about being in the group?:
We are a family. I feel so much support from this incredible group of women both personally and professionally. We just care about each other. I highly recommend Inspiring Women.
Share any information about current trends or changes in your industry would help small businesses or consumers.:
The Digital Copy of Val-U-Ads on our website brings an additional group of followers.
—–
VAL-U-ADS Arvada | julie@valuads.com | Call or text 303-916-9713
---
The Arvada Chamber's Inspiring Women group is an excellent platform to connect with other like-minded women in the Chamber and support one another professionally and personally. Inspiring Women is not industry-specific and we invite women from all ages and career levels to join. Learn more here!