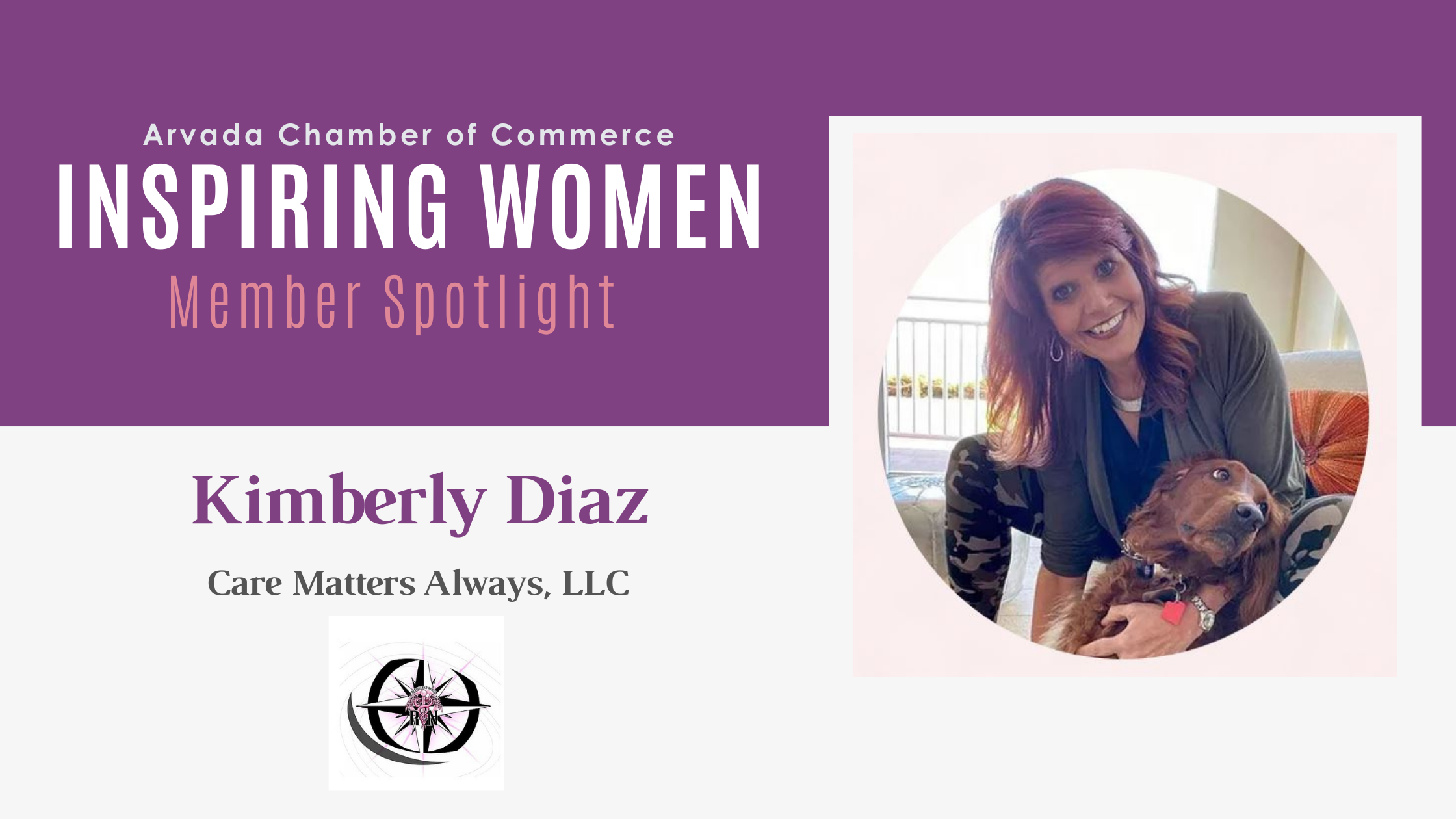 Kimberly Diaz, Professional Care Navigator and Owner of Care Matters Always, LLC
Tell us more about you and/or your business.
We are setting the bar in senior care. We do this through Advocacy, Education and Navigation. I am an RN and provide case management, private duty nursing, transitional services including placement and death midwife services at the end of life. I am a resource connector and work to keep patients out of the hospital.
What keeps you motivated?
The needs of the senior population.
What do you enjoy most about your work?
Everything. I feel like I worked the last 23 years to be right where I am now.
What is one thing you would like the Arvada Chamber community to know about you?
I am here for our seniors as an advocate, educator and to help them and their loved ones navigate the complexities of growing older.
What are you excited about this year?
The expansion I am having. The more lives I can touch and help.
Describe your ideal business power partner, someone you can rely on to help you both be successful.
Estate attorneys, financial planners, senior housing communities, realtors, and anyone with an aging Mom and Dad.
What is a piece of career advice that has served you well?
Focus on what you can control.
What have you found valuable about being of member of Inspiring Women? What is your favorite part about being in the group?
Meeting the various women and being inspired by their innovation and leadership.
Are there any current trends or changes in your industry that would help small businesses or consumers?
We need more caregivers and communities for the aging population.
If any, please provide any statements or disclosures to include in the blog as may be required by your company.
Many people choose not to think of end-of-life care until they or their loved ones reach this point, but our team's years of experience, advocacy and care are here to help ease their journey. With the growing needs of the elderly population, Care Matters Always focuses our advocacy on helping clients and families make important decisions concerning the care, treatment, and facilities for their loved ones when it comes to the end of their lives. Your loved one is an individual deserving of the respect and care worthy of them without losing the "person" to their disease.
—–
Care Matters Always, LLC website
Kimberly@caremattersalways.com | LinkedIn | Cell: 619-565-3684
---
The Arvada Chamber's Inspiring Women group is an excellent platform to connect with other like-minded women in the Chamber and support one another professionally and personally. Inspiring Women is not industry-specific and we invite women from all ages and career levels to join. Learn more here!