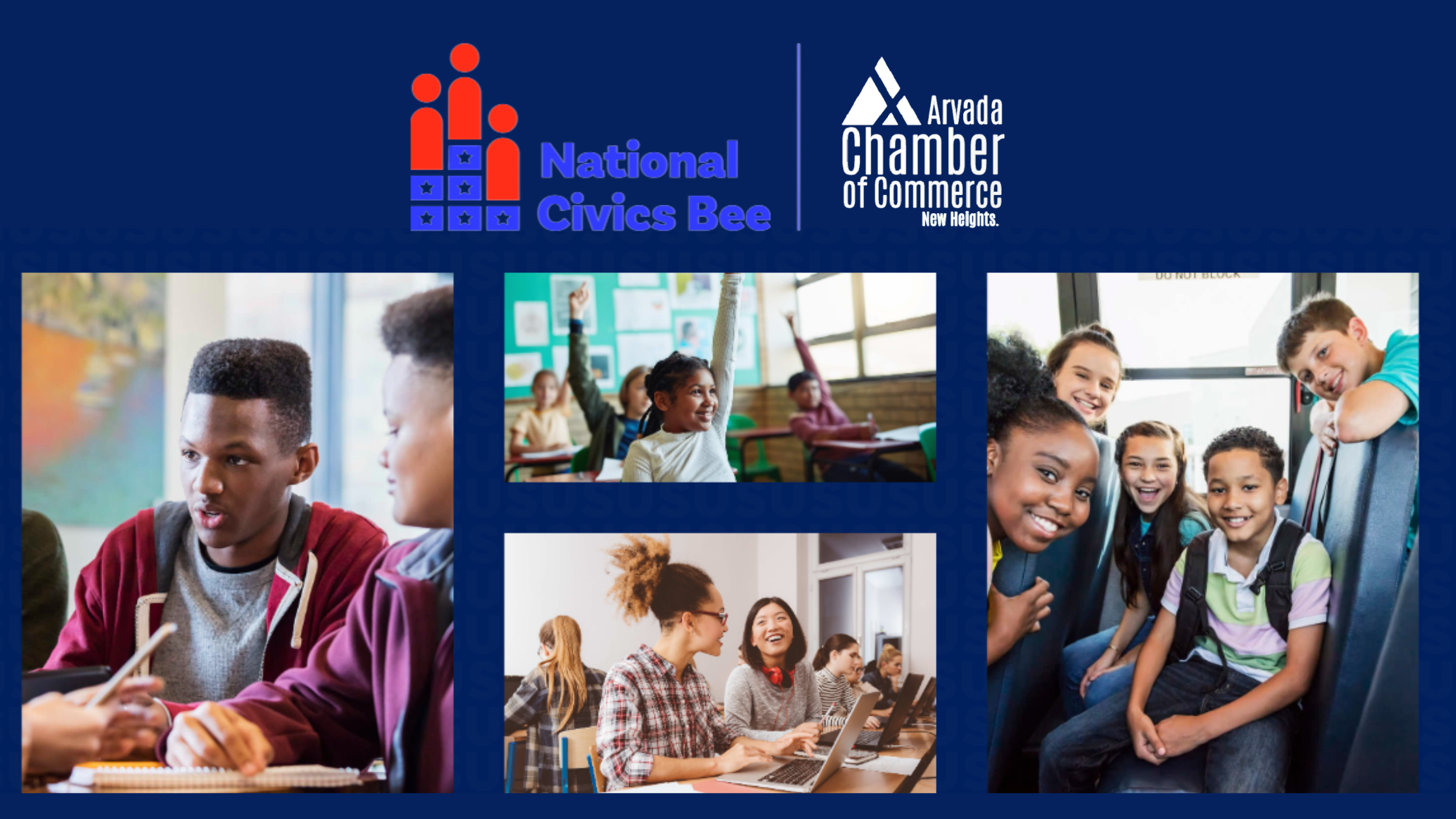 The National Civics Bee is an annual competition that encourages young Americans to engage in civics and contribute to their communities. Participating middle school students will flex their civics knowledge for a chance to win recognition and cash prizes. The National Civics Bee takes place in early 2023, in partnership with local and state chambers of commerce across the United States, including the Arvada Chamber of Commerce.
In the first round of the contest, local 6th, 7th and 8th grade students will participate in an essay competition. Judges will then select 20 finalists to participate in the local competition: a live quiz event testing civics knowledge. Then, the top 3 students from each local competition will advance to the state competition.
"The Arvada Chamber is deeply invested in facilitating engagement with local policy and elected officials for our businesses and community," said Arvada Chamber of Commerce President, Kami Welch. "The National Civics Bee is a unique opportunity for us to develop an active pipeline of civic engagement in Arvada and strengthen the way we all live, work, and learn together in the future."
Arvada Prizes
The school that has the most submissions will receive a $500 donation
The first 50 students to submit their essay will receive a $20 visa gift card!
The top 20 students will receive a digital device and goodie bag at the live quiz show
At the local quiz competition winners will receive the following prizes. First Place: $500 cash prize, Second Place: $250 cash prize, Third Place: $125 cash prize
State Prizes
First Place: $1,000 cash prize
Second Place: $500 cash prize
Third Place: $250 cash prize
Each finalist receives a certificate.
Essay Topic
Identify a problem facing your community. How might a citizen solve the problem? Write a 500-word essay, two pages, double-spaced, that includes the following:
What is the problem, and how do different members in your community or neighborhood view it?
What civic principles or systems could help to address the problem?
What is your idea or recommendation for solving the problem?
What primary sources, such as the Declaration of Independence or the United States Constitution, provide supporting evidence or examples for your idea or recommendation?
How might members of your community or neighborhood bring your idea or recommendation to life?
How to Enter
Middle school students can enter the National Civics Bee to share ideas for improving your community and to show off your citizenship skills. The first step is to submit an essay below. A panel of judges will review the essays, and select 20 finalists. Finalists will compete in a live Civics Bee competition for cash prizes and recognition.
All essays must be received by 11:59 PM on Friday, February 24, 2023 to be considered. Please review all rules and eligibility requirements before submitting. You will know your essay has been successfully submitted when you see your completion certificate after pressing "SEND". Finalists will be notified by the Arvada Chamber of Commerce via email. Please email kami@arvadachamber.org with any questions.
---
The National Civics Bee is presented by the Arvada Chamber of Commerce, with support from the U.S. Chamber of Commerce Foundation.
Arvada Chamber of Commerce
7305 Grandview Avenue
Arvada, CO 80002
kami@arvadachamber.org