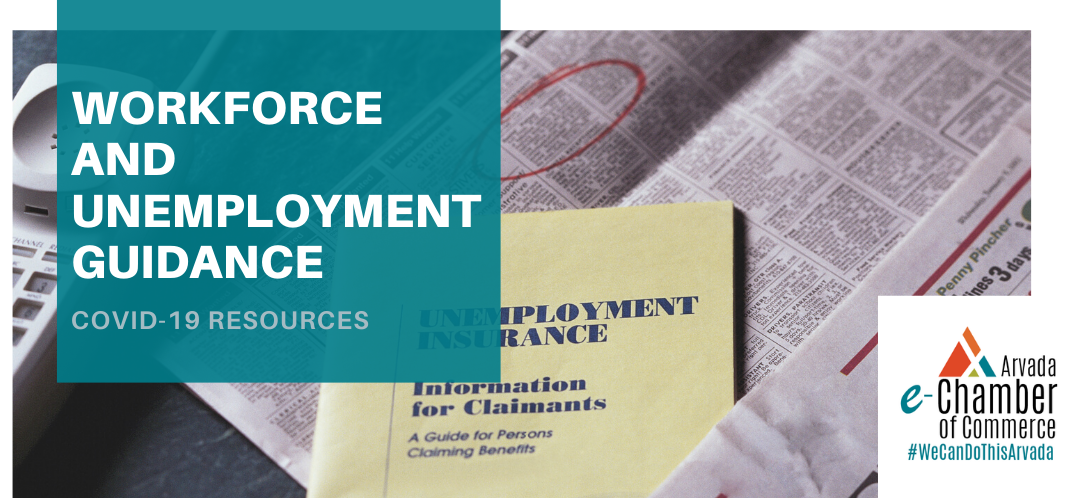 The economic downturn associated with COVID-19 has put significant strain on both employers and employees. To help with this situation, the Arvada Resiliency Taskforce has collected an abundance of resources for those who have been forced to lay off staff as well as assistance for those employees that have lost their jobs. With regard to employers, we are asking all businesses in Arvada to take four minutes to complete this COVID-19 IMPACT & OPPORTUNITY SURVEYto help us understand how we can best serve you.
Below find employment resources for employers and employees. We will keep this resource regularly updated.
Resources for Affected Businesses
The State's Work-Share Program provides an alternative to laying off employees by allowing them to keep working, but with fewer hours. While an employee is working fewer hours, he or she may be eligible to collect part of his or her regular unemployment benefits.
The State's Rapid Response program provides guidance and information for larger businesses facing corporate restructuring and downsizing.
Employee Retention Tax Credit is a recently created program in the CARES Act is the Employee Retention Tax Credit available to all businesses and tax-exempt organizations.
US Department of Labor's "COVID-19 and the Fair Labor Standards Act Questions and Answers" provides information about laws related to compensation, office closure, and work from home. Click here to read.
---
Resources for Employees who have had their Jobs Eliminated or Hours Reduced
Colorado Unemployment Insurance
If you have lost your job or have reduced hours or wages you may be eligible for unemployment benefits. Please note, the COVID-19 pandemic has changed some of the requirements of unemployment and some additional assistance will soon become available.
At the federal level, the Families First Coronavirus Response Act provides paid family medical leave and paid sick leave for employees directly impacted by the COVID-19 pandemic. Neither of these benefits are paid through state unemployment insurance programs. Much more information about the Family First Coronavirus Response Act here.
Many tipped workers might be eligible for assistance by the One Fair Wage Emergency Coronavirus Tipped & Service Worker Support Fund. The Fund seeks to support restaurant workers, delivery drivers, and other tipped workers and service workers who are seeing their income decline during this crisis or can't work because of quarantines or other health concerns. Click here for more information.
Finding a Job
Need more assistance?
2-1-1 Colorado: Get Connected. Get Help. Serving all Colorado communities.
2-1-1 Colorado streamlines services and provides one central location where people can get connected to the resources they need. Whether you are searching for a shelter availability, childcare, or rent payment assistance – 2-1-1 can connect you to available resources in your community.