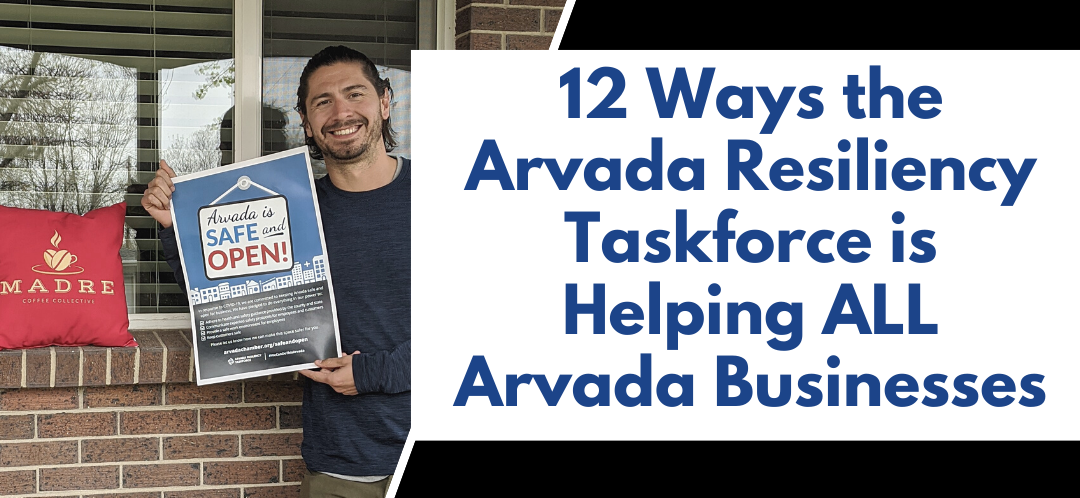 In 2020, the Arvada Resiliency Taskforce (ART), including the Arvada Chamber of Commerce, has been hard at work with the mission of healthy businesses across ALL of Arvada. These COVID-19 responses have been a collaborative effort that has demonstrated our commitment to serving businesses at every corner of the city. Below, learn how the Arvada Resiliency Taskforce continues to serve the Arvada business community and click here to read the Chamber's 18-month focus on economic recovery and business resiliency.
Business Funding
1. ART helped the City of Arvada support 286 businesses with grant funds that were fully converted from loans made earlier this year as part of the $2.5 million Emergency Small Business Loan Fund. The City provided an additional $282,200 in order to support every qualified business that initially applied for assistance, bringing the total amount of support to more than $2.8 million.
2. To date, ART, in partnership with Adams County and the City of Arvada, has distributed nearly $200,000 in mini-grants to 74 Arvada businesses and non-profits impacted by COVID-19.
Personal Protective Equipment (PPE)
3. To date, 224 unique Arvada businesses applied for free PPE supplies, provided by the City of Arvada. We have provided approximately 10,000 masks, 1,200 rolls of paper towels, 400 bottles of disinfectant, 200-gallon jugs of hand sanitizer, 200 boxes of gloves and 180 thermometers.
Sign up for supplies here!
Education
4. Since March, ART has developed 15+ free digital toolkits, resources and support programs to help businesses navigate COVID-19.
5. ART has hosted over 20 educational webinars in 2020, including community town halls, health and safety updates, marketing seminars, and more.
6. Over 50 Arvada businesses have joined the Chamber's free Arvada Strong membership, which provides updates for critical funding and resources.
Promotion
7. Since March, ART and its PR team has helped feature Arvada businesses in more than 300 digital, print and radio stories.
8. Over 260 Arvada businesses have signed the Safe and Open pledge and are featured on the directory, which details updated operations and health protocols. Plus, so far, 10 Arvada businesses have been featured in Safe and Open video spotlights.
Take the pledge and watch Safe and Open videos.
9. Over 140 restaurants, bars, coffeeshops, breweries and bakeries are listed on the Takeout Takeover directory, indicating takeout, delivery and dine-in options across Arvada.
View the directory and add your business.
10. In July, ART launched the "Invest in Arvada" campaign, aimed at helping Arvada businesses large and small to thrive. We recognize that businesses are reopening to pre-COVID capacity and operations, and they urgently need the support of our entire community to thrive today and continue to grow into tomorrow. The campaign includes a landing page with consumer resources, digital, print and radio ads, yard signs, and more, all designed to encourage business support in Arvada.
11. The "Invest in Arvada" publication highlighted 67 member businesses and was mailed in July to approximately 50,000 homes in Arvada.
12. The Arvada Chamber, with support from ART, helped feed 800 front line workers with food from local restaurants as part of the Chow For Champions program.
---
As announcements of COVID-19 started to rattle Arvada, organizations across the community united together to create the Arvada Resiliency Taskforce. With a cross-section of local partners we are supporting efforts to understand the impact of COVID-19 closures and respond quickly with programs, resources and policy shifts. Learn more here.