Through the B.O.L.D. 2023 initiative, Advocacy KAPS Council, the Jefferson County Business Lobby (JCBL), and consistent outreach to elected officials at all levels of government, the Arvada Chamber strives to stay informed on the latest policy developments while advocating for a strong local economy.
This year, Arvada ballots will include city council elections and school board elections, as well as two statewide ballot measures: Proposition II and Proposition HH. We encourage our local business community to review the below outlined information and determine the impacts for your business.
THE ISSUES
Proposition II
In 2020, Colorado voters approved a ballot measure to increase taxes on tobacco and nicotine products. This decision allowed the state to allocate the additional revenue towards funding a universal preschool program.
The increased taxes ended up generating more revenue than initially anticipated, amounting to approximately $24 million. In response to this surplus, the legislature is seeking permission from voters to let the state retain the excess funds and all future revenue from these taxes, which will then be used to expand the preschool program even further.
If voters decide against Proposition II, any surplus tax revenue collected above the initial projection will be refunded to nicotine and tobacco wholesalers and distributors. Additionally, measures will be taken to adjust the nicotine and tobacco tax rates to prevent future instances of excessive revenue.
Arguments For
Preschool for All Coloradans: "Vote YES on Proposition ii to retain the $23.65 million for universal preschool and respect the voters' intent. By voting YES, Proposition ii will allow thousands of children more access to additional preschool programs per year. Additionally, studies have shown that higher prices on tobacco and nicotine products lead to less usage amongst youth and young adults. By retaining these funds, we can keep these harmful products out of the hands of youth across the state of Colorado."
Arguments Against
Colorado Blue Book Official Arguments: "Proposition II expands the government unnecessarily. Taxpayers are being asked to give up this refund and pay higher tax rates in the future in order to pay for a program that is already fully funded to the level that voters approved in Proposition EE. When the state collects more revenue than voters approved, it should provide taxpayer refunds and lower tax rates, rather than expand government programs."
Arvada Chamber Position: Support
Rationale: Passing Proposition II ensures that the state's excess revenue, totaling $23.65 million, is directed toward the enhancement of preschool education. This crucial investment will play a pivotal role in nurturing our youngest learners and laying a solid educational foundation for their future success in direct alignment with the Arvada Chamber B.O.L.D. 2026 initiative. The Arvada Chamber believes that endorsing Proposition II is not only a fiscally responsible decision but also a significant step towards providing equitable access to quality early childhood education, ultimately benefiting our community's well-being and prosperity.
Resources:
Proposition HH
Proposition HH is one of the most controversial ballot measures ever presented to voters. The proposition modifies or reduces taxation rates and exemptions for multiple types of property while increasing taxes by allowing the state to retain more tax revenue. Proposition HH gives Coloradans a choice; trade some property tax relief, for a long-term increase in state taxes.
Common Sense Institute of Colorado (CSI) recently released a report evaluating the long-term impacts of the proposition. According to CSI, while any revenue forecast is uncertain, under normal economic conditions, taxpayers would bear the full tax increases under Proposition HH even if the economy faced a sizeable downturn. While all Coloradoans benefit from TABOR refunds, only property owners would see direct benefits of the property tax decrease.
Arguments For
Bell Policy Center: "Proposition HH meets the needs of our schools in two ways. Because any reduction in property tax revenues also reduces the local share component of school funding, HH increases the state share to compensate local school districts for the loss in revenue. By gradually stepping down commercial assessment rates and using TABOR surplus dollars, we can fill the hole left behind when we reduce commercial property tax. There are definitely different ways to meet the moment we're in. Proposition HH is one of a few different responsible solutions to a big challenge for our state. Unfortunately, superficially simple, yet dangerous, approaches are out there."
Arguments Against
The Common Sense Institute Executive Director Kelly Caufield: "The bottom line is renters are the biggest losers of Proposition HH. So [renters] are paying for this, but they get no benefit. They will not receive a reduction in property taxes because they don't pay property taxes. We appreciate that some dollars are going toward rental assistance. But when you divide by the numbers of renters in the state, it's not significant dollars."
Michael Fields, president of Advance Colorado Institute: "The repeal of the Gallagher Amendment was supposed to make things better, but I opposed it because it would inevitably lead to huge increases in property taxes for Colorado families. That is exactly what we are seeing across the state. The legislature created this problem. They said they would come up with a solution and they didn't. Now, the governor and legislature want us to give up our TABOR tax refunds for a tiny bit of property tax relief. It's another bad idea."
Arvada Chamber Position: Oppose
Rationale: The Arvada Chamber of Commerce recognizes the potential benefits of Prop HH, but is concerned that the long-term consequences of increasing the overall tax rate in our community outweigh the short-term gains. This measure could lead to a heavier tax burden on local businesses and residents, potentially impeding economic growth, job creation, and business development.
Resources:
---
THE CANDIDATES
This year, Arvada voters will elect a new mayor and city council members. On city council, the At Large, District 2 and District 4 seats are up for election. Click here to watch the Chamber's City Council Election Forum.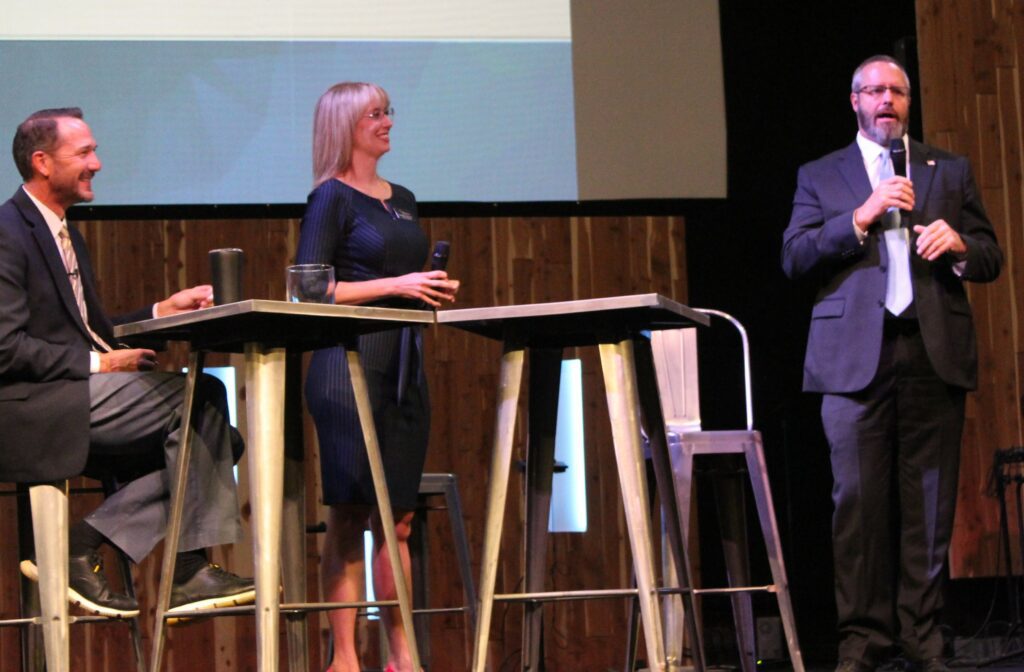 Mayor
John Marriott
Website | Facebook | Arvada Press Q&A
Has served on Arvada City Council since 2013, most recently as Mayor Pro-Tem. Also a small business owner and has served on numerous boards and commissions in the community.
Lauren Simpson
Website | Facebook | Arvada Press Q&A
Has served on Arvada City Council for four years. Also serves on numerous boards in the city, including the Arvada Visitors Center and the Arvada Center for the Arts & Humanities.
City Council At Large
Sharon Davis
Website | Facebook | Arvada Press Q&A
Spent over 20 years of her career in public service, working for the cities of Aurora, Federal Heights, City and County of Denver, and Metro Water Recovery (formerly Metro Wastewater Reclamation District).
Bob Loveridge
Website | Facebook | Arvada Press Q&A
A Native of Arvada, has been in elected positions for the last 25 years, including the Apex Park and Recreation and Arvada Fire Districts.
Kathleen Kennedy
Website | Facebook | Arvada Press Q&A
City Council District 2
Shawna Ambrose
Website | Facebook | Arvada Press Q&A
Started her public service in the military and continued it through work in non-profits and their boards. As a union leader, she understands how to best work with companies while ensuring the working class can have a safe and financially stable life.
Michael Griffith
Website | Facebook | Arvada Press Q&A
A LEED Accredited Professional who specializes in the design and implementation of sustainable development and infrastructure investment. Over the past decade, he has dedicated his time to serving the community of Arvada through active involvement on various boards and commissions.
City Council District 4
Jessica Fenske
Website | Facebook | Arvada Press Q&A
New to politics, she has a background in full charge bookkeeping, senior care and real estate.
Robert "Bob" Fifer
Website | Facebook | Arvada Press Q&A
Has leveraged 29 years of management experience from the telecommunications, IT and transportation industries to serve on Arvada City Council for the last 12 years as an At-Large Arvada City Councilmember
School Board Candidates
Two of the five seats on the Jefferson County Board of Education are up for election. Watch a video of the Chamber's "Ballots and Breakfast" with presentations by all candidates.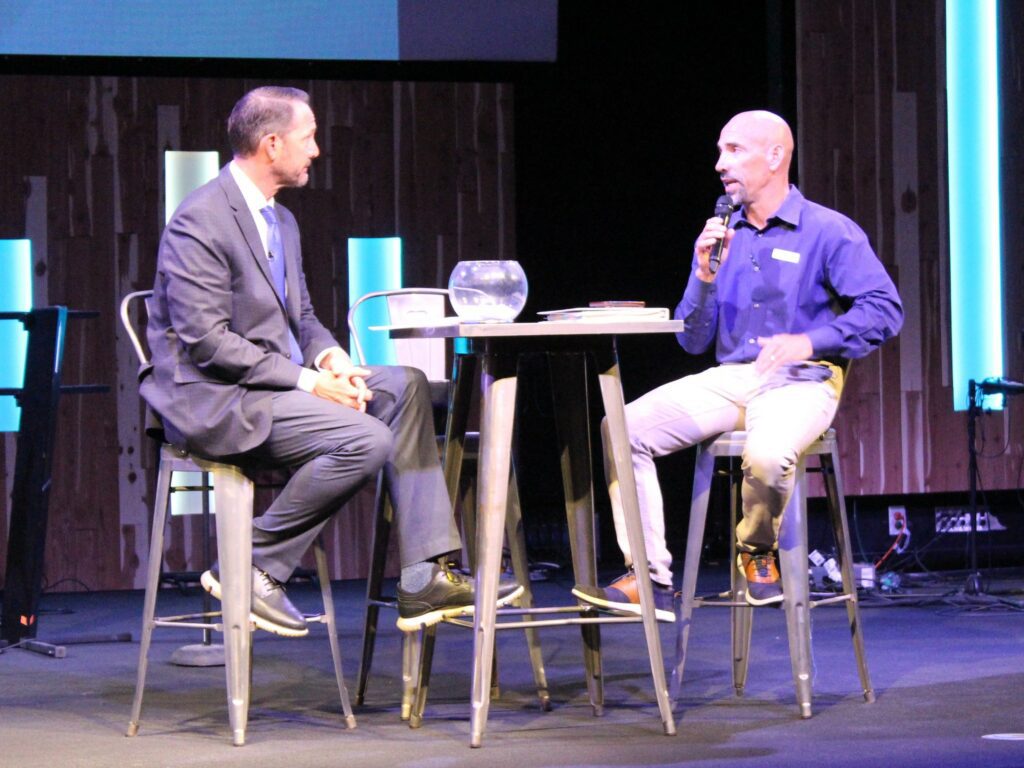 Director District 3 (starting at 4:15 of the video)
Director District 4 (starting at 18:20 of the video)
---
Register for the Annual Mayors Roundtable on Friday, November 17!
Join us to hear updates from the mayors of Arvada, Golden, Westminster, Wheat Ridge and Lakewood, including current challenges for the business community, upcoming projects, and opportunities to collaborate as a region. Register here.