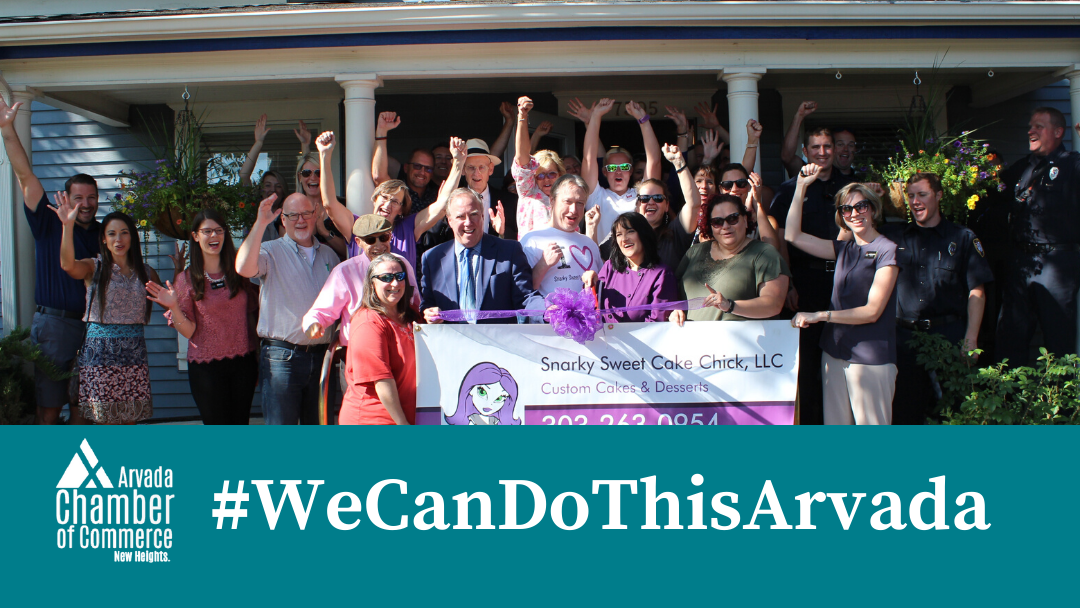 Healthy Businesses, Thriving Community. The Arvada Chamber remains committed to that vision for Arvada during what has been an unprecedented and difficult time for all businesses across the country. Our priority is the health of our community, businesses and thousands of employees. We have formulated the following responses and strategies to make sure that ALL businesses in Arvada have the opportunity to thrive.
Convening A Cross-Section of Community Leaders and Businesses
With a cross-section of local partners we are supporting a daily Arvada Resiliency Taskforce call that is focused on understanding the changes and needs that are impacting businesses and the ability for our local economy to thrive. Partners include: Arvada Economic Development Association, Arvada Visitors Center, Olde Town Bid, Community First Foundation and more.
The Chamber team is focused on daily calls and emails to the hardest hit industries. We are in the process of determining strategy to make sure that every business in Arvada receives a touch point. A business outreach sub-committee has been established to support this effort.
Business leaders continue to be surveyed and contacted to understand what their questions are and how we can help.
Connecting needs in the community has been an important role for the Chamber. Helping non-profits access food, supporting local blood drives and promoting volunteerism are just a few of the ways we have been able to close the gap on community needs.
COMING SOON: Virtual industry and Chamber group meetings to allow people to discuss how they are coping. We hope this fosters innovation and a little therapy.
Providing Education and Resources
The COVID-19 Toolkit launched the week of March 6 and is updated daily with information ranging from work from home strategies to small business loans.
The COVID-19 Response Webinar Series launched on March 18 with topics including activating your communication and creative commerce, e-commerce strategies, employment law and mental health. Sessions are being run every other day and will be recorded to support further sharing opportunities.
The Chamber is publishing and sharing articles through our Web site and social media that are intended to help our businesses think in innovative ways about how they can weather this storm. Example: All banks in our community were contacted to determine how they are able to help businesses.
Promoting Creative Commerce and a Thriving Community
The Takeout Takeover was launched on March 16 in an effort to promote continued support of the restaurant industry. This has been widely shared across our community thanks to the support of our partners. Additionally, we launched the Tip Big and Go Home campaign to support this industry.
With other local partners the Chamber works closely with our PR Company led by Danielle Dascalos to tell the stories of our amazing businesses who are thinking in innovative ways. A number of stories have been picked up by local, state and national media.
Our Creative Commerce toolkit highlights the resiliency of local businesses including zoom dance classes, virtual art classes and more. We hope this inspires other businesses to flip their current model on its head.
We have launched the Chow for Champions campaign where we will work with the community to provide meals to local champions from restaurants listed on the Takeout Takeover.
A listing of Virtual Experiences provided by our local businesses. This may include shopping, fitness, beauty tips and more.
We are in the process of developing a database that will allow residents to purchase gift cards from local retailers Web sites. Additionally, we are partnering with the Arvada App to assist in spreading opportunities to offer gifts cards event further.
Supporting Critical Workforce Needs
Arvada Works partners received a survey to determine what their current hiring needs are during this time. Additional research has been done to supplement this list. We are working to connect those who are seeking employment with the many employers who still have job openings. This will be published on arvadachamber.org.
Tools and resources will be published in a Workforce Toolkit that includes unemployment, workshare and paid family leave details.
Understanding and Advocating for Critical Policy Decisions
The Arvada Chamber is continuing to track policy decisions and changes that have positive and negative impacts on our members.
Regular policy resources are being added to the COVID-19 Toolkit.
As Arvada moves from understanding and evolving into recovery the Arvada Chamber will be prepared to step up to support shop local branding, workforce placements, ongoing resilience training and continue to keep a pulse on business needs. The strength and collaboration of partners across Arvada has been incredible. We should all be proud of this amazing community that we get to live, work and play in!